Live from Wimbledon 2022: ESPN on the future of The Championships and the importance of player access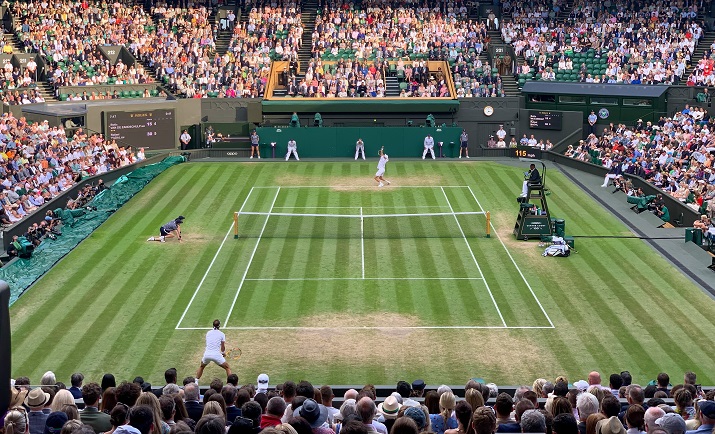 For ESPN, the focus of this year's Wimbledon was to restore its presentation to 2019 levels. While COVID caused the cancellation of the 2020 Championships and the 2021 iteration of the tournament to operate with reduced numbers of production staff and spectators, this year marked a return to form for the broadcaster, which is the exclusive home of The Championships in the US and a long-term broadcast partner of Wimbledon.
"There's so much enthusiasm to come and be a part of this we wanted to get everybody back and provide the full Wimbledon experience. We had a restorative mindset to harness everything here and turn it all back on again," says ESPN VP production Jamie Reynolds, who spoke with SVG during the second week of the tournament.
"Anybody can stream coverage of 18 courts, but to get the investment from viewers we need the first-person voice of the players"
"Today, we have multiple control rooms, with a Centre Court channel on ESPN 1, and on ESPN 2 we have Court 1 and footage from around the grounds, so it's a linear day of 10 hours programming but divided up so we are really doing 20 hours today. That means you need enough creative talent and horsepower to make sure that flight pattern works."
To support its production, there are some 12 staff from ESPN International, 25 for DirecTV and 90 from production services partner and OB firm NEP UK. For its coverage, ESPN can take from the 70 feeds from host broadcaster Wimbledon Broadcast Services (WBS) which provides court feeds, isolated cameras, and behind-the-scenes cameras. This is supplemented by ESPN's own 28 cameras with six on court for game coverage, two RF cameras and a pair of roving cabled cameras and cameras in the three announce booths as well as the three set locations. In addition, ESPN is operating 10 EVS replay servers, with an extra nine for logging matches, over 30 EVS IPDirectors, three Avid edit suites and nine Avid stations to build feature material.
Middle Sunday challenge
This year, All England Lawn Tennis Club (AELTC) added another day to the two-week Wimbledon schedule by hosting fourth-round matches on 'middle Sunday' – which has traditionally been a rest day – for the players, as well as some staff. ESPN associate director Larry Wilson says: "Now we have done away with that middle Sunday break, it has opened the opportunity for more programming which is a great advantage, especially on a holiday weekend. From an operational standpoint, during week one we used to do a show for DirecTV for AT&T where the control room would output five courts of coverage. We used to have middle Sunday to change that control room over to a single output control room for dual networks; today we are on ESPN and ESPN 2. But since we did programming on Sunday, we couldn't start that changeover until 7pm to be ready for air on Monday morning."
For Reynolds, it brings Wimbledon into line with other major tennis tournaments. "The players are used to it, so it's not a game changer on that front," he says. "Historically, we had always done a three-hour show on ABC on middle Sunday that was a 'weekend review'-style show, so 50% of our roster would come in on Sunday anyway to put together the three-hour review so we're kind of already in that rhythm. And as I often say, it can be easier to do live television rather than post producing a bunch of highlights that need to be turned around quickly."
Together with the AELTC, Reynolds is already looking to the future of ESPN's coverage of Wimbledon. The broadcaster first acquired rights to Wimbledon with the 2003 Championships and obtained exclusivity to the entire fortnight back in 2012. Last year, it signed a 12 year agreement with the AELTC that will run from 2024 until 2035.
As part of that deal, ESPN, ESPN2 and ABC will continue to present 140-plus hours of coverage over the fortnight. ESPN+ will have live streaming of all courts throughout the fortnight along with live coverage of the qualifying rounds and access to all ancillary content produced by AELTC, such as films, archive matches, highlight shows and press conferences. Wimbledon coverage will be presented across all screens via ESPN and Disney platforms, while ESPN Deportes will continue to provide coverage in Spanish in the US. In addition, ESPN's rights around the world will include Canada via TSN and RDS, Latin America, the Caribbean and Brazil.
Futureproofing and planning
"We've got a great agenda for what we're going to do in the next five or six years," says Reynolds. "There is a vision to say how can [ESPN and AELTC] create the best possible product? The question for us, is how can we take 18 courts, 10 to 12 hours of matches per day and give the fan base a much of a menu as possible? It's really a long-range plan; how do you make the linear network special so that when there is play on Centre Court or Court 1, how do you make that unique? And for the passionate fanbase that might want to watch the action on court 18, you might need to give them a service on the ESPN ecosystem so that they can watch a dedicated feed. So, every day, depending on the order of play, it changes the way we package content daily."
More immediate is the redevelopment of the broadcast centre and media pavilion, which Wilson says will provide an opportunity for futureproofing ESPN's on site set up. "Later this week we will be walking with Wimbledon Broadcast Services (WBS) to go through the physical design of the rooms and consider how we might be able to redesign them to suit our needs. We will more of an IP-based infrastructure and distribution, so we'll be replacing a lot of old legacy cable with network cable and installing new fibre and Cat5. It provides us an opportunity to future-proof ourselves when we look towards 1080p or UHD or HDR and build in the technology to make those advancements as they come along."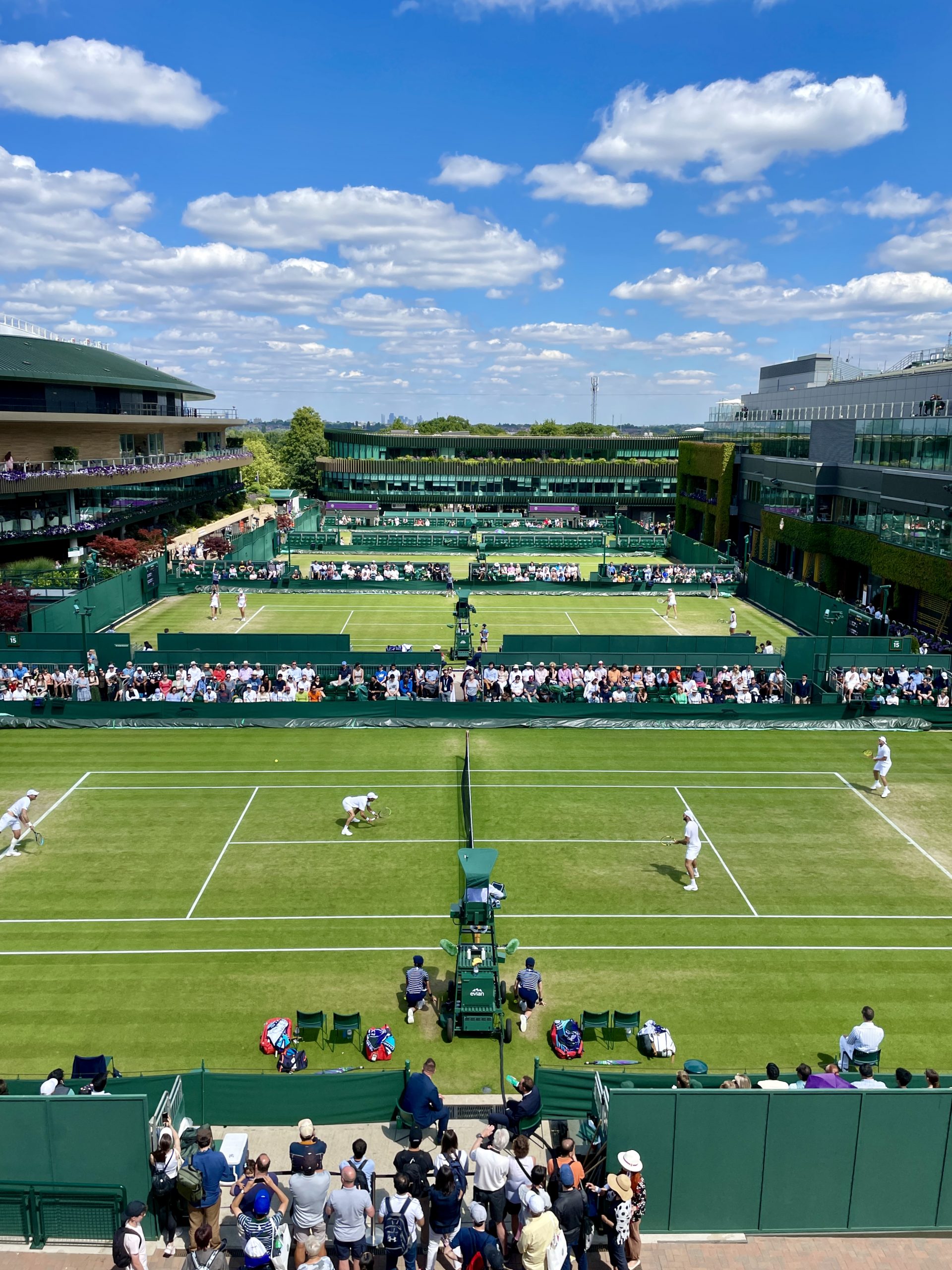 AELTC's longer term plans include the development of neighbouring Wimbledon Park golf club, a 73 acre site that it acquired back in 2018. "[AELTC] are the stewards of lawn tennis and it's a wonderful thing that they've got this much energy and this progressive long term vision of what tennis might be," says Reynolds.
Speaking about the development of the golf course, Reynolds says: "If they put another show court across the street, that may be interesting, because then there's more content. Maybe you get qualifiers here rather than at other locations so you can harness all the energy and get the whole community here, maybe for a longer period.
"I sometimes challenge myself, are we getting everything that's already here? Does that expansion just even threefold increase the opportunity that's out there, and how will they programme it? Will there be more practice time, more fan activities, more qualifiers? So it's really a content play in the long run."
When asked about his long term vision for ESPN's presentation of its Wimbledon coverage, Reynolds says the most important thing is access to players and understanding their first-person experience. "What it is not about, is what I lovingly describe as 'rectangles on the screen'," he says. While automated and robotic camera systems may allow for greater volume of coverage, it is "personality-driven access" that ESPN viewers want.
"Anybody can stream coverage of 18 courts, but to get the investment from viewers we need the first-person voice of the players. The most ardent fan will follow you anywhere, but the secondary or tertiary ring of viewership want to get a little bit closer to those player stories and hear their voices."
For Reynolds, the issue revolves around access without compromising the integrity of the player and the event while remaining aligned with the vision of AELTC. "It's hard when you're asking somebody to watch a five hour tennis match, and they can hear a lot of the crowd and some of the chatter on court, but they don't really have that first-person voice from the players or their interaction with each other and their coaches. So how can you harvest that and how can we reconcile that?
"At the end of the day, the players are their own team and they're their own brand. They've figured out social media and what to do personally for their own brands, so in effect each player has their own channel. They might ask, 'why do I need ESPN?' What I would say, is that they might be able to talk to their own fanbase, but we are a vehicle to broaden that.
Read more Live from Wimbledon 2022: AELTC's Paul Davies on balancing innovation & tradition
"I think everybody in the sports community is getting to the point where they're hearing from athletes on the field of play more frequently. It doesn't matter what sport you're in, getting to coaches and players in action is getting to be the norm.
"Tennis is a very quiet sport; there really is no dialogue or intimacy, so how do you get that 'voice'? It's really about what's behind the scenes or in the transition between walking to courts, practicing with a coach, or maybe what they're doing on their day off; having that intimacy to connect with the viewership to show what life is like on the day of a match. The club [AELTC] is getting more comfortable with opening the doors a little bit more and I think everybody wants to evolve; it's not necessarily about a revolution."
Read more Game, set and match: NEP audio production at Wimbledon 2022 boosted by strong team led by women