Live from Wimbledon 2022: AELTC's Paul Davies on balancing innovation & tradition
2022 has been a special year for Wimbledon, with the 100th anniversary of the first match to be played on the iconic Centre Court.
As the oldest tennis tournament in the world, Wimbledon is a famed observer of tradition, with players adhering to an all-white dress code and minimal advertising around the grounds. While the All England Lawn Tennis Club (AELTC) paid due reverence to Centre Court's 100th (more on this later), this year's tournament also saw a fairly significant break from the usual practice of play pausing on the middle Sunday of the two-week tournament.
"A lot of the broadcasters used to still be on air on the middle of Sunday even though there wasn't any play, so one of the great advantages of having play is that the narrative continues and there's not that breaking in storytelling," says AELTC head of broadcast, production and media rights Paul Davies. "Broadcasters love the idea and we're making the most of our resources."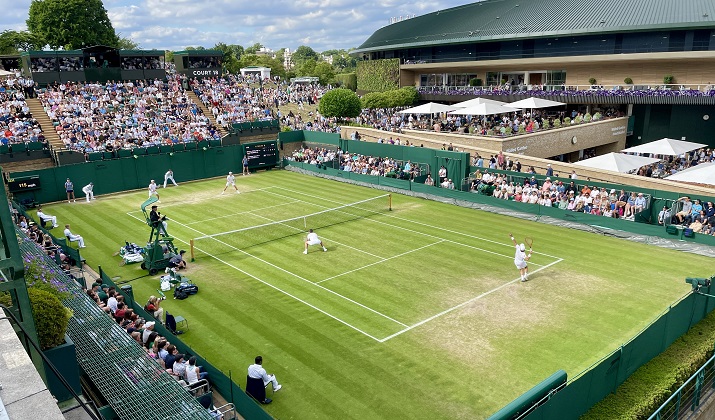 While the continuation of play has been a boon for broadcasters, an arguably bigger shift is that for the first-time host broadcaster Wimbledon Broadcast Services (WBS) committed to cover every single match.
Speaking with SVG Europe during the tournament, Davies says they decided to go "deep into week two".
"That includes some of the new events like the under-14 juniors, and the invitational events which are back this year but didn't happen last year, because of Covid.
"So if broadcasters have got a an under-14 junior player from Peru or Italy, we can guarantee that they can receive coverage of that match. And then it's a question of whether they would like us to put commentary on it, which we generally can do because we commentate on 11 calls at any one time.
"That means we can satisfy all the broadcasters around the world and they get value from their rights, because that's what it's all about – seeing their players, as well as the top names, perform."
For broadcast technical manager James Muir, the additional coverage has been more of a logistical than technical challenge.
He says: "We used to derig the southern end courts on the middle Sunday…but because now the play extends the facility is already there doing the coverage, we just extend the time we keep it running.
"There are some minor considerations around the amount of data storage as a result of having more coverage. But aside from more crew days, more equipment days and timing, it doesn't add any facility for us. That's why it's a good win for us; we can provide extra coverage without really having to rethink things."
In keeping with the theme of maximising coverage and output, this year has seen the culmination of a four-year project to digitise AELTC's archive of IMG-held content in order to make that content available as part of the marking of the 100th anniversary of the move to the current premises on Church Road, in southwest London.
Says Davies: "There were probably 15,000 tapes and film stock that needed to be either transferred or interrogated to find out exactly what we had. There was a pretty good understanding of what it contained, but it wasn't until we started going through the archive that we realised exactly what we had. The process uncovered some pretty magical items which we included in our centenary celebration on Centre Court on Sunday."
The celebration included setting up a stage and separate sound unit along with a grand piano and a procession of 25 past champions just minutes before play resumed on centre court.
"It was hugely emotional and had everybody in tears, but as a technical and logistical achievement for the for the whole club and for WBS, it was quite exceptional," says Davies.
Return from remote
While last year's Wimbledon was delivered with a reduced number of staff – and spectators – this year has seen a return to pre-pandemic levels. "All of our studios, all of our production suites, edit facilities, stand-up positions on the roof, are all absolutely booked out. We've always been blessed to have huge interests from our broadcast partners to want to be on site," says Davies.
In response to that ongoing demand, AELTC is improving and expanding its facilities in southwest London. Visitors to this year's tournament may have noticed some construction work, with a new media facility being built to house interviews and press conferences. And, in 2018, the AELTC bought neighbouring Wimbledon Park golf club to provide it with room for expansion.
"We are on a physical journey across the site, which centres on the long-term plan for the golf course," says Davies. "We are tripling our footprint; the golf course site will provide new infrastructure in terms of additional tennis courts, but we also need to consider what we do from a media perspective. We've got the fairly old-fashioned studios upstairs, which are relatively small. Also, we're really trying to get broadcasters outdoors.
"We want to showcase tennis in an English garden, so we want to see people presenting Wimbledon from outdoors but we have to enable them to do so. One of the ways we are doing that is via the new media pavilion which will allow us to put new outdoor presentation platforms on the second and third tier.
"We are on a journey with our broadcasters to give them enhanced facilities, but also to get them out and about across the grounds and eventually, in probably six to eight years' time, to the site of the old golf course."
Read more Game, set and match: NEP audio production at Wimbledon 2022 boosted by strong team led by women