Live from Wimbledon: BBC Sport goes for ubiquitous tennis coverage and complex storytelling
After the massive changes made to broadcasting services last year at Wimbledon Championships by Wimbledon Broadcast Services (WBS), this year BBC Sport expanded on its coverage, both in quantity and quality.
Ron Chakraborty, lead executive, major events at BBC Sport, spoke to SVG Europe at Wimbledon about how BBC Sport's tests last year with UHD grew this year: "We experimented with UHD last year, because you don't know what the uptake is [going to be]; the more people stream UHD, the more pressure there is on the internet, and you've just got to make sure you've got the infrastructure to cover the demand. I think we're content that worked [last year], and obviously the pictures of centre court were absolutely brilliant, so you can get [this year] that on iPlayer and via your digital red button."
This year BBC Sport streamed all 18 courts on iPlayer live in HD and Centre in UHD, plus on the red button one channel was on HD plus five others in SD for satellite viewers (while all channels were in SD on freeview and cable).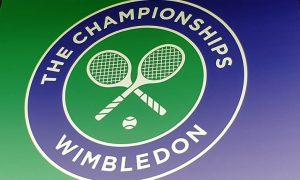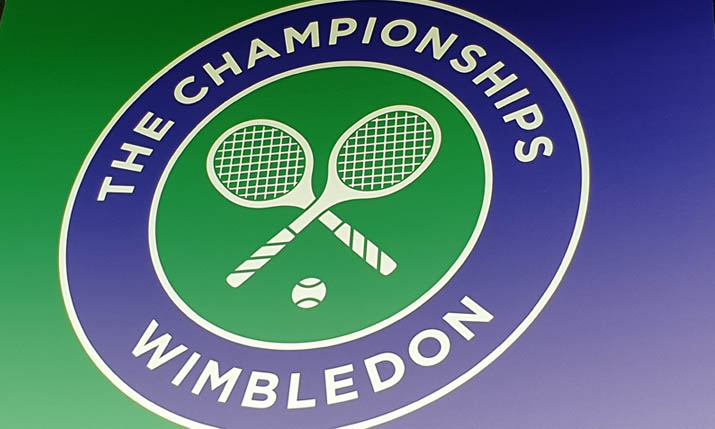 Said Chakraborty. "We've got all 18 courts in HD [on iPlayer] which is brilliant, plus six on the red button, because that used to be the odd criticism of the red button; you're watching something in glorious HD, then you carry on [viewing using] the red button and you're back to SD. Having that [one channel on the red button in HD] is fantastic, giving people the choice, because it's always been the thing that ever since we started [covering] more and more courts, the quality wasn't as good, so now we've got that it's brilliant because you've got the choice as well as the top class pictures, and obviously amazing pictures from Centre in UHD.
"In terms of 'we've got Wimbledon covered', it is absolutely true in this case," Chakraborty added.
Finding the stories
The task of covering the Championships is getting exponentially harder each year due to the quantity and quality of content. Chakraborty noted: "The biggest challenge is the amount of tennis. We still get massive viewing figures on BBC 1 and BBC 2; it's still one of the most treasured events we have.
"But just making sure you're telling the story in the most engaging way possible, the most clear way possible, when you know there's so many stories out there, it's always the challenge."
He continued: "The last thing you want is for people to say, 'oh, I didn't hear about X, Y, Z', or opening a paper in the morning or going on a website, or looking on social media and saying, 'oh, I didn't see that'. We just want to make sure we've covered everything, which is so difficult now not just in terms of the various digital clips, but [also in terms of] what all the individual players are posting on their Instagram [accounts]; sometimes they can be the most news-worthy thing out there and they're the sort of things that people want to see. [We have to] make sure we're monitoring those sort of things and we try to gather all those stories together in one place. It's quite a challenge, but it seems to be going well so far."
With expanded coverage comes more challenges for Chakraborty and the BBC Sport team, who have to sift through the plethora of content available and make sure the viewer is able to see the key stories, and more.
Chakraborty explained: "The challenge in editorial is to always be telling stories and working with the Club to make sure, if a big story's coming, that's it's scheduled and the broadcast is ready. The first day [of the Championships] was extraordinary; you had Zverev and Tsitsipas [with shock defeats on day one of the Championships] and there was an amazing moment with Coco Gauff against Venus [Williams] and suddenly that just became the story of the day, two million people watching it on BBC 2, front page of all the papers the next day, and of course she's went through qualifying so you had no idea that was going to happen. Who was to know Andy Murray was going to play doubles with Serena [Williams] of all people?"
The latter double meant that while, Chakraborty said, "doubles isn't normally something you put first and centre," because of who was playing, BBC Sport had to, "make sure it had the biggest possible audience".
He added: "We're trying to work together with the Club to give the biggest stories the best spotlight we can, is the big challenge really."
Viewing figures up
BBC Sport's viewing figures were up on last year's figures for the first day; Chakraborty noted that last year the Championships were competing for viewers with the men's World Cup in Russia. He added: "For the BBC, it was a nice problem to have – these two massive events – and because England did so well [in Russia] naturally it was a little bit more of a challenge for Wimbledon." He said that while Wimbledon has clashed this year with the women's World Cup, Championship matches have still held up favourably in terms of viewers.
Last year the top peak of viewers for the entire Championships (over a five minute period) was the final five minutes of the Vesely versus Nadal match on 2 July, where 2.8 million people viewed. This was followed by the last five minutes of the match between Edmund versus Klahn on 6 July when 2.4 million people tuned in.
This year, the top peaks in the first week of the Championships alone showed that 5.2 million people watched concurrently over a five minute period the Gauff versus Hercog match on 5 July, followed in second place by the Nadal versus Kyrgios match on 4 July, with 3.7 million viewers, and then Murray versus Herbert on 6 July with 3.0 million.
Smooth handover to WBS
BBC Sport held the host broadcaster position at AELTC for decades, yet the handover to WBS last year went smoothly and the BBC Sport team is happy with the outcome. Chakraborty commented: "Our relationship with WBS has been really good in terms of handing over the host [broadcast role] to them and making sure that basically what the BBC used to enjoy as host broadcaster, that we still get that."
Chakraborty is pleased with the new wirecam installed by WBS this year. He added: "The good old wirecam is absolutely brilliant. The shots we're getting from there, particularly down the southern courts, just means whoever's directing the matching down there on [courts] 2, 3 and12, they can have access to it."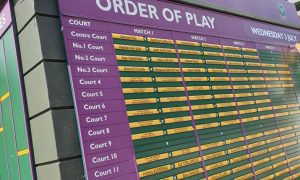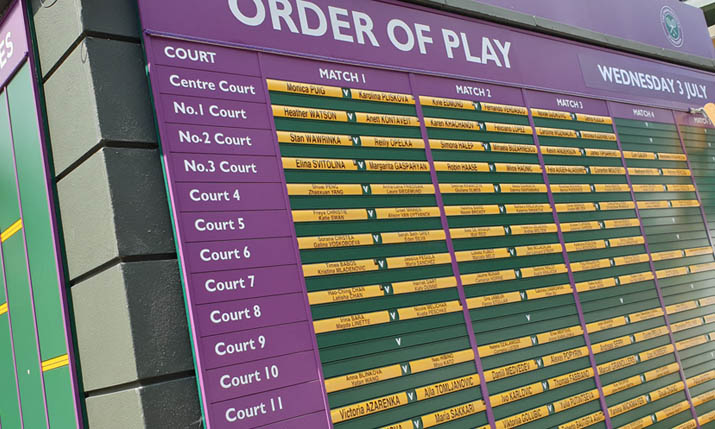 He added: "It's a bit of a tug of war between all the directors, [saying] 'can I have a bit of wirecam?'. You get these wonderful shots that you didn't have before. And the other thing [WBS] has done this year, on the Thursday before the Championship started, they did a drone shoot. It was a beautiful blue sky day and Wimbledon looked absolutely fantastic. We've been using those shots non-stop; they're just brilliant for your openings, your creative VT sequence, we just cut it in. We do go around [the grounds] ourselves if we're looking for specific shots, we've got our own crews out there roaming around, but to be able to have access to shots like [the drone footage] is absolutely fantastic."
He added that WBS makes a few VTs itself, which he said are, "top notch, and added: "Obviously we're keen to work with them on that too, and we often give them stuff we've done too, so it's a very good partnership."
iPlayer versus red button
iPlayer is definitely coming into its own for live sport, said Chakraborty. "Want we're finding more and more now is people are watching iPlayer rather than the red button. As more people get their digital [TV] sets, iPlayer's become a real go-to destination for live sport. So making sure we've got plenty of great stuff on there is something we're doing our best to do."
iPlayer is vying for viewers with the red button, he said: "It will be the challenge for us, at what point do you move on from the red button? There's still a heck of a lot of people that use it and you want to make sure they're not missing out. I know it's still there for the Tokyo Olympics because I'm looking after that as well; but that will be the challenge going forward; when do you make that move to prioritise iPlayer and digital streaming and lose that kind of old technology? I think when we bought the red button in, we weren't expecting it to still be so popular now. The figures are still very, very good. It's the sort of thing you wouldn't move on from, not if you look at the figures, but at the same time we know we need to gradually migrate people across to digital , but when that moment is, I don't know."