Live from Wimbledon: Eurosport team delivers for wide range of regional needs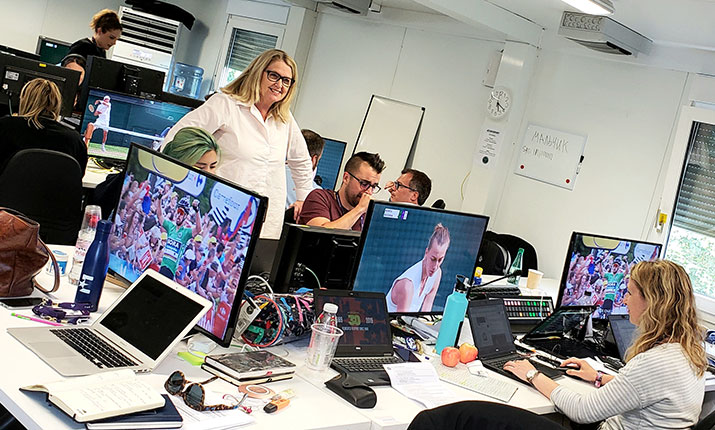 When it comes to Grand Slam tennis production Eurosport has a lot of mouths to feed.
There are the needs of an international signal that is distributed across Europe in more than 20 languages as well as regional Eurosport channels that want to deliver a more tailored experience for viewers.
And while the Wimbledon footprint, with more than 70 people, maybe lighter than at the other Slams (most notably because of the lack of a true physical studio presence) it meets the needs of viewers across Europe.
Ann Keith, Eurosport's tennis director of operations (pictured, above – standing), says that Eurosport's facilities include two standup studio positions on the roof of the AELTC Broadcast Centre and a two-story cabin just outside of gate 17.
"We have a production office and three edit facilities upstairs for highlights and then downstairs we have a small production switcher and audio board where we get the host feeds," she says.
"Eurosport's dedicated local production teams from Norway, Sweden, Finland, Russia, and the UK are on site, which is still considerable even if our rights for Roland Garros across the whole of Europe demand 10 markets and two full studios on-site. Norway also uses a camera with LiveU to transmit from around the grounds."
"We had Mats Wilander interview Rafa Nadal, so you had two players with more than 25 Grand Slam titles between them talking to each other. Offering unrivalled expertise is a big focus for us."
Eurosport has total exclusivity for the Wimbledon Championships in Belgium, Bulgaria, Finland, Hungary, Iceland, Norway, Romania, Russia, Sweden, and the Ukraine (Estonia, Latvia, and Lithuania have exclusivity for when a domestic player is not playing). Partial exclusivity is in the Netherlands (NOS has the semi-finals and final).
As part of Eurosport's commitment to localisation and locally relevant content in its markets, during the tournament, Eurosport regional teams from Russia, Sweden, Finland, Norway, and the UK are on site at various times and in various capacities of the tournament. Russian commentators were on site during week one but are now back home calling the action off tube while Swedish and Finnish commentators were home last week but are now on site.
Gearhouse Broadcast is the equipment provider for Eurosport's presence which also includes an EVS IP Director as well as an EVS replay server.
"We do have EVS here, but we utilise it for recording highlights, on-demand catch-ups and to create a half-hour highlights show that airs every night in the UK," says Sebastien Martineau, Eurosport, engineer.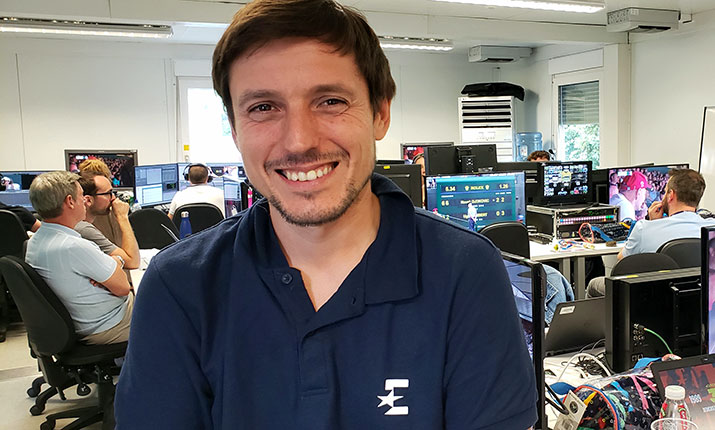 Arnold Montgault, Eurosport, senior producer (pictured, left), says that every day the production team is looking to provide Eurosport channels across Europe with expert points of view, interviews from the standup positions, funny intros, and more.
"We want to show people the different parts of Wimbledon and places they usually don't see," he says. "And then we have a 30-minute wrap-up show with the best highlights and interviews. For example, we had Mats Wilander interview Rafa Nadal, so you had two players with more than 25 Grand Slam titles between them talking to each other. Offering unrivalled expertise is a big focus for us."
Wilander is joined by co-host Barbara Schett for the daily program "Game, Schett & Mats" as well as other experts like John McEnroe offering up opinions and analysis.
"We prioritise local heroes so that Eurosport will have most of their interviews with players from Serbia or Romania in these regions," says Montgault. "Then there are the live matches – the live is a huge focus and priority for us – and between 10-15 standups each day."
All of the content from AELTC is passed back to Eurosport's broadcast centre in Paris via Globecast. From there the signals are made available to the various Eurosport entities across Europe. The Russian Eurosport service is also delivering a UHD feed.
"We also have three master control rooms in Paris that used for the different regions and then a fourth for Romania that is used when Simona Halep is playing as she gets a bigger audience than a lot of football matches there," says Montgault.
Keith says the team hopes to have a set-up similar to Roland Garros for the US Open which begins at the end of August.
"The operational side here is not quite as complex for us given our on-site footprint, but with individual and varying requirements, it still takes a lot of coordination," she adds.