Live from Wimbledon: How Fletcher and NEP are producing semi-automated coverage of the outside courts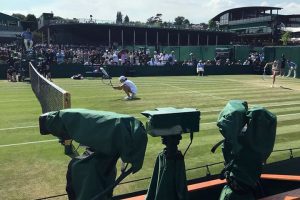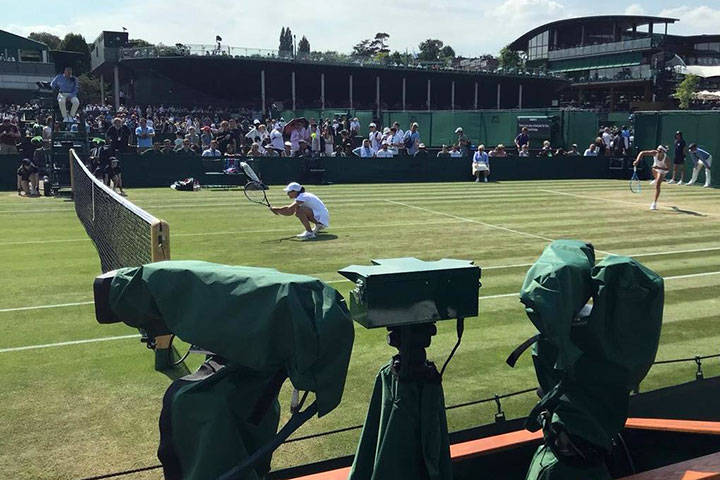 Fletcher Group and NEP have installed, and are operating, a robotic camera system at Wimbledon that is providing semi-automated remote coverage of seven of the outside courts during the tournament.
Fletcher Group's Tr-ACE tracking system is in situ on courts 4, 5, 6 7, 9, 10 and 11, making it possible for the host broadcaster, Wimbledon Broadcast Services, to offer multi-camera coverage of all 18 championship courts for the first time.
Each court has four robotic camera positions with pan and tilt heads: Camera one, fitted with a Sony HDC-P43, is in different positions on each court, sometimes high, sometimes low; there are Sony HDC-P1 cameras on each side of the net (pictured, above); and a fourth P1 camera is mounted on the scoreboard.
Fletcher's in-house developed Tr-ACE system uses Light Detection and Ranging (LiDAR) sensing to pick up fine details on each player and then creates a 3D model of the match, allowing the robotic camera heads to track those players, and therefore the action, without the need for human intervention.
At Fletcher and NEP's production base, behind the Wimbledon Broadcast Centre, each court has a dedicated camera operator and a director with the latter doing vision mixing and handling graphics and replays.
Using a Fletcher Tr-ACE controller, the camera operator can tighten or widen the automated shots and also take manual control over any of the robotic cameras at any time, as required, to capture specific shots.
SimplyLive's ViBox system, provided by NEP, is being used for switching, graphics and replays. NEP is also responsible for the MCR infrastructure.
"This remote camera set-up enables you to give the perception of a lot of production value using very few people," Richard Hingley, head of European operations for Fletcher, told SVG Europe.
"It can be used in a purely robotic way, without operators, but then you wouldn't get the crucial storytelling element that the camera operator and director provide."
In previous years, six of the outside courts at Wimbledon were covered remotely using tracking technology from Hawk-Eye.
Paul Davies, head of broadcast and production at the All England Lawn Tennis Club (AELTC), said: "We put the remote camera operation contract out to tender and we were bowled over by what we saw from Fletcher, who had never done tennis before. We knew they would be excellent and they have been excellent."
Although Wimbledon marks the first live use of the Tr-ACE system, it has previously been tested on the practice courts at the 2017 US Open.