Live From X Games Minneapolis: Inside ESPN's first live VR production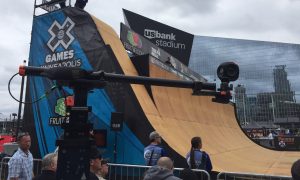 X Games has a long-standing tradition as the place where innovation happens. It's a mad [television] scientist's dream laboratory. This year, at X Games Minneapolis, the legacy lived on as, for the first in the history of the event, ESPN and its partners from Samsung and Digital Domain, offered live productions of select events in virtual reality.
ESPN partnered with the digital media production company Digital Domain to produce select events at X Games Minneapolis live in virtual reality. Here a camera system at Skateboard Vert kicked off the production.
Three X Games disciplines – Skateboard Vert, BMX Street and Skateboard Street Amateurs – were streamed live exclusively to 48 countries on Samsung Gear VR through the Samsung VR app.
"X Games has always been a place to test," said Tim Reed, VP, X Games for ESPN. "Because we produce the event itself, as well as the television content, it allows us to be as creative as we want to be. We are definitely fired up to take the X Games and these awesome sports that we get to highlight and put it into a fully immersive environment."
On the production end, ESPN worked with Digital Domain, a digital production company based in Los Angeles that typically does high-end effects for feature films. Their latest projects included the live-action remake of Disney's Beauty and the Beast and the the reboot of Saban's Power Rangers. They also boast an extensive background in VR storytelling offering end-to-end VR production and distribution services.
At each VR event here at U.S. Bank Stadium, six camera units were deployed with each of those units featuring seven camera sensors. All of the feeds went over fibre from the venues back to the truck (a B unit supplied by Dome Productions) where the camera angles were cut in real-time for the viewer by a director.
Cameras were positioned everywhere from up on the top of a skateboard halfpipe to even on the base of the Spydercam flying over the bowl inside the stadium.
"Now you're probably thinking, 'won't that make you sick?'" laughed Sam Reisner, staff engineer for ESPN's Advanced Technology Group. "It really doesn't. We worked with SpyderCam and did a lot of tests. It was early in our experiments. We worked with them to get that mount done and it looks awesome."
The aggressive nature of camera placement is one of the benefits of this being an event completely run by ESPN. There's the freedom to put cameras essentially wherever the production crew wants without having to gain the approval of a league or governing body.
From the viewer's perspective, ESPN distributed a single fully-produced stream, as opposed to offering users the ability to select their own camera angles. Philosophically, in this instance, they felt it makes for a better product.
"It can take a lot of energy [for the viewer] to switch cameras," said Reisner. "Many times you want to sit back and just watch. We feel that we are very good at producing a finished feed."
That finished feed was rather robust, offering full ESPN-inspired graphics, replays, announce talent and more. The goal was to present a full and complete broadcast of the event, not simply a complementary experience.