LiveU reflects on Olympic success as it takes Gold sponsorship of SVG Europe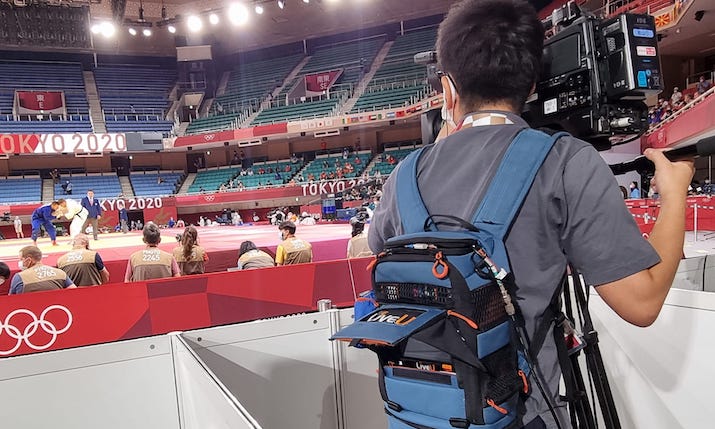 Live streaming and remote production solutions specialist LiveU has renewed its Gold sponsorship of SVG Europe.
The company's multi-camera production-level solution is designed to bring fans closer to the action while reducing live production costs. Customers can go live from anywhere (on land, sea or from the air) with a flexible set-up and events can be produced from the central studio, reducing travel and equipment costs. LiveU is pre-integrated with other leading cloud production vendors, automating the entire production workflow.
"With 5G built-in, our solutions offer the utmost reliability, enabling customers to go live from the most crowded venues with the highest bandwidth and super low latency," said Ronen Artman, VP marketing at LiveU.
"Of course, all eyes have just been on the Tokyo Summer Games. LiveU played a pivotal role, bringing all the excitement and results live daily from Tokyo to viewers around the world. Over 1,300 LiveU units were in use, delivering 19,000 live sessions from the different sporting events to 50 countries worldwide and 50,000 hours of continuous live broadcasts. We also ran more than 30 channels of distribution to almost 100 stations across the world in our LiveU Matrix IP distribution platform that were all dedicated to the Games."
On the decision to return as a Gold sponsor, Artman added: "Video is what we do, and sports is a key audience so SVG is a perfect fit! Partnering with SVG is an important element in our marketing strategy and we see numerous benefits. SVG is one of the most valuable sources of news and information for our industry and we're active sponsors and participants in many of SVG's webinars and in-person events.
"Working with the team is always a pleasure; everyone's professional, super helpful and committed to getting the best value."
Find out more about the benefits of SVG Europe sponsorship.