Manchester gives BVE North a sporting chance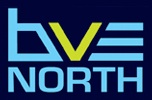 Organized to reflect – and react to – the current media boom in the North West of England, BVE North is a new event organized by the team behind London's well-established BVE (Broadcast Video Expo). It seems they have a success on their hands…
A more compact version of its elder sibling, it took place at the Manchester Central conference centre and contained all the usual tradeshow ingredients: the latest technology, gadgets and widgets, show-only special offers, exclusive seminars and sessions and a whole heap of networking opportunities.
The big difference between BVE North and other tradeshows of its ilk was, obviously, the clear and tangible northern twist but also the general lack of cynicism amongst the 2400 attendees.
Manchester and the North West of England is grateful that it is being given due reverence thanks to the arrival of MediaCityUK, BBC North et al and it showed its appreciation by showing up in great numbers and enjoying what was on show.
Speaker highlights included BBC North controller of production Mark Harrison discussing why UK independent producers continue to shy away from end-to-end digital production and the film/TV director Shane Meadows arguing that the introduction of affordable digital film cameras with huge image sensors has liberated filmmaking.
With BBC Sport just a tram ride away in nearby Salford, it will come as no surprise to learn that sporting themes and technology to enhance sports coverage was well represented throughout the exhibition halls.
Studio lighting integrator LSI Projects, for one, showed the Desisti LED 90 watt daylight fixture that has been selected by BSkyB for its Sky Sports News studio in West London and by BBC Sport for its new facilities in Salford.
At the same time, LiveU's LU40i handheld live HD video technology was being shown by Garland Partners. A nifty little box, the LU40i is a simple-to-use and cheap uplink product for anyone producing coverage of sport and music events for the Internet.
Sports broadcasters were well represented during BVE North but there were other sports production teams in evidence too including football club media teams.
Representatives of Manchester City FC and Liverpool FC were both spotted with the latter publicly discussing a partnership with StreamUK that recently saw the club's online video offering LFC TV given a major overhaul.
Stereoscopic 3D, as is always the case these days, was a significant theme throughout the exhibition. The medium even had its own 3D Revolution Theatre for experiencing 3D and taking in master class sessions and case studies.
Highlights included Richard Hingley's 'A Stereographer's perspective on live sports', but perhaps the most useful of the 3D sessions at BVE North was conducted away from the dedicated Theatre by freelance TV cameraman and 3D convergence puller Graham Howe.
Howe spent 45 fascinating minutes at the Sony Theatre digging deep into the art of stereography for sport, particularly football coverage, dwelling on the finer details of convergence points and inter-axial distances and detailing the different types of stereoscopic rig on the market.
During his seminar Howe revealed the big challenges facing stereo 3D sports producers and provided real-world solutions.
Object violations and edge violations on screen are a major issue, he told the small but enthusiastic audience.
As a result, 3D producers and camera people must ensure that no 3D is further than 1% away from the foreground and that graphics or on-screen text is always the furthest object forward.
That said, the biggest problem encountered on a 3D shoot, he continued, is caused by vertical or rotational misalignment of lenses within a camera rig.
"[When this happens] the brain tries to make each eye move up and down independently [to see the 3D image]," said Howe. "Over time it makes viewing uncomfortable and can cause headaches."
The way to solve this is to ensure that lenses are perfectly height and tilt aligned before the shoot. or zooming, lenses must be perfectly matched, he said, and "if you don't [do this], you lose the 3D effect completely."
All those problems, he said, are avoidable but they are fixable in post-production (if the content is going to that stage). Others, such as poor focus tracking, are not.
"If it's out-of-focus, it's out-of-focus," he said with some finality.
His final advice to was "shoot for the medium."
Using the 2010 football World Cup in South Africa as an example he said that if a 3D shoot is for TV its pictures cannot then be used on a big, cinema screen as the amount of 3D separation required for effective stereoscopy depends entirely on the subject you are shooting and how far away it is.
"Some of the World Cup, which was shot for TV, was shown in cinemas and I went along to watch a game on a big screen," he said. "But there was too much separation. I left before kick off."
The same cannot be said for what was a surprisingly successful and well-attended BVE North.