Mark Roberts Motion Control to introduce new Bolt Junior robot arm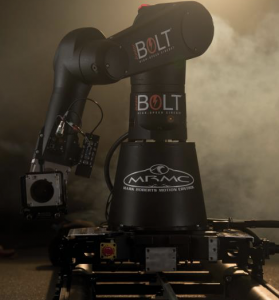 The Mark Roberts Motion Control Bolt JR has been developed in response to customer need for a smaller, compact, more cost-effective version of the high-speed MRMC Bolt Cinebot motion control rig.
The high-speed, compact 6-axes camera robot arm has been developed for film studios, photographic studios, and table-top work where studio space and budget are a key criterion. Being small and lightweight, Bolt JR is also easily maneuverable and transportable.
"But make no mistake, Bolt JR may be short on size and stature but packs a mighty punch, enabling impressive camera robotic capability," says an MRMC representative.
Available in pedestal and on-track versions, the Bolt JR cinebot has an arm reach of 1.2 metres and can move high-speed on-track at over 3m per second with a camera payload up to 12kg.
According to MRMC, camera robots can empower the cameraman, motion control operator and photography director to get the camera exactly where it needs to be for unique tight camera angles, special effects, and to capture all the action and drama.
Ease of control
Controlling and programming Bolt JR is straightforward using the MRMC Flair system. Bolt JR with Flair offers a wide variety of automated functions and precision repeat functions. For complete flexibility, Bolt JR can also automate lighting, trigger synchronised SFX timecodes, rig movement or model movement.
Bolt JR is set to make an appearance this April at the NAB exhibition in Las Vegas where it will be demonstrated to over 100,000 show visitors alongside its 'big brother', Bolt Cinebot.
With the launch of Bolt JR, MRMC has launched a new dedicated Bolt JR website providing information, specification, video and product sheets for download. The Bolt JR website can be found at www.mrmoco.com/boltjr. Meanwhile, video footage of the new product in action can be found at https://www.youtube.com/watch?v=ANlr3u84vPQ.