Matchroom Sport to launch OTT platform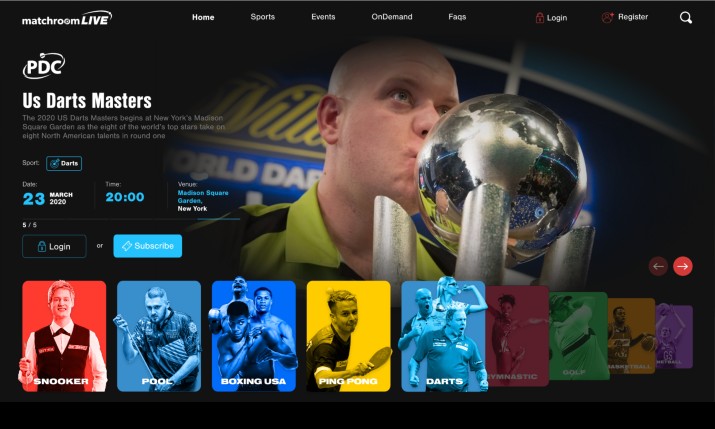 Matchroom Sport is to launch a global OTT platform offering access to a portfolio of live and on-demand sports content including coverage of darts, pool and snooker.
Built and powered by sports streaming and video technology company StreamAMG, Matchroom Live will feature 12 sports in total and will be made available online and via native iOS and Android apps.
The content will include:
Live broadcasts of Matchroom Sport events in non-broadcast territories, including the World Darts Championship and Premier League Darts, Pool's Mosconi Cup and World Pool Championship, plus the World Snooker Championship and The Masters and the remainder of Matchroom Sport's catalogue of live events.
Event highlights, full replays and an extensive catalogue of on-demand content covering all of Matchroom's portfolio of events, available worldwide for free.
Viewers will be able to watch up to four live events at once with 'QuadPlay', a four-screen view that offers a true multi-sport experience.
Casting capabilities, enabling coverage to be sent to consoles, Smart TVs or connected devices, will also be included.
Primarily Matchroom Live will offer subscription packages and pay-per-view options. Subscription-funded, sponsorship-funded, ad-funded or hybrid commercial models by sport and territory are also possible.
Barry Hearn, the chairman of Matchroom Sport, discussing the announcement, said: "Matchroom Live will allow us to reach new audiences, grow our international presence and offer world-class entertainment for fans across the globe. StreamAMG's track record makes them a fantastic partner to launch this service and provide an excellent experience for viewers worldwide."
StreamAMG's StreamPlay combines a suite of video technology to offer a full OTT service and handle every aspect of sports streaming, covering live production, global delivery, on-demand video content management, user management & payments and the front end experience.
Matchroom Sports portfolio also includes boxing, golf and table tennis.
Pricing was not announced.