Megahertz discusses challenges of Timeline Television fit-out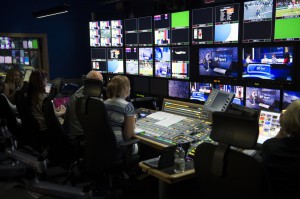 The new facility for Timeline Television – located in part of the International Broadcasting Centre that was constructed for the London 2012 Games – will be home to the new BT Sport channels, which are scheduled to launch this Thursday (1 August).
A leading provider of post, OB and studio-based facilities, Timeline Television is partner to the much-publicised BT Sport venture. The project to design and build its new base was completed against a tight timeline, and necessitated the input of an experienced and responsive systems integrator.
"With a start date in February and a need to hand over technical systems in June, we knew we needed a systems integration partner who had all the knowledge and experience in-house and would be ready to roll," says Dan McDonnell, managing director of Timeline Television. "We worked with Megahertz [Broadcast Systems] on Racing UK so, although this project is an order of magnitude larger, we knew their philosophy was around delivering solid and reliable systems, on time and on budget."
As Steve Hope, project manager at Megahertz Broadcast Systems, tells SVG Europe, Megahertz first entered discussions with Timeline "during their bid stage to BT in September 2012, and worked together with both BT and Timeline Television through the concept design stages." Once appointed, the biggest challenge was – not surprisingly – timescale. "The builders only got access to the building on 1 March 2013," says Hope. "Megahertz got access into Central Apparatus Room (CAR) on 11 March and we had a deadline to meet for full rehearsals beginning on 1 July, and on air from 1 August."
To make these marks, Megahertz had a team of up to 50 engineers and wiremen on site for the duration. With building works going on all around, it was, admits Hope, "a massively challenging deadline… but we have hit every key milestone as planned."
The new production centre includes three large studios with full production galleries, plus four smaller galleries for turnaround programmes, and 20 edit suites. All are linked by a master control room which supervises a large number of lines in and out of the centre. Key hardware for the project is being supplied by Autoscript (prompting equipment), Calrec (audio mixers), Evertz (multiviewers), EVS (servers), Shotoku (camera robotics), Snell (routers), Sony (cameras, production switchers and monitors, Riedel (talkback) and Vinten (camera support equipment and systems).
Unique aspects to these studios' configuration revolve to a considerable extent around their shape and size. "The production hub is built around three studios – the 14,000 sq ft Studio 1 and 2, and the 2,000 sq ft Studio 3. Each studio is a box within a box with an acoustic floating floor," explains Hope. "The beauty of this is that these studios provide a dynamic and adaptable space that can be used as one large expanse or three independent or interdependent studios."