More than 280 RCF loudspeakers specified for the Great North Run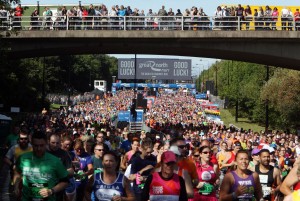 Billed as 'the world's biggest half-marathon', the Great North Run (GNR) has taken place annually between Newcastle-upon-Tyne and South Shields since 1981, and is one of the major events in the runner's calendar.
For around two decades the public address and part of the technical infrastructure have been provided by locally based technical service company Nitelites. And as the event has exploded from the original 12,000 participants to today's 57,000 runners, so the logistical challenges of supplying a vast inventory of loudspeakers and building infrastructure through the night — once the main motorway through the city has closed off — have grown exponentially.
With Nitelites MD Jamie Moore project managing the event, this year the company provided over 280 RCF enclosures, including 56 x TTL55-A, 24 x TTL33-A, 24 x TTS56-A, 24 x TTS36-A, 12 x TT22-A from the Touring & Theatre series — and a large fleet of HDL20-A and HDL10-A from the D-Line series.
Working for event founder Brendan Foster's Great Run Company, Nitelites director Andy Magee said the sound system really came of age around a decade ago "when we convinced the organisers that they should move up from a 100V line distributed system to a full range system." Today this has become a fully-fledged line array system.
He stated that the biggest challenge had been loading in the equipment overnight without lighting, and loading out again within three hours of the finish to allow the carriageway to be reopened. On top of that, equipment specified the previous day, on the Newcastle side of the Tyne for the Junior and Mini runs, need to be redeployed. Add to that the eight hangs of four flown RCF HDL20-A used along the 200m specially constructed sprint track on the Quayside, for the Great North CityGames — another popular new event
For the GNR itself, most of the activity covered the mile around the Start line, where Nitelites also provided staging, and at the Finish.
Speaking of the system design, Andy Magee said: "We have half-a-dozen flat=bed trucks carrying generators, power distros and control racks, and we fly the PA from these trucks on HIAB cranes, with nine TTL55-A and 6 x TTS56-A subs on each truck." Further up the course are six ground stacks of TTL-33A — and the total delay time was around four seconds.
In addition, groundstacks of six HDL10-A and HDL20-A are also dispersed towards the rear behind the start line. The entire system receives motivational music and presenter mic feeds while at the Finish, many of the feeds consist of pre-recorded stings, appropriate to those clad in fancy dress costume, such as Superman attire.
Nitelites also link with broadcasters on a separate zone, where they specify RCF TT22-A Mk2. "These are great in sensitive broadcast areas as they can be tightly controlled for live links, so we can turn them down when requested," says the Nitelites man. "There are personnel out on the course with Sennheiser 3732-COM-ii radio systems. The radio mic receiver has two outputs — pressing the button cuts the main and routes audio to the second output for talkback, etc."
Summing up, he says the company had again pulled off a major feat. He praised the crew and in particular system engineers, Tom Geoghegan and Lee Saddington — who were responsible for designing the complex cable topology
"RCF's onboard RDNet [dedicated networking board] was a great asset," he concluded. "We ran the network over 2000 metres of standard multicore and all loudspeakers across that first mile were on line via RDNet."