MotoGP reaches milestone of half million daily races on mobile devices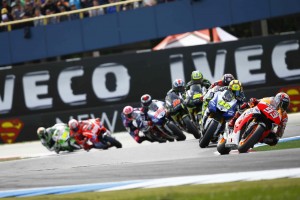 Dorna Sports has harnessed the pocket power of mobile devices as the official MotoGP Racing App crossed a key milestone of half a million daily races by fans of the sport. Available as a free download on the Apple AppStore and Google Play, MotoGP Championship Quest has attracted a loyal band of fans who collectively invest around 71,000 hours of game play every day.
Graeme Warring, co-founder of WePlay Media, the developer of the App said "Over the past several weeks we have seen a meteoric rise in not only the number of fans downloading the App but also their engagement and time commitment, it speaks volumes about the popularity of the sport and the success of the 'MotoGP Fan World Championship' which is the eSports series of MotoGP."
The Fan World Championship is a weekly race series where the MotoGP rider who has the highest average fan score wins that round of the series. If it were a popularity contest Valentino Rossi would win hands down, but the Fan World Championship is more about the fans time and effort commitment to supporting their favorite rider regardless if there is 1,000 of them or a million.
This has seen some surprising winners take the podium over the past 28 rounds. Irish rider Eugene Laverty who will leave for the World Superbike paddock in 2017, has dominated the series in the early part of the year with his loyal and committed band of fans always putting in a titanic effort. However, lurking behind is the affable Aussie rider Jack Miller who is showing more than good form on the track, as he rises up the Fan World Championship rankings as the Australian fans get behind him. French rider Loris Baz, British rider Bradley Smith and the Espargaro brothers have also kept the veteran Rossi and the other "alien brigade" off the podium.
Warring said "It is still a long way to go in the Fan World Championship season which concludes at the end of 2016 and fans will be competing till the clock counts down the new year providing prolonged MotoGP competition during the off season". Winners will receive a magnificent trophy crafted from an actual Brembo MotoGP carbon fiber brake disc and caliper, a trip including flights and VIP hospitality to the MotoGP race of their choice, a collector's edition Tissot Watch an X-Lite Helmet and other outstanding prizes.
"MotoGP is the only sports series which has approached the fan engagement in such a serious way, it really is an outstanding series for the fans and presents them with a way to make a meaningful and noticeable contribution to their favorite riders without having to invest in expensive gaming consoles and sitting in front of the TV for hours at a time, the simple convenience of a smart phone App opens up participation to the masses" Said Warring.