MotoGP strengthens collaboration with Tata Communications in push towards cloud-based remote production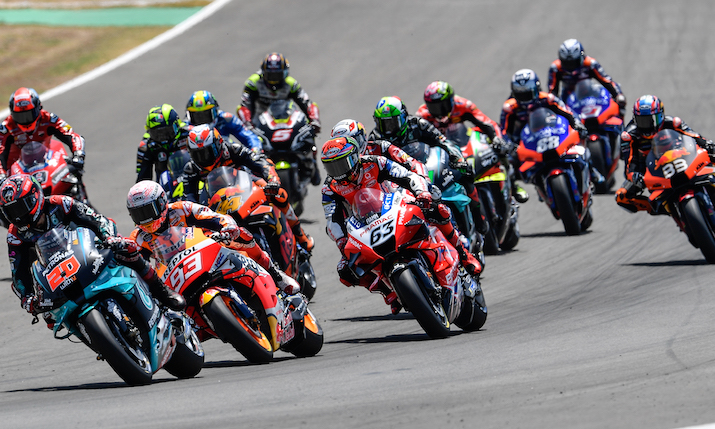 Tata Communications and Dorna Sports, the exclusive commercial and television rights holder of the FIM MotoGP World Championship, have renewed and strengthened their exclusive multi-year strategic collaboration to bring the spectacle of MotoGP's racing to nearly half a billion homes worldwide.
Tata Communications' media edge services will allow MotoGP to continue to ensure excellent video quality, delivering races live from the track to viewers' screens in just a few tenths of a second.
The company will also boost migration from an onsite traditional media production to a remote production that will culminate in a future cloud-based model, increasing the number of video signals from 60 to 110 – some in ultra-low latency – providing more content to the viewers, and enabling the innovation of remotely produced immersive sound.
These remote production capabilities, combined with the global video content delivery network, will also enable increased remote broadcasting of live track action, supporting the increased sustainability and long-term environmental objectives of MotoGP and Dorna Sports as both continue to work together on technological solutions.
Tata Communications and Dorna have also been working together to leverage private LTE deployment at race tracks to manage wireless camera feeds in low latency and the highest quality possible, bringing even more incredible content to viewers around the world.
Manel Arroyo, chief commercial officer, Dorna Sports, said: "Tata Communications has been pivotal in enabling us to bring immersive live race action to our millions of fans around the world. Together, we've pushed the boundaries of innovation in sports broadcasting, increasingly bringing our global fans closer to their favourite sport." He adds, "With this renewed collaboration, we trust Tata Communications to help us take the fan experience even further, using cutting edge technology to deliver an incredible experience for fans at home, which is as enthralling as watching the races on tracks."
Dhaval Ponda, global head of media and entertainment services, Tata Communications, added: "MotoGP represents the best in global motorsports today. Fuelled by our deep broadcast experience, video engineering pedigree and passion for technological advancements, we're proud to extend this relationship to further accelerate the fan experience. Together, we'll continue to co-create and elevate the viewing experiences for the legions of passionate motorcycle racing fans globally. "