Motorsport festival: Goodwood SpeedWeek races to life with Aurora Media Worldwide
Racing to produce the event in half the time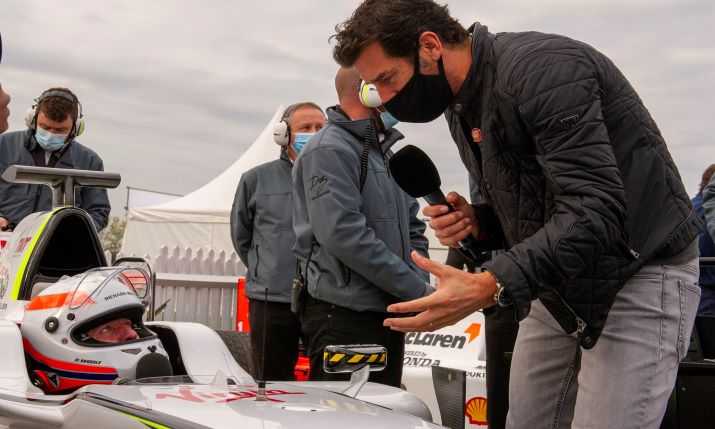 Goodwood SpeedWeek recently showcased three days of incredible motorsports action both on and off the track.
This new, one-time-only interactive entertainment experience ran from 16 to 18 October behind closed doors with the aim of replacing the cancelled Goodwood Festival of Speed, which was supposed to take place in July, and the Goodwood Revival, which was supposed to happen in September, for millions of fans at home.
Fans from over 150 countries tuned in to watch the racing, new car debuts, specially commissioned lifestyle and automotive content, and interactive experiences, all produced by Aurora Media Worldwide.
Watching via the SpeedWeek hub and on ITV, viewers were treated to on-track drama, one-off competitions, and demonstrations celebrating motorsport's greatest achievements, including 70 years of Formula 1 and 50 years since Porsche's first Le Mans victory.
Two live streams provided entertainment from Friday through to Sunday, showcasing all the action from the motor circuit as well as Revival fashion moments, the power of design, women in motorsport, a behind-the-scenes preview of the on-event Bonhams' auction, and a look at the future of mobility and technology.
Racing to plan the operation
The challenge on this project was the short timescale available to plan it, which was condensed to around half the time that would normally have been available in a regular year due to the postponement of the two key events due to the pandemic.
Speaking to SVG Europe, Matt Beal, executive producer at Aurora Media Worldwide, comments: "The sheer scale of the live hours per day to be produced for this event, with planning only commencing at the end of May 2020 for the event dates of 15 to 18 October 2020, was a challenge.
"Normally we would have circa six to eight months of planning for an event of this scale."
Aurora had 14 vehicles in the OB compound consisting of three main scanner trucks with three galleries, seven edit suites, two uplinks units, plus one for streaming, RF and minicams, and a tracking vehicle.
The main OB provider was CTV Outside Broadcasts. It was supported by Hayfisher on all RF camera's and onboard RF camera's, Aerial Camera Systems (ACS) supplying all the SFX camera's and a hot head on the hoist, Aerios Solutions on the drone, with NEP supporting them on the RF coverage. 3XScreens supplied the streaming facilities. "All of these elements were needed for the integration of this complex OB at such short notice," says Beal.
Set up began on Sunday 11 October with the tender's and main rigging facilities. All facilities, OB vehicles and crew were on site by Wednesday for FACS checks.
Says Tamara Drew, Aurora Media Worldwide's event producer for Goodwood SpeedWeek: "We had over 230 crew that included nine talent and 14 editors working on daily shift patterns of 7am to 4pm and 4pm to 1am."
Strict measures were taken for COVID-19 health and safety within the OBs, including full PPE, hand gel, and specialist waste facilities provided to crew. All trucks were also fitted with Perspex screens in between the individual positions.
Notes Drew: "We had many additional measures in place including each truck or team having their own 'coloured' bubble, so that when anyone had to cross bubbles there was a QR code to be scanned when entering that area, creating our own unique 'at event' track and trace, should it have been needed. We also had our own health and safety officer on site supplier, First Option."
As to how the pandemic affected the production in terms of working remotely, Drew says, "Cloudbass Graphics provided one graphics operator who worked remoted offsite and from home". She adds: "This was a tried and tested remote system that had been used previously with the same graphics op and producer. They were both happy with how this worked."
Complex camera set up
On the camera set up used, Drew comments: "SpeedWeek was put on primarily as a TV event, behind closed doors and with no spectators. Therefore, all the innovations and camera were used to enhance the coverage for the at-home viewers and bring them closer to the action and cars."
Those innovations included live drone footage of the Classic Car Racing on one of the motor racing circuits.
One challenge for the camera set up was cabling on two new race routes, says Drew. "The new Rally and Driftkhana routes did pose some challenges [for cabling] so we used a number of additional remote camera's in outlying area's to facilitate this challenge."
An extensive list of cameras was used throughout the event. There were: Track – 12 fixed, two RF, one Hoist, one Drone; Gymkhana – three fixed, one Scissor Lift, one Jib, Hoist, two RF; South Rally – eight fixed, one Scissor Lift, one Jib, one Hoist, three RF; North Rally – six fixed, one Scissor Lift, one Jib, one Hoist, three RF.
Adds Drew: "We used a hoist to get a beauty shot of the whole circuit, to give viewers at home a better involvement in the final product."
Further cameras included: Studio One – two Fixed, one Jib; Studio Two – 2 Fixed; Talent RF – x five; On-boards – x 15 live on-board cameras; Tracking vehicle – two radio RF live cameras; Drone – one live racing drone; special FX cameras – x 20.
Blanket coverage streamed
Aurora produced blanket coverage of Goodwood SpeedWeek with two live daily streams that totalled 54 hours content: SpeedWeek Entertainment on 16 October from 12pm to 6pm, on the 17th from 10am to 6pm, and 18th from 10am to 6pm; plus the Racing stream which went out on 15 October from 6.30pm to 8.30pm (GRRC Members' Only access), 16th from 9.10am to 7pm, 17th from 8am to 6.05pm, and the 18th from 8am to 6.15pm.
It also provided three daily live slots for ITV via dual uplink satellite, appearing on ITV4 and on the 18th, ITV1, totalling six further hours coverage.
Finally, Aurora also produced a 15 minute daily video news release show during the event, which was distributed to local and national news networks.
Aurora used two studios for this large race event, rather than the usual one. Beal notes: "The main studio was in a hanger with lighting, a large screen, two fixed camera's and one jib camera. The second studio was next to the pit lane and mainly used as a cold or wet weather position with lighting and two fixed cameras. We have not used the hanger studio in the past but the scale of this event deemed it necessary."
Beal continues: "We had nine talent [members on the team] with us on the event and each needed to create both live and pre-filmed content. As such we allocated each talent their own production team so someone was always with the talent whilst the other producer was prepping and setting up the next item."
The presenters were Dermot O'Leary, Sian Welby, Rory Reid, Mark Webber, Becky Evans, Tom Clarkson, Molly Pettit, and 'Sniff and Smith' podcasters and YouTubers, with comms provided by David Addisson, Sam Hancock, and Ian Waddington.
One of the new technological discoveries of the year, Zoom, came into play in an innovative manner for this production. Beal says: "We used the medium of Zoom technology integrated into the trucks and through the large screen in studio one to connect both live and pre-recorded footage of celebrities and guests who were unable to attend the event [in person]."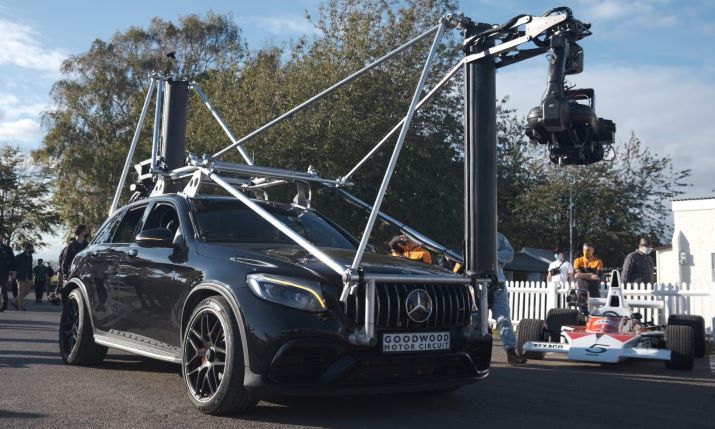 360 video and audio to new graphics look
Aurora created a viewer experience with a 360 video and 360 audio set up as part of a feature for the Festival of Speed (FOS) Future Lab segment of the programming, which is an immersive technology experience based at Goodwood. It also used live RF audio on board mics so that drivers could speak to each other during transmission. Specialists MTRC Audio provided the systems.
Interstate Graphics created the look and feel for this new event. Drew comments: "They have an amazing reputation for following a brief and working to tight deadlines."
Cloudbass Graphics was the onsite OB provider. Its systems linked directly to the timing partners to create the clocks, split times and winner boards. Meanwhile, Scissorglue created 3D maps and break bumpers.
TSL provided timing data for the track and Rally, D3 provided the timing data and points calculations for the Driftkhana.
Planning for the 2021 calendar of events is already well underway at Goodwood, with the Festival of Speed and Goodwood Revival both scheduled to go ahead next year. More details on next year's events will be released in the coming months.