Motorsport Network debuts Motorsport Fans contributor platform for racing fans
Motorsport Network has introduced a new product called Motorsport Fans, which gives fans a platform to have a voice and a place they can share their views with their peers.
In what is claimed to be an industry first, motorsport fans and contributors will be able to earn rewards for their submissions, incentivising them to grow their very own content portfolio as well as provide a platform to share opinions.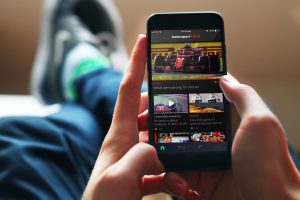 Creating posts for the app has a gamification element, allowing contributors to 'level up' and unlock features such as access to Motorsport Images and writing tools, based on the reaction their content evokes from other fans.
Ian Nolan, Head of Digital at Motorsport Network said "Fans will be able to access signed merchandise and tickets to races in return for their contributions, but we envisage a day when contributors can unlock a monetisation suite and start to build an empire on this platform."
Motorsport Network already generates tens of thousands of user comments every day in forums that span automotive, motorsport and specialist verticals such as electric vehicles — and it was here the idea for the Motorsport Fans app was conceived.
"Fans on our comments boards were becoming frustrated because the platforms only enable one-way dialogue. They wanted interaction and they wanted payback for their insight," said Nolan. "This is why we have built a platform that is highly dynamic, interactive and feels 'social'. The app makes it easy to react and interact with content and get instant gratification through payback and rewards and we've designed it with feedback and signals from the fans throughout."
"The content is the driver and nothing sparks debate and community more than fan opinion. Our users told us they also felt restricted by old forums being desktop based, so we designed it 'mobile first' from the ground up, so fans have a tool to post quality content, right there in the palm of their hands," he concluded.
The Motorsport Fans app is available in the Apple iOS and Android app stores now.