MTG expands sports offerings to include football leagues in 4K UHD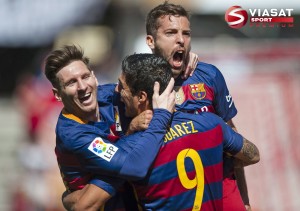 Scandinavia based media group Modern Times Group (MTG) will add two new channels to its line up during the second half of this year. The first, to be introduced in August, is Viasat Sport Premium, while later in 2016 Viasat Ultra HD will carry content from different football leagues in 4K.
MTG already runs a number of sports channels in Scandinavia through its pay-tv operator Viasat, so what was the motivation behind the decision to go for a premium sports channel – and then develop a completely new Ultra High Definition (UHD) offering?
"We have more great sports content than ever before and there is simply not enough space on our channels to show it all," stated Per Nunstedt, Head of Viasat Sport in Sweden. "Our viewers have asked for more linear channels to be able to see even more content from our portfolio of rights."
Nunstedt says that request is being met through the launch of additional sports channels during 2016 – with the UHD offering creating a new dimension for the broadcaster. "In April we expanded our channel portfolio with TV3 Sport HD, and in August we will launch Viasat Sport Premium. Shortly after will come Viasat Ultra HD. We've also launched eSportsTV – the world's first TV-channel entirely dedicated to eSport." In all, the group plans around 13,000 hours of live sports in 2016.
World class offerings
He goes on to explain that Viasat Sport Premium will gather prominent highlights from all sports, although initially the focus will be on world class football. "During 2015 and the early part of this year we have extended existing contracts and acquired a number of additional sport rights, such as Premier League, Champions League, NHL, La Liga, Serie A, World Cup of Hockey 2016, Ligue 1 and Copa America 2016.
"From August the biggest matches from the most popular football leagues will be broadcast live on Viasat Sport Premium. In addition, the world's best football players, teams and leagues will be surrounded by exclusive studio settings with some of the country's best programme presenters and experts."
The new channel will be available only in Sweden where it will be carried over satellite and offered to Viasat's DTH and fibre TV customers. They will also be available to customers of Canal Digital Kabel and Bredbandsbolaget. Other distribution through third parties is still under negotiation.
"Content will also be made available in public spaces like restaurants, bars and hotels through our partner, Hoist Group. It will be our strongest sports channel for sure, however we won't share specific numbers as full distribution is still under negotiation," said Nunstedt.
Going 4K
Viasat Ultra HD, to be launched this autumn, will be the Nordic region's first ever channel with 4K content. "Our plan is to provide our customers with events from our unrivalled portfolio of live sports coverage in the best possible picture quality," said MTG's CTO Bartek Gudowski. "MTG has joined forces with satellite operator SES and electronics giant Samsung – who has produced a new UHD set-top box — in order to bring the new channel to life, broadcasting via satellite in Sweden, Norway, Denmark and Finland."
He reports that Viasat Ultra HD will feature live sport events from the UEFA Champions League and other MTG sports rights, specially produced in 4K.
"It's great that real Ultra HD content now is being produced and that sport is leading the way. The picture quality is amazing and brings a wonderful experience of being so close to the action. We are really excited to be the first out in the Nordics, and look forward to building on this successful partnership with Samsung and SES to bring even more Ultra HD content to our customers over time."
The channel will initially be available to all Viasat satellite customers with sports channels in their package. As far as second screen services are concerned, Viasat's sport customers will have access to the linear channel through Viasat TV on mobiles and tablets, and the content will also be available through MTG's streaming service at Viaplay.