Multiple broadcasters using EVS technology for Bundesliga coverage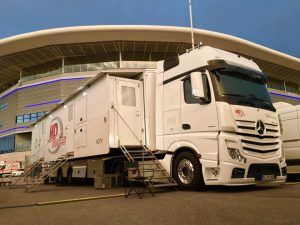 Ahead of the 2017/2018 season of Germany's Bundesliga – one of the most-watched football leagues in the world – multiple broadcasters and facilities providers have invested in new technology from EVS.
In a move that merges its television, radio and online editorial offices, German public broadcaster WDR has built a sports campus fitted with a completely new live production infrastructure. This Cologne-based facility now accommodates a centralised multimedia production team dedicated to the output of live sports programming and features two DYVI live video switchers from EVS.
The new production infrastructure was put in place in the state of the art facility ahead of the 2017/2018 season. From here, one of WDR's new software-defined DYVI switchers is being deployed to produce the popular Sportschau sports report, which is broadcast on ARD and has covered every Bundesliga match weekend since 1961.
MTI – one of Germany's leading media operators and technical facility providers – has also taken delivery of a DYVI switcher, which was implemented into the new sports center it built for Eurosport. This will act as the production base for the network's live sports coverage, including that of the Bundesliga.
Alongside these new users is content solution provider PLAZAMEDIA, which was the first to implement a DYVI switcher from EVS. Following a successful season last year running a new live remote production, PLAZAMEDIA will once again deploy DYVI for the Sports1 CHECK24 Doppelpass show – a talk show dedicated to the German football league.
Enhanced UHD 4K production
To support the company's growth and increase the amount of live programming produced in-house, Sky Deutschland has built a brand-new 1700m² broadcast center dedicated to the production of sports programming. Built next to its headquarters in Unterföhring, near Munich, the center features multiple EVS technologies, including servers which deliver the pay-tv provider over 150 flexible channels of I/O.
Within this broadcast center's three studios, MCR and post-production facilities, Sky Deutschland has integrated XT4K, XT3 and XS3 live production servers as well as an IPDirector production asset management system, LSM Connect and XFile3. This deployment means Sky Deutschland can produce its live Bundesliga action, half-time and post-match analysis and dedicated magazine shows – in both HD and UHD-4K.
Due to increased demand for live coverage of today's biggest sporting events, facilities company HD Broadcast also underwent upgrades to its OB fleet ahead of the 2017/2018 Bundesliga season with six XT4K live production servers installed alongside several LSM – with the Dual-LSM mode which allows two operators to share a single server – and LSM Connect, two XFile3 systems and MultiReview tools.
In addition to its selection of a DYVI switcher, MTI also chose the XT4K server, an IPDirector PAM system and LSM Connect interface for Eurosport's sports production center.
IPDirector and LSM Connect let users swiftly manage content and asset playlists, respectively, while XFile3 makes it easier for the exchange and archive of files during live operation. MultiReview gives the director fast access to a synchronous view of all the camera angles available in a production without needing to rely on an operator, which enables a faster highlights production process.
"Any new season of major sports leagues like Bundesliga will see broadcasters and facilities providers bolstering live production infrastructures to make sure they're able to continue delivering the highest-quality live programming for fans to watch at home," said Jamie Gordon Mitchell, VP Sales Central and Northern Europe at EVS. "This deployment of EVS solutions for the start of this season is a testament to the role our technology plays in producing the best-quality content for the world's biggest sporting events."
The XT4K and DYVI switcher will be among EVS' latest IP-focused live production technology on show at IBC2017 on stand 8 B.90 between September 15-19 at the RAI Amsterdam.