NAB 2018 in Review: IP, standards, and wireless are the audio takeaways
Last week's NAB 2018 marked a milestone in the broadcast business's technology narrative. IP signal transport has emerged as the major new pathway for audio and audio control.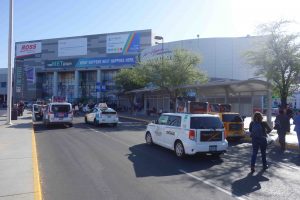 It was everywhere you looked: from intercoms, such as Clear-Com's high-density audio- and intercom-over-IP connection card for the Eclipse HX digital and Telos Infinity IP Intercom, which converges voice communication and contribution audio on a single IT backbone using standards-based VoIP and Livewire+ AES67 AoIP transport, to even wireless microphones, such as Alteros's GTX Series L.A.W.N. (local-area wireless mic network), a 6.5-GHz ultra-wideband system chosen as the wireless system deployed at the show's IP Showcase, sponsored by the Alliance for IP Media Solutions (AIMS).
"Think of wireless now as a computer proposition," said Alteros President/CTO Jackie Green.
IP also extended further into audio consoles: notably, Solid State Logic's System T-300 compact broadcast console, a dedicated, entirely IP-based, live-to-air broadcast-audio–production system with AoIP as its core, and Wheatstone's IP 64 digital mixing console with AES67 compatibility, touchscreen control, and WheatNet IP networking for routing and controlling audio.
SMPTE ST 2110
The SMPTE ST 2110 suite of standards specifies the carriage, synchronisation, and description of real-time separate streams over IP for professional media applications. It was a major topic of discussion at the DTV Audio Group's annual conclave the day before the show opened. That event also paid attention to streaming audio (and video) to both fixed and mobile devices, the virtualization of broadcast-audio infrastructure, and immersive sound — all developments, noted DTVAG Executive Director Roger Charlesworth, taking place at a rate of change much faster than seen during previous major technology shifts.
ST 2110 showed up in new places, including Dante media-networking–technology developer Audinate's announcement that it plans to support it by year's end, enabled through the Dante Domain Manager software platform and firmware updates for Dante IP Core, Dante HC, Dante Brooklyn II, and Dante Ultimo.
RF Reallocation
The recently concluded US RF-spectrum reallocation was reflected in a new and wider range of wireless microphone systems. Shure systems, for example, operate in the 900 MHz band (ULX-D and QLX-D), DECT (Microflex wireless system), and 2.4-GHz (GLX-D digital wireless system). Sennheiser's Evolution wireless EW 300 G3 and EW 500 G3 wireless microphone and monitoring systems are now available in an A1 variant that covers the 470-516 MHz range; its flagship Digital 9000 and Digital 6000 series and the AVX camera-mountable lavalier, which works in the license-free 1.9 GHz band, were also on display.
However, although wireless is all over the place, spectrally speaking, no one's tossing out all their copper just yet. Professional Wireless President Jim Van Winkle, who serves as RF coordinator for the NFL and other sports leagues, already working on RF management for the 2019 Super Bowl in Atlanta. "We're encouraging more use of wired microphones, such as for brief sideline interviews," he said, "to help free up spectrum at big events."
The Future
In the coming year, IP integration is likely to accelerate, first in the plant and eventually extending deeper into remote operations, especially as at-home/REMI production workflows proliferate. And those could be propelled by larger macro forces: several large broadcast-network mergers are in play, including a particularly convoluted Fox-Disney-Sky deal, which could dramatically remake the broadcast landscape. M&A activity is usually followed by cost-reduction efforts, and at-home production techniques offer significant cost savings for broadcasters.
The coming year will also likely be a big one for immersive sound. Dolby's Atmos is extending to experiments with the NHRA, and Fraunhofer's MPEG-H is a core part of a new initiative by Qualcomm Technologies and cinema-sound giant THX called the THX Spatial Audio Platform, which was demonstrated off the show floor as an end-to-end workflow for delivery of next-generation immersive audio experiences. THX Spatial Audio can support legacy (i.e., channel-based), emerging content formats (object-based and ambisonics), and open audio standards across mobile, PC, and consumer electronic devices.
Read all Team SVG Europe and USA's exhaustive coverage of the NAB in our dedicated Tech Buzz Blog that ran before, during and after the 2018 event.