NAB 2018 in Review: OTT, AI, machine-learning and IP are top digital highlights
If direct-to-consumer live-sports-streaming services weren't already in the mainstream, they sure are now, following the launch of both Disney's ESPN+ and Turner's B/R Live this month. Live over-the-top (OTT) technologies and the tools that make them possible were the buzz of the NAB 2018 show floor last week.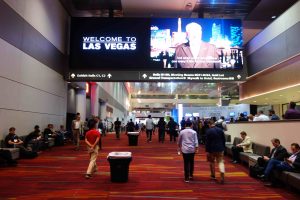 In addition, there was plenty to be shared and seen about AI and machine learning in a content-creation environment. Also, the move to IP got a long overdue boost with the recent ratification of the SMPTE ST 2110 suite of standards.
Here are highlights of digital offerings by some innovative companies: iStreamPlanet, Harmonic, Akamai, AWS Elemental, Telestream, Wowza Media Systems, Limelight Networks, Grabyo, and more.
iStreamPlanet recently launched its Orbis direct-to-consumer streaming platform. In addition to high-quality video support for content owners, the platform provides deep data-driven analytics. Orbis is the backbone of Turner's new sports-streaming service, B/R Live. The platform is free until June, when it will become subscription-based, and offers live streaming of major sports events, including the UEFA Champions League (English-speaking U.S. rights).
At Harmonic's press conference, Director, Market Development, Jean Macher noted that the company has seen a shift in the use of cloud-technology services. "We see a change, a disruption maybe, but definitely progress in cloud adoption by our customers," he said. "A lot of video is streamed over the internet, and that puts a lot of pressure on our customers."
Customers have come to Harmonic, he added, because they want to benefit in the elasticity the cloud provides in terms of agility, time to market, and the ability to "pay as you grow." He announced that the company now has 32,500 OTT channels deployed globally and, of those, 2,500 are in the cloud. This represents 150% growth in cloud-native OTT channels in only the last nine months for Harmonic, he added.
"For a long time, OTT has been the stepchild of live broadcasting, traditionally around 30 seconds behind in latency, but that's changing," said Will Law, chief architect, media division, Akamai. The company is improving latency in its CDN, using open-standard CMAF as a path forward, to get it close to satellite-based distribution delays. "Latency in the past has been used as a band-aid for covering up immature delivery systems. OTT is now maturing to the point where we can move down the latency stack and up the quality stack. 1080p is standard on OTT, and we are seeing 4K workflows come about for live OTT, which is the vanguard; the aim is 4K HDR DRM with broadcast-equivalent latency."
AWS Elemental demonstrated integration of its Media Services with AWS machine learning to help sports-video producers enhance workflows with automated capabilities. Media Services integrates with Amazon Rekognition, Transcribe and Translate, with 83%-94% accuracy. Said CMO Keith Wymbs, "Media Services is a category in the AWS console that allows customers of any size to take advantage of our services in the cloud as SaaS. We are now combining that with machine learning." AWS Elemental is also debuting Quality-Defined Variable Bitrate (QVBR) control.
"The world is going to everything streaming; OTT is going to be the future" — Scott Murray, VP, product management, Telestream
"The world is going to everything streaming; OTT is going to be the future," said Scott Murray, VP, product management, Telestream. "We are positioning ourselves to be the go-to company for everything live and VoD. We're already there with VoD, and now we're working on live. As part of that, we're working with Fox Sports for the World Cup. Fox Sports is sending back live content from the World Cup to Los Angeles in real time over the public internet with just a 10-second delay, so editors can create their highlights shows. This is really killer stuff." The solution comprises Telestream's Lightspeed Live Capture, plus Aspera's Faspstream, which creates a "tunnel" though the public internet. "The cost savings are staggering," Murray added.
Having debuted at IBC2017, Clearcaster, the new Facebook Live streaming solution from Wowza Media Systems, was on display at NAB 2018 with a bevy of upgrades. The solution provided support for shoulder programming at the recent NCAA March Madness tournament. According to Senior Solutions Engineer Tim Dougherty, Wowza Streaming Cloud also remains a popular technology among the company's sports clients.
Limelight Networks is helping lead the conversation and the innovation around low-latency streaming, especially in live sports production. Senior Director, Product and Solution Marketing, Mike Milligan cited the new WebRTC-based subsecond-latency live-streaming solution as a major feature at the company's booth. According to the company, the solution allows video to be streamed from anywhere in the world with just a single second of latency.
Cloud-based video-delivery breakout Grabyo has seen rapid growth, thanks to its social-media–clipping solutions. Now the company is expanding even further with added capabilities behind Grabyo Producer. According to CEO Gareth Capon, the platform enables browser-based support of digital production, with graphics, ads, live polling, and more inserted via simple clicks of a mouse. The company also showed the results of its recently announced partnership with Singular.Live and Reality Check Systems that enables addition of more-advanced live graphics to shows put together via Grabyo Producer. Grabyo also recently worked with Eurosport on numerous digital productions at the PyeongChang Winter Olympics.
The hot news from Vizrt was Libero AR, which combines the Libero platform with augmented-reality elements, offering the ability to place AR elements in front of the on-air talent. Kevin Bovet, head of sports business development, Vizrt Americas, said it allows, for example, talent to break down a play on an AR representation of the field on a table in front of them. Also noteworthy, he adds, is that Vizrt is giving away software licenses for Vizrt Artist: "That will allow more designers to adopt, and that will have a positive impact."
NewTek announced LiveGraphics, a new approach to creation of real-time motion graphics that does not require a proprietary hardware graphics engine. With NewTek LiveGraphics, content authored in Adobe Photoshop CC and Adobe After Effects CC is available for live output from TriCaster TC1 and NewTek IP Series with fully replaceable text and images that can be driven by live data and web content. LiveGraphics delivers on the promise of Adobe Creative Cloud in real time. At the show, NewTek also announced its NC1 Studio I/O IP module, four-channel SMPTE ST 2110 connectivity for TriCaster TC1, and NewTek IP Series.
With the move to IP top of mind in Vegas, Cisco touted its Cisco Media Blueprint and IP Fabric for Media. The company announced that it will launch IP Broadcast Training programs in mid 2018 and is launching an interoperability-lab partnership for media applications and workflows with Intel. Other highlights at the booth include Cisco CloudCenter to help manage hybrid IT and multi-cloud environments, AppDynamics for application performance management, and new Ask the Expert collaboration solutions.
IBM Aspera showcased enhancements to its Streaming for Video solution. Building on its FASPStream protocol, this latest evolution enables live and near-live video streaming at high quality with no added latency over commodity internet with low-touch deployment and centralized administration using existing video infrastructure. Aspera Streaming for Video enables centralized, real-time production of high-bitrate programming, eliminating the need to co-locate costly production staff at remote venues.
Also unveiled at the show was IBM Aspera on Cloud, a hosted service that provides a fast way to transfer, exchange, and deliver content from any location to anyone anywhere. Files that need to be exchanged are often stored in multiple clouds and on-premises systems. Traditional transfer technologies bridging these environments can be slow and unreliable. IBM Aspera on Cloud overcomes the file-transfer challenges of the hybrid cloud by allowing media companies to securely and reliably move their content across on-premises and multi-cloud environments at high speed.
Yospace showcased live dynamic ad insertion and the issues involved in bringing both scale and personalisation to any device a viewer wishes to watch content on. Says CEO Tim Sewell, "It can be very difficult to scale live dynamic ad insertion, as you're bringing in personalisation. However, as we have been doing this for a long time, our architecture has evolved. We are now at the point where audiences are growing and we are bought in because less experienced companies have not known what is needed." The company is also talking about its overall stream-management focus.
For more of SVG's coverage of NAB 2018, including news, product, and video interviews with key personalities, visit SportsTech@NAB Show blog.