NBA All-Star Media Day goes global with new syndication site, live streaming on social
For the first time, NBA All-Star Media Day is a worldwide event: the league is live-streaming its annual event to more than 180 countries. The NBA has teamed with NeuLion to launch an NBA syndication site that provides web publishers, social-media sites, and television operators across the globe free access to live NBA player interviews. In addition, all 16 concurrent Media Day feeds from the Los Angeles Convention Center are being live-streamed on Twitter and Facebook in the U.S. and Sina Weibo and Tencent Weibo in China and are being delivered to ESPN for its various platforms.
"It's all about giving fans the broadest possible access to the NBA All-Stars," says Steve Hellmuth, EVP, media and operations, NBA Entertainment. "To do that, we wanted the widest possible delivery. We didn't want to lock anybody into a format or into a particular social-media channel. We wanted everybody in the world to be able to see this press conference because it truly is a global event."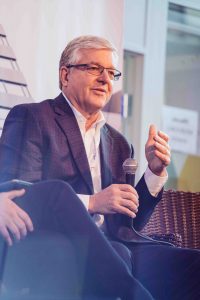 With one of the largest global fan footprints in the world, it's obvious why the league would want to embark on such a project. Besides Hellmuth, the Media Day live-streaming project at All-Star is being led by VP, IT, Ken DeGennaro; Director, Technical Operations, Dave Barry; and Senior Director, Broadcast Operations, Francesca Martinelli.
"Again," says Hellmuth, "this is very focused on the fans, especially of players that come from different countries. If you want to follow players from Europe or China or anywhere else, this makes it a lot simpler to take that content."
If You Got It, Use It: Leveraging the HSAN and Replay Center
All 16 interview pods at Media Day are outfitted with a camera and microphone fibered to the NBA TV truck outside the convention center. These feeds are muxed (with help from Bexel) to the NBA's HSAN (high-speed arena network) connection at the Staples Center, and 16 discrete paths are sent to NBA Entertainment headquarters in Secaucus, NJ. Once there, the existing pods at the NBA Replay Center are used to provide slates and graphics (for example, LeBron James upcoming on a certain channel).
"We are able to substantially leverage our [existing] infrastructure for this," says Hellmuth. "Rather than running 16 feeds out of a truck at the loading dock and then having 16 encoders and a satellite [uplink] and all that, we just created a Media Day mode for HSAN, which is different from game mode, that takes all the feeds back to Secaucus."
The feeds are delivered to the cloud and onto the NeuLion Digital Platform, which handles the encoding and delivery to the syndication site. Live feeds are available to media outlets as both RTMP and HLS streams at 9 Mbps (H.264 compressed 720p video at 59.94 fps with AAC stereo audio at 256 Kbps).
"We wanted this to have real reach and didn't want to restrict anyone from getting [the content]," says DeGennaro. "So a big [media organization] and a small one are no differently advantaged in terms of their ability to access this [content]. There is no authentication required; you can just download, ingest, run through internal workflows, and publish to whatever platform you want."
The NBA and NeuLion send out a media advisory to tell global media where to pick up these points and how to access the feeds. The new syndication site provides distributors with a calendar, indicating when they can pick and choose the live video interviews of interest, identify streaming endpoints to pull down those interviews in an IP-based format, and stream the HD content on their own websites, TV networks, or social-media sites.
"If you're a broadcaster or website," says Chris Wagner, EVP/co-founder, NeuLion, "you'll have a schedule of all the interviews and a URL to access them. You hit that URL, and you get the pulldown of the streams available. Since it's a pretty high bitrate, if you're a TV broadcaster, you can encode that and push it across your TV network. Or, if you're a website that needs lower bitrates and different speeds, you have that flexibility as well. So, whether high-end television or low-end mobile, you can get what you need."
Each syndication partner can ingest these IP feeds with any readily available encoder/media server (such as Elemental, Harmonic, ATEME, Envivio, Wowza) or cloud-based media service (such as Azure Media Services and AWS Elemental Media Live) that support pull ingest of RTMP and/or HLS streams.
"It's a really great idea by the NBA because it makes the distribution of one to many so simple; it's a syndication concept without all the strings attached," says Wagner. "Historically, the transport cost of satellite for something like this just made it too expensive. But, when you're using this digital model, the cost of distribution comes so far down and makes it easy to get the content out there without having to spend a lot."
Looking Ahead: More Where This Came From
After offering two test windows on Wednesday and Thursday, the NBA officially launched the new site with the Rising Stars Media Day on Friday. The league is offering three windows during NBA All-Star Media Day today. And the NBA is already looking for future opportunities for this new production model and the syndication site.
"We see this as a lightweight, quick, nimble, inexpensive, and frictionless solution that leverages the infrastructure we've already developed," says DeGennaro. "If the pipes are there, why not leverage them? We are already looking at what this could provide for other pop-up type of functions, such as press conferences, things like that. If we make this content available in this way, anybody can just grab it, and it helps to better reach the fans globally."
NBA World Feed Also Leveraging HSAN, Secaucus Facility
Of course, Media Day isn't NBA Entertainment's only obligation at All-Star. The world-feed production for NBA All-Star Saturday Night and the All-Star Game continues to evolve. Mobile TV Group's 26HDX mobile unit is serving as the home of the world-feed production, and 26HDX's B unit is being used by CCTV for the Chinese telecast in a dual-feed model. In addition, NBA Entertainment is using PSSI's Atlas hybrid uplink/production truck to cover the Saturday press conferences.
NBA Entertainment continues to leverage Secacus more each year. This week in L.A., the NBA has instituted RVON (RTS voice-over-network) to link comms between the truck and Secaucus. In addition, NBA's edit trailer onsite has full file-transfer capabilities with Secaucus via the HSAN. EVS operators inside 26HDX have access to that content as needed via the EVS XFile system in the truck.
"With the file transfer on HSAN back to Secaucus, editors can stay home and work on packages there," says Dave Barry, director, technical operations, NBA. "It's being conducted between the producer and director in the world-feed truck, producer in the edit truck, and the edit trailer in the middle to make that happen. That continues to grow every year."