NBA produces world's first 5G smartphone broadcast at Summer League
Broadcast carried on the ESPN App, International NBA League Pass, and NBA TV Canada
In a historic first, last night's Atlanta Hawks-Washington Wizards NBA Summer League game became the first live major sports production ever shot exclusively on smartphones using 5G technology.
"After a successful dress rehearsal, we are a full go for the Smartphone View alternate broadcast tonight," said Steve Hellmuth, EVP, media operations and technology, NBA Entertainment. "We believe this will be the first live major sports production ever shot exclusively on smartphones to be distributed widely to fans."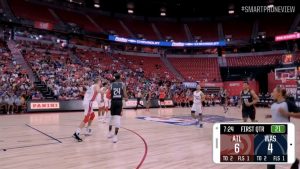 AT&T provided the 5G video infrastructure for the live game production, which deployed six Samsung phones to shoot the action on the court and include interactions with fans in attendance, interviews, views from courtside, a customized graphics package, and other in-arena elements. The effort was made possible with the help of several technology vendors, including LiveU and its Smart mobile app. The broadcast was carried on the ESPN App, International NBA League Pass, and NBA TV Canada.
"The plan is to deliver fans a unique broadcast experience using the same cameras they use every day to capture special moments in their lives," added Hellmuth.
5G is still in its development stages in the US, and broadcasters are clamouring to get their hands on it. The NBA becomes the latest sports entity to experiment with 5G technology.
Last summer, Fox Sports and the Fox Innovation Lab partnered with Ericsson, Intel, and AT&T to stream 4K HDR video over 5G at the U.S. Openfrom Shinnecock Hills Golf Club. The 5G wireless technology transmitted 4K HDR video from two Fox Sports cameras positioned on the par-3 seventh hole at Shinnecock Hills through the Fox Sports production truck and onto viewers through DirecTV.
The first sports-centric coming-out party for 5G technology took place in February when Intel and partners deployed it on a broad scale for the first time at the PyeongChang Winter Olympics.