NEP Belgium and Broadcast Solutions complete new RTBF OB truck through the coronavirus lockdown
The COVID-19 lockdown across Europe failed to delay the delivery of a full-length new OB truck built by Broadcast Solutions for NEP Belgium and destined for RTBF. The team dedicated to building the truck continued to work remotely from home offices when the lockdown came in mid-March, and succeeded in delivering the vehicle on time for its 1 April deadline.
The 12-metre truck is the first of two that will be leased and used by Belgian public broadcaster RTBF, which delivers TV, radio and streaming services to the French-speaking part of Belgium. RTBF will use these trucks for its wide range of sports and entertainment shows.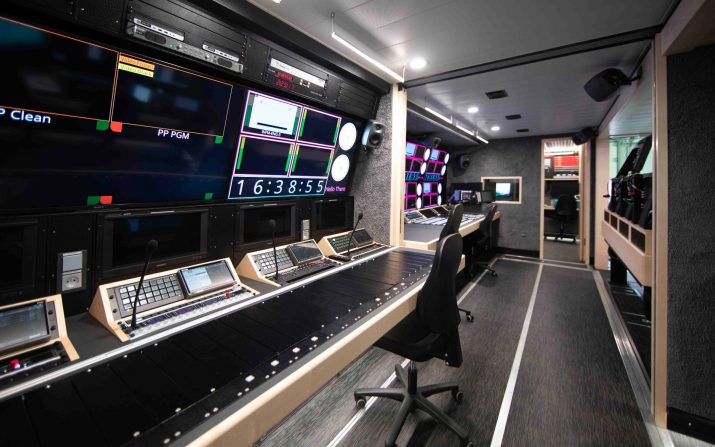 Two years ago RTBF opened a tender to build new trucks with an IP core and NEP Belgium won the tender. The two identical trucks are built by Broadcast Solutions, with the second due for delivery mid-year 2020.
RTBF will rent the OBs from NEP Belgium. Both are currently HD, with the option to upgrade to UHD. RTBF chose the SMPTE 2110 approach because they needed a scalable truck and to use the two trucks together and connect them to the RTBF building, which is also going to be built in SMPTE 2110.
Within the full-length trailer are workplaces for three audio, five production, four slomo, four engineering/CCU and two unilateral spaces. It houses a Sony XVS-8000 vision mixer, Lawo V Matrix C100 core processing, Arista 100G core network, Lawo mc256 audio console, Genelec and Fostex speakers, Riedel Artist intercom and Lawo VSM control. PTP and reference signals, as well as the scopes and network control devices, are Tektronix. Screens are a mixture of Konvision and Sony.
The truck can use 16 cameras and three 12-channel EVS, of which three cameras can be up to 6x super slo-mos. The complete core of the truck is SMPTE 2110, though it has the possibility to connect 16 baseband CCUs and 32 external inputs over baseband. It also has 32 outputs via baseband giving full flexibility between the IP world and the baseband world.
NEP Belgium technical director Geert Thoelen told SVG Europe, "The truck was due to be delivered on 1 April, and on 13 March corona came to visit and the lockdown started. So all teams – NEP Belgium, Broadcast Solutions, Lawo and Sony – continued to work on the truck remotely and we managed to finish it on time.
"We've had a daily session with everybody in their home offices and some with their kids next to them! Wow – they really did a great job"
"We went over to visit the [Broadcast Solutions] factory in Germany and drove the truck here, and now everyone is working remotely from their home office to finish off some small details. But RTBF has agreed and accepted that the truck was delivered on time. The truck is here rather than at RTBF because their offices are closed down until 3 May. The same applies to the second truck: everyone is continuing to work for delivery in early July.
"I'm very grateful to the teams working on this truck. We've had a daily session with everybody involved, all of them in their home offices and some with their kids next to them! Wow – they really did a great job," said Thoelen.
Flexibility is the key for range of live production requirements
"Both trucks are built in a way that they can connect to each other and become a 32 camera and six-channel EVS truck with two production rooms and two audio rooms. That then becomes a very big truck, which can also connect to whatever data centre you like, to use the shared resources of RTBF or NEP in the future," continued Thoelen.
"This really gives you all possibilities without thinking 'OK we need to pull 200 BNCs now to do something! The complete system is buil to be non-blocking with a base-connectivity of 100Gbit/s. RTBF wanted to be able to use it on a small church service where you only have six cameras, all the way up to elections where they could do two different programmes with one truck. IP 2110 is really the only way to go.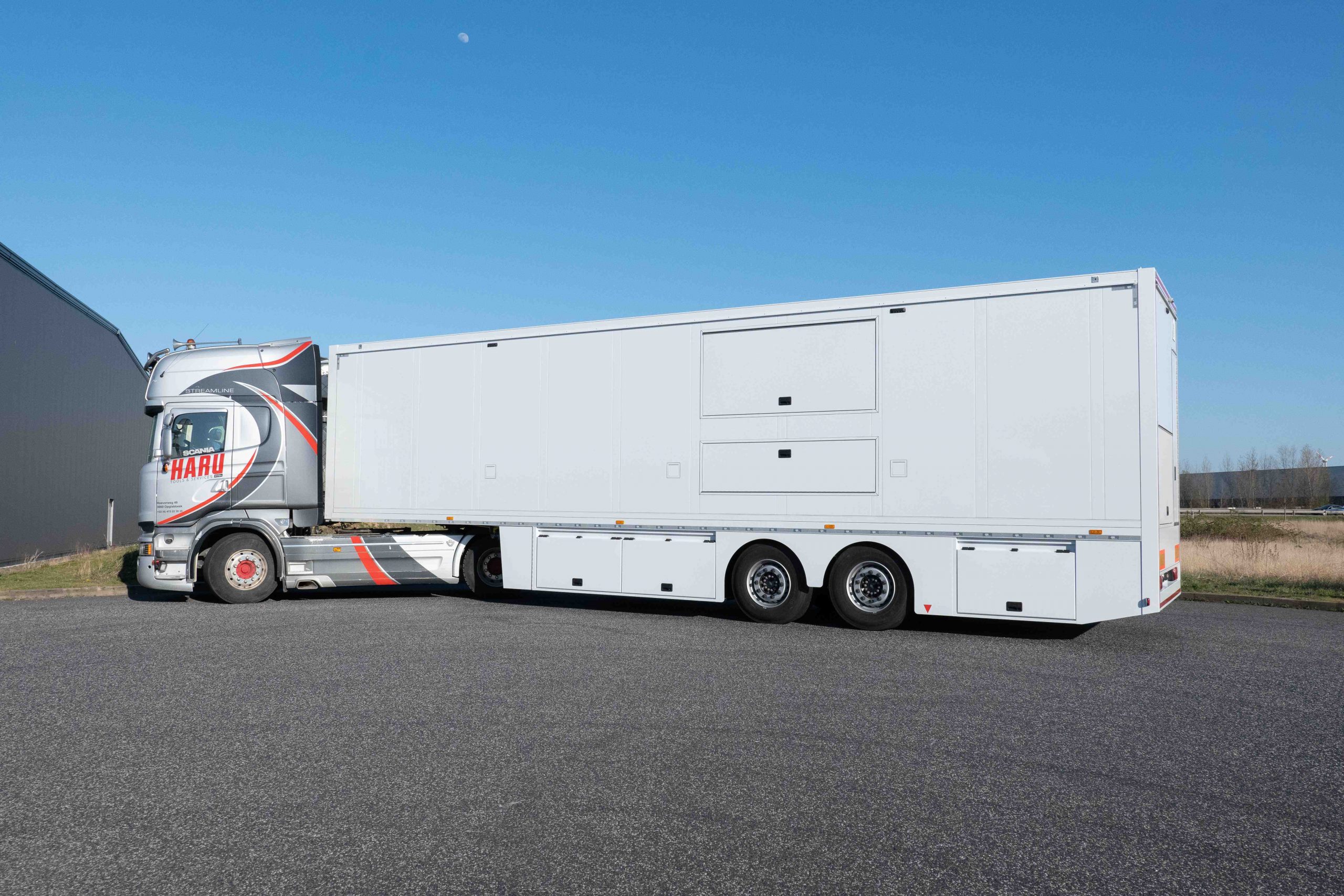 "In the tender RTBF specified they wanted at least a core in SMPTE 2110. 'At least a core' means an Arista switch and no baseband matrix – the matrix is the Arista. But they had existing Sony cameras and EVSs that were still baseband. So we built a bunch of Lawo V Matrix around it, to integrate baseband with IP.
"During the project RTBF changed their EVSs to IP, so now only the CCUs are brought from baseband to IP and the rest of the truck is full SMPTE 2110. The only other thing there was that we needed to add a Lawo V Pro to do the Dolby E aligning in the truck.
"Always when we build a truck we think of flexibility: how can we use it for a rock concert, a classical concert, a cycling project or a football project? You can do anything with this truck.
"The two trucks will be leased to RTBF for eight years. When I started the design I asked myself, 'if I get this truck back in eight years what would it be worth?' That's why I think 2110 and the V Matrix are ideal as in eight years it is still worth something. And in eight years it is guaranteed to still be a powerful truck.
"I've seen so many trucks being built that after three years need a rebuild, and after four years they definitely need a rebuild! If the truck comes back to us I want it to be able to stay for at least another four years without having to re-do half of it," said Thoelen.
Broadcast Solutions has recorded a short video interview with Geert Thoelen, going into some more detail on the approach to the design and build of the trucks: https://youtu.be/558JWScMdcY