NEP Connect and Vsquared TV celebrate 10 years of Tour de France teamwork
Hail, snow and 3,500km just a few of the challenges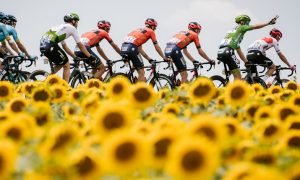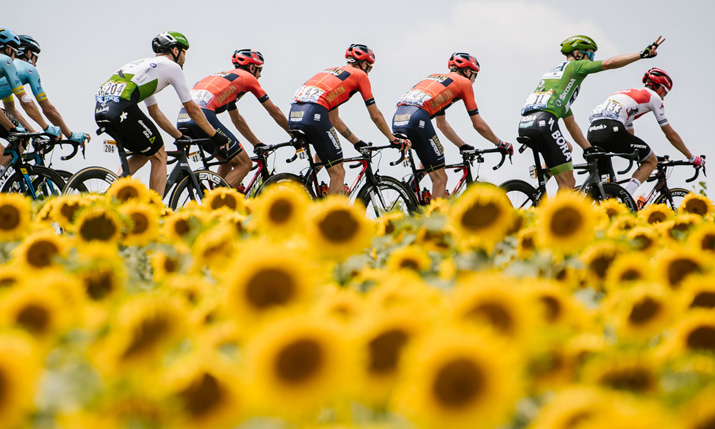 NEP Connect, the provider of broadcast connectivity, is celebrating 10 years working in partnership with specialist producer and distributor of road and track cycling Vsquared TV for ITV on the Tour de France.
NEP Connect has recently finished provision of bespoke production solutions and satellite connectivity for the 106th Tour De France bicycle road race, broadcast daily on ITV4.
Over the last decade, NEP Connect has worked with Vsquared TV to deliver onsite satellite connectivity and multi-camera studio presentation using a uniquely designed production vehicle to tackle the challenging route through the Pyrenees and Alps, covering 3,500 kilometres over 21 stages.
Martin Evans, IP sales manager at NEP Connect, has been working with Vsquared on Tour de France for the last decade. Speaking to SVG Europe, he stated that the main challenges of the race are the diverse remote locations of each stage, and the weather that this year included hail and snow.
Significant logistics
The logistics of working on the Tour de France is significant. Each day the team is on site at 6am to set up. Each member of the crew multitasks to get this daily event as streamlined as possible, before moving onto their respective jobs. After the final interviews are complete after that day's racing, the crew is packed and ready to go by around 6pm, then it drives off into the night to get to the next day's location.
With the production relocating 20 times over the 22 days of the event, the 13-metre articulated trailer from NEP contains voiceover and production spaces, a VT area and technical sound, vision and satellite uplink facilities. This set up allows the Vsquared team to deliver over 65 hours of live onsite interviews, analysis and commentary and to produce the exclusive unilateral parts of the show, bringing live coverage to the viewers at home.
"We don't get much sleep, but locations are all agreed in advance," said Evans. Now, 10 years on, the Tour de France production is a real team effort, noted Evans: "People are multi-skilling. [The team] set up in the morning then go off to do other jobs. We have a small, compact team, which is smaller than it used to be as people are now familiar with the challenges and Vsquared is more practised with what they need to get out." He explained the production output is no mean feat: "For ITV, 10 years ago it was just a linear TV channel but now it's multi-platform."
Challenging locations
The locations along the route can be challenging, said Evans. "There are locations in fields, or the villages close off their main roads and you park outside the Mayor's office. That can be problematic; there are trees in French towns and we need a clear view of the sky. We also need to run cable out to the pop-up studio (which needs a nice view)," he noted on another challenge. "As you can imagine in TV OB compounds, cables are always a challenge, especially in temporary locations," he stated.
"It's a very slick operation, but the weather and locations are the biggest challenges," continued Evans. "You won't be able to park the truck in a field as scheduled because it's rained and it's flooded, or you're not parked on a level tarmac road, but a single track that's on an angle," he noted.
The last leg of the race is the biggest push for the team, however. Evans said: "The last day means we have to drive from the Pyrenees to Paris, which is 900 miles. This year, a torrential storm and mudslides in the Pyrenees meant the cyclists could only cover 60% or 70% of the race. Then we had to travel 900 miles to the Champs Elysees to start at 3pm, covering the ceremonial ride through Paris followed by the award ceremony; a spectacular."
Capturing the drama
Evans went on: "The race is well organised, but this year over the last two days we had unprecedented weather, hailstones and snow, which has never happened before. That affects the race. But capturing all that excitement and drama – and there was more drama than on Love Island at the Tour de France this year! – is great. You need to get those reactions and feelings of the cyclists on how they feel about [what's happened].
"Other productions only have a single camera for that, but the analysis is the important bit and ITV has five or six analysts on site," said Evans. "They're all experts and are bought out depending on what's happened on the previous night.
"It's all about strategy, each team's approach [to the race and conditions]," he continued. "You see it all the time in Formula 1, talking about the tyres, the rain and how it affects the race, and it's the same on Tour de France. Like 24 Hours of Le Mans, [Tour de France] stands out as an amazing race; it's huge. And the Columbian's won this year which they've never done before, so now there's a whole new audience in South America."
This year NEP Connect supplied Vsquared TV with: one arctic truck with two drivers, a fully automated uplink dish, three cabled studio cameras, production audio and vision desk including monitor stack, commentary and voice-over booth, position for production execs and journalists to submit reports, storage for pop up presentation studio, associated cabling, studio lighting, RF microphones and camera for live presenter with riders and team manager interviews at finish line, comms for four-wire talkback via direct satellite, 65 hours of inhouse satellite space, and an NEP Connect NOC downlink and on pass via fibre to the ITV London Studio.
Carolyn Viccari, managing director at Vsquared TV, concluded: "We've brought award-winning coverage of the Tour de France to millions since 1986. Thanks to our continuing 10-year relationship with NEP Connect, their expertise in bringing multi-location productions to life continued to allow us to capture the thrills and emotion of this exciting live cycling event."