NEP Group contributes as live Ireland On Call show airs on RTÉ TV
With all live sports cancelled, NEP Group companies CT Ireland, NEP Ireland and Screen Scene are keeping their staff busy and trucks on the road during the coronavirus crisis by playing a key role in the production and delivery of a new live current affairs series for RTÉ.
Ireland on Call is a 30-minute show produced by Indiepics and Scratch Films that has been devised to guide viewers through the coronavirus crisis. It is currently being broadcast twice a week on RTÉ 1 television live from the Department of Health in central Dublin. The series is set to run for four weeks.
The first show aired on Thursday 2 April. The second show went out on Tuesday 7 April, featuring a live interview with Republic of Ireland chief medical officer Dr Tony Holohan along with VT inserts explaining how laid-off catering personnel have voluntarily regrouped to cook and deliver meals to front-line staff at Sligo and Tallaght Hospitals.
SVG Europe visited the Ireland On Call set on Tuesday afternoon before transmission. Executive producer Conor Moloney from Indiepics said, "Ireland on Call is like a current affairs show, trying to address the questions and concerns of the public for accurate, trusted information they can rely on. We're also interested in inspiring the public through stories from the front line, through stories of fantastic volunteering to inspire the public to pull together.
"It's not just the health services, Department of Health and public administrators that are going to beat this – it's the community by doing what they're supposed to do. We're part of the drive for people to do what they are supposed to do.
"If you do all the common sense stuff then you stay out of hospital, and that allows the health services to cope better. It's about promoting solidarity and decency amongst the public," said Moloney.
"Indiepics has a long history of making documentaries in and around hospitals and consumer health. This is a co-production between ourselves and a company called Scratch Films. They are specialist documentary makers and we're specialist factual entertainment producers, so it's a very solid marriage.
"The show came about through conversations with RTE. Principally, to be honest, our motivation was, 'what can we do?' For me, it has to have that sense of integrity.
"As an industry, we're so dependent on live sports: it's actually nice to have something to do. It's a chance for our guys and gals to go out – and also to see people, within the distancing rules."
"The Department of Health came on board and very kindly offered us the fantastic room here. They're not editorially bound in, but obviously there was very close cooperation in terms of the correct and accurate information being offered, which is really important.
"We also have, thus far, certain personnel who are the faces of the crisis so far. Trusted faces and trusted information – that's where the relationship really lies.
"It's difficult to put a studio into the seventh floor of a public building, but the NEP guys found a way to do it which is great. Obviously they have had to work with the buildings officers in this building as well, and that's all been good too.
"We're just trying to do our bit," said Moloney. "But yes we do feel we're at the heart of public administration, between the Department of Health and the Health Services Executive. We hope we're part of the right communication – promoting solidarity, decency and accurate information."
Outsize Spirit truck plays role with distancing on the OB
An NEP Ireland crew is on hand in Dublin's business district with its Spirit OB truck, T3 tender and CINE generator vehicle. For each show the Spirit OB leaves its County Wicklow base in the morning and travels to Dublin city centre, where it is parked on the street and rigged for a four-camera studio production under unit manager Adam Scarff and technical manager Simon Thornton.
Also on the OB crew are tech supervisor, OB engineer, EVS operator, sound supervisor and assistant, two camera operators and one camera control op, a graphics operator, uplink operator, CINE generator operator and three riggers.
"This truck would normally be doing Pro 14 rugby this weekend," said NEP Ireland managing director Alan Burns.
"However with all live sports cancelled we decided to use this truck for the show. It's bigger than required, but with the social distancing required for best practice we've used a bigger truck. And we've absolutely minimised the crew on board. Obviously, because we're working with the Department of Health we're happy that we have to have the highest standards of distancing in the truck and in the building where we're located.
"The Ireland On Call show is basically an outreach for information in the current situation," added NEP Ireland business development manager Steve Curran. "On the first show we had the Minister for Health Simon Harris. It goes into more in-depth rather than news-driven, a more relaxed style attempting to speak to the public in their language so it's clear what's going on now and what's going to happen in the next few weeks.
"The Department of Health chose the particular room on the top floor of the building, which has a view out over Dublin bay. Then it was up to us to try to figure out how to make it all work. The whole building is hermetically sealed – no window will open — so it's a more tricky proposition than we would normally face. And it's on the seventh floor.
"We had a week to figure it out, from parking to technology. From the technology point of view it was interesting as the producers wanted to incorporate both Skype and Zoom – Skype for guests and Zoom for the audience. So with CT Ireland we brought in a big LED wall where we can display the Zoom audience, three rows of four people.
"The other tricky thing was that because it is the Department of Health we cannot use their internet. So
we had to had to bring in our own broadband – but luckily [another NEP sister company] Screen Scene is just behind the building so we were able to pipe broadband in for internet content, with a guaranteed 10 Gig pipe out of here using Screen Scene broadband. The uplink is also out of Screen Scene to RTE, for live transmission," said Curran.
"It's also good for us as the core staff of NEP Ireland is about 24 people," commented Burns. "We have been able to use nearly all the staff. We can also have an A and a B crew on the show, so if we did have an infection we can split the crews for the Tuesday and Thursday night shows.
"As an industry we're so dependent on live sports: it's actually nice to have something to do. It's a chance for our guys and gals to go out – and also to see people, within the distancing rules."
"Obviously social distancing and sanitising are new for all of us," said Curran, "but we have had some experience in the last few weeks as we did the Taoiseach's State of the Nation address from Government Buildings – at one day's notice. And then we did Crime Call, the Garda news service, which was live from Garda HQ. It's a whole new world," said Curran.
"With all live sports cancelled we decided to use this truck for the show. It's bigger than required, but with the social distancing required, for best practice, we've used a bigger truck."
The OB is de-rigged after each show, meaning there's no need to provide security around the trucks during the week. With no traffic on the roads these days, it's easier for the crew to break down each Tuesday evening and drive the OB truck and tender back to base in County Wicklow and come back to rig again on Thursday mornings.
The cable rig does stay in place, consisting of 12-core SMPTEs up through the risers in the building to the seventh floor, where cables run under the floor to the temporary studio.
"Because it's a hermetically sealed building," said Burns, "we wanted to minimise the use of cables. So the whole OB is running off two 12-core fibres – cameras, stage boxes, everything – with the cameras on SHEDs and any monitoring over multiplex video circuits to the walls. This limits the amount of cables required and also the amount of intrusion those cables cause in the building."
Four-camera studio show maintains social distancing practice
In the empty Ireland On Call studio during lunchtime break NEP Ireland unit manager Adam Scarff told SVG Europe, "we can have a maximum of eleven people in here, including the two presenters, for social distancing. To make life more difficult the landlord of this building was not happy with running cables on the outside of the building, so that's why we had to come up with this solution.
"We came here on a Sunday to figure out how to cable it – and I have to say the Department of Health guys have been extremely helpful. Sometimes it can be difficult working with government departments – but as this is a very important current affairs show they're quite happy to have another conduit to the public."
"In order to keep the number of people in the truck to a minimum, we set up the show producer here in a separate room with talkback and a multiviewer. He does have the option of being in the truck, but on the first how he enjoyed being up here beside the studio," said Scarff.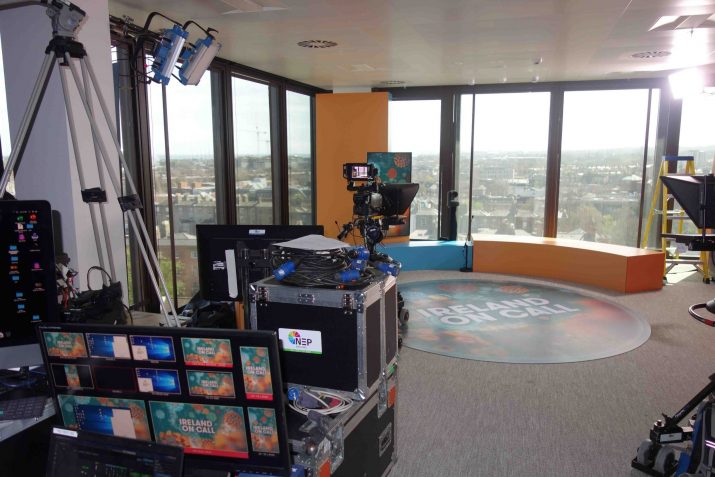 On set for the production are three Sony HDC-4300 cameras on Osprey peds and a Panasonic HE 130 PTZ camera on a magic arm for reverse view. Two of the Sony cameras are manned – two metres apart to allow for social spacing — and the other one is locked off for a wide shot.
NEP Ireland sister company CT Ireland is also part of the team, supplying on-set screens for the live production. CT Ireland director Tony Lanigan told SVG Europe, "We have put in an Absen Polaris PL2.5mm LED screen for VT playback and Zoom calls/a virtual audience. It is 5m wide x 2.5m tall.
"We also supplied a portrait 55-inch on-camera TV in the set for live Skype calls. These are fed from the NEP truck into our Barco S3 and switched out from there with our tech in the studio.
"We are providing playback for graphics with high powered imacs, all backed up on UPS. Our client is High Res Lighting who in turn are working for production company Indiepics on behalf of RTÉ."
"The show features various community groups making their contribution, so it give the public a sense there is good stuff happening in the midst of this crisis" – Alan Burns
"I think it's important from the Department of Health point of view that this is coming live from the brain centre of the health service, as opposed to a studio somewhere else," said Burns. "The show also features various community groups making their contribution, so it give the public a sense there is good stuff happening in the midst of this crisis."