NEP Group expands Northern Europe reach via CMI acquisition
NEP Group has closed on its acquisition of Consolidated Media Industries ('CMI'), a move that officially brings the CMI companies, including the DutchView and Infostrada Creative Technology businesses into NEP's Worldwide Network, expanding the company's reach in Northern Europe.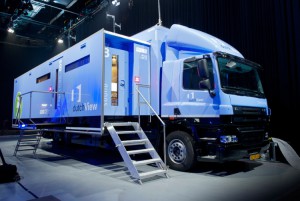 With the acquisition of CMI, NEP greatly expands their existing remote production, studio production and post-production solutions, and adds an innovative content management, distribution and Video-on-Demand solution to their worldwide network.
"We are thrilled to add DutchView and Infostrada Creative Technology to the NEP Worldwide Network," says NEP CEO Kevin Rabbitt.  "They are industry leaders with a reputation for excellence throughout Europe, and I am excited to work with them to continue to expand their business.  They have created truly innovative solutions for content management and Video-on-Demand services which will provide exciting opportunities as our industry continues to change."
The CMI brands, DutchView and Infostrada Creative Technology, will continue to operate independently under their current management teams based in Hilversum in the Netherlands.
"We are proud that CMI has become part of the NEP Worldwide Network," adds Michiel van Duijvendijk, CMI CEO. "NEP and CMI hold the same core values and dedicated focus on providing superior service to our clients.  Additionally, as part of the NEP Worldwide Network, we know we will have the opportunity to achieve all our international growth plans, and continue to innovate and transform the way video is created, managed and distributed in Europe.  Being part of NEP offers a lot of benefits for our business, and brings us the scale that has become growingly critical to cope with the rapid changes in our industry."
The addition of CMI raises NEP's total facilities and support network to include more than 120 HD mobile units; HD flypacks, satellite uplink trucks; smaller camera systems and other audio visual packages; specialty and wireless cameras; post-production facilities in Dublin, Oslo, Helsinki, Zurich, Munich, Leuven (Rotselaar) and Hilversum; content management and archive facilities in Hilversum; studio facilities in Los Angeles, New York, Connecticut, London, Sydney, Melbourne, Oslo, Helsinki, Brussels (Londerzeel), Amsterdam and Hilversum; thousands of plasma, LED, and projection video display solutions; a fleet of mobile LED trucks across North America and Europe; as well as an industry-leading team of engineers and technical experts.
Stella Capital Advisors provided investment banking advisory services to NEP, with Jones Day serving as NEP's legal advisors.  Macquarie Capital acted as sole financial advisor to CMI, with Allen & Overy as CMI's legal advisors.  Financial terms were not disclosed.