NEP UK launches education awards to attract new broadcast technology engineers
NEP UK has launched a new set of awards designed to highlight and reward nascent engineering talent in the UK.
The NEP UK Education Awards scheme, which offers prizes including an entry-level position at NEP UK and mentorships, is part of the company's ongoing educational outreach, which also provides a mentoring scheme and the annual Student Open Day.
Open to UK-based students studying a broadcast technology-related subject, the award entries can be submitted by individual students or teams. The entry period opens on 1 December 2019 and will close on 1 March 2020, with full details of the entry criteria available on the NEP UK website and social media platforms from 1 November 2019.
Individuals will compete for four awards based on NEP's core values of: Passion, Integrity, Innovation and One Team.
Passion: Create a short 'NEP UK' showreel video using content from NEP projects already in the public domain. This should be no longer than 3 minutes and show what NEP UK does as a company.
Innovation: Submit an innovation project that translates an idea or invention into a tangible product or service that creates value. The entry can show either a finished project or a work-in-progress.
Integrity: Give an example and evidence of a real-world engineering problem or issue that the entrant solved.
One Team: Students can enter as a team of up to three to work together on their entry, fulfilling any one of the above criteria and providing evidence of teamwork and collective problem-solving.
The NEP UK Education Awards is offering prizes that will cement students learning foundations for a solid future in the broadcasting industry. The overall 'Student of the Year' winner will be offered an entry-level position with NEP UK, including financial support to complete a Post Grad Diploma in Outside Broadcast. The winner of the NEP Values Award will receive a 1:1 10 month mentorship with Steve Jenkins, President, NEP UK & Ireland, plus a financial award of £500 to be put towards further learning.
The winners of the Team Award will enjoy an all-expenses-paid day at NEP's HQ, shadowing a department or project, plus 10-month mentorships with NEP staff, and a day of work experience on a real-world project.
There will also be an exclusive MAMA Youth award given by Bob Clarke, CEO of MAMA Youth Project for an individual to spend time on set at Sky Studios during the recording of What's Up TV for Sky One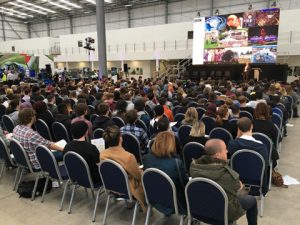 NEP UK will also open its doors for the fifth annual Student Open Day on 2 April 2020, which last year attracted over 450 broadcast technology students from across the entire country. Students will learn more about the world of outside broadcasts and the wide range of roles available, from technical to logistical. Partners at the event include Creative Technology and Bow Tie TV, with an unrivalled seminar program of panels, talks by industry leaders and exploring case studies for NEP Projects, along with hands-on experience with kit.
Student Open Day attendees are also eligible to join NEP UK's ongoing Mentoring Programme, with staff from across the organisation giving their time to share knowledge and advice with the next generation of engineers, technologists and broadcasters.
NEP is a provider of outside broadcasting, fixed rig, remote production and media workflow solutions.