NEP UK providing fixed rig and production services for Channel 4's Eden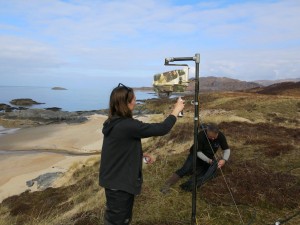 NEP UK has announced details of what it describes as its most ambitious fixed rig project yet, for Channel 4's Eden. The new primetime show sees 23 men and women face the challenge of building a new life and creating a new society from scratch.
For an entire year the group – which includes a doctor, vet, chef, carpenter and shepherdess – will get the chance to start again. Together they will decide how they want to live as a community isolated from the rest of the modern world, in a remote area of the British Isles.
NEP UK Broadcast Services was involved with the fixed rig and production from conception to creation, tasked with creating and installing a durable yet unobtrusive fixed rig to capture the year-long progression of the social experiment. Working closely with production company KEO Films, which was commissioned by Channel 4 to produce the project, the most important thing at all times was to document as much as possible of the unfolding story, while ensuring the contributors were not disrupted
The physical logistics of setting up the rig in such a remote and rugged area of Scotland posed significant challenges, with helicopters, all terrain vehicles and landing craft required to transport the kit onto the site. The equipment, including 45 Panasonic cameras, 500km of optical fibre, and over 7km of power cable, was then set up across an area of 600 acres. All equipment was purchased brand new to optimise durability, due to the long period of time the kit would be used for and the limited access should any problems arise.
As well as supplying the fixed rig for the new show, NEP UK provided set-up for the production gallery located 3km from the main site, housing the master control room, the monitor gallery, sound control, ingest, administration and welfare facilities.
Mick Bass, commercial director, NEP UK Broadcast Services, said: "It's on the outer edge of what is feasible in terms of technology. We have worked very closely with KEO Films and Channel 4 throughout; they are trusting us with an incredibly complex project, and we have worked hard to ensure the rig is as robust and reliable as it can be, with a network of back-ups and redundancy in place. It's been a fantastic project to work on and it will be fascinating to see the project unfold over the year."
Liz Foley, series editor, KEO Films, said: "Mick, Trevor Bell and the rest of the team at NEP UK have provided innovative solutions and outstanding technical support from the planning and build stage as well as during the recording. Their dedication, positive attitude and patience, combined with their technical expertise, are imperative to the success of Eden."