NEP's Brian Clark discusses how Gray's Inn Road production centre offers flexibility and innovation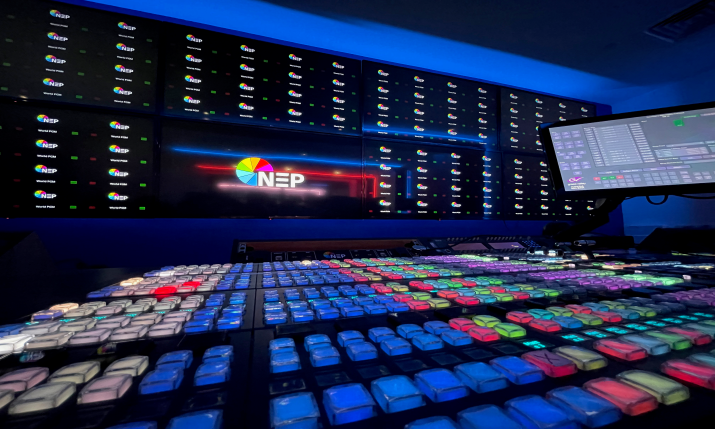 When NEP Group opened a new production centre at London's famed Gray's Inn Road (a 15-minute walk south from St. Pancras Station) it was the culmination of a planning effort that began more than two years ago, was delayed by the COVID-19 pandemic, and ultimately gives NEP Group another value proposition in its line of end-to-end solutions to offer current and potential clients.
The opening of the new NEP Production Centre – London marks another step forward in the company's strategy to expand and grow its centralised production capabilities around the globe.
"This new facility gives us the ability to turn around and ask a client 'do you want to do a remote, how do you want to tackle it, and what services and solutions can we give you to do it?','" says Brian Clark, NEP Major Events, director of sales. "All three of the first group of clients who came to see the space saw it, then booked it, so that tells me the NEP Production Centre – London will have a bit of legs. It gives us all the range of tools and is a natural progression to the future."
The facility features three production control rooms, two that have separate audio rooms while the third has the audio area integrated within it. It also has nine additional production spaces, all designed to be agile and adaptable. But is not the kind of production facility of old with a massive amount of dedicated hardware and technical systems that are sitting around waiting for a client, as at this stage only the vision mixers are dedicated hardware equipment in the three control rooms. The focus for this facility is its flexibility, connectivity, and ability to bring in the latest technology, including NEP's growing array of software-based solutions like graphics, augmented reality (AR) and media asset management.
"Everything is designed to be flexible, even the production galleries, which have more square footage than in a truck," says Clark. "Currently the only dedicated positions in the production galleries are the audio position and switcher position, but even these can be software tools as alternatives in the future. It's all set up to be flexible. We can have replay ops on the front, middle, or back, or graphics on the front, middle, or back. And we can socially distance four people at around two meters each on the front bench and a lot more with COVID screens in place."
Two large Calrec audio consoles are currently in the dedicated audio rooms while the smaller gallery has a smaller audio board in the back. But as with all the philosophy of the space a Lawo audio console are also available, and any audio console can be used.
"We're also agnostic as to replay servers as the focus from clients is on channels, not boxes," says Clark.
Extreme E is the first client to use the facility and will produce five events from the location each season. Its workflow is also an example of the type of bespoke workflow that may become a bigger part of every production around the globe.
"We could have shipped a flypack on a plane or had sea containers, but we needed to come up with something innovative to make it work," says Clark. "They needed a lot of space and a place for a centralised team to work. For every challenge that comes along we will need to use our all the tools in the tool bag and apply them."
Production Gallery 1 has a connected meeting space that features a glass wall and sliding doors so that those in the meeting space can watch the happenings in the gallery and the Network Operations Centre.
"As an example, Extreme E can't easily go to their event sites, so those rooms are a way of making our clients feel like they are part of the production," adds Clark.
The nine additional flexible production rooms can become edit suites, smaller production areas, replay rooms, video shading areas, and more. And Clark says, "The level of quality control and monitoring for signals as they are coming in and shared around the facility is very important. That is why we have made sure we have a Network Operations Centre to coordinate and monitor all feeds and operations."
"Signals can be shared in all sorts of locations and we can track them and monitor them no matter where they arrive from or where they move around the facility," Clark adds.
Just as important to moving signals inside the facility are the connections that can bring in and send out signals to the outside world. The facility has two 100Gbps diverse circuits as well as a diversely routed 10Gb connections to NEP Connect and its AnyLive fibre network and NEP's global network, which also is 100Gbps. There are also various other connectivity solutions available.
"The AnyLive Network connects us to 250-plus venues including BT Tower in the UK and Ireland, and then internationally we are connected to all the major links and satellite with our own two UK teleports in Media City and Milton Keynes operated by NEP Connect. These are connected to the Teleports in Hilversum and Olso, also operated by NEP, and we're connected back to NEP UK in Bracknell," adds Clark.
Clark is the first to declare that the future of OB trucks is not at risk.  You still have to get cameras and audio to the venue, and there are some shows where a truck will be the cheaper alternative and others where a centralised production will be more cost effective to the client.
"Connectivity costs are coming down, but deploying people costs about the same as it does in an OB. There is roughly the same amount of kit, but it is just located in different places. There is a benefit to using a facility like the PCL, though. Less flights, less freight, etc. Aside from being a good thing in general, this is at the very core of Extreme E. There were about 30 people working in PCL for XE. Not having to fly them to Saudi was a big saving both for the environment and for the overall Production budget," Clark says.
At the NEP Production Centre – London there is also a 5.5×7 metre green screen studio that can leverage graphics render engines located at NEP The Netherlands in Hilversum.
"They are ready for us to use because it's plug and play," says Clark. "That is what is so great about this facility. We can bring in new technology and new solutions and offer them as tools to our clients, easily and quickly."
Clark says he is excited to see the combination of NEP assets like its OB fleet, flypacks, graphics solutions, media management and this new production facility come together around major events. And then there are opportunities for it to even be connected to NEP servers in the US.
"We've leveraged our technology, ability to connect, and expertise around the world," concludes Clark. "We are going to continue to expand and add more flexible centralised production facilities like this around the globe. As technology gets more clever, there is no reason for it not to be connected and working with servers and technology that sit in America. There are so many opportunities like this ahead of us."