New 3ality Technica software impresses at Sky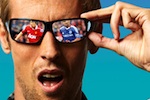 Sky Sports used the new 3ality Technia software systems, IntelleCal which automates rig alignment and IntelleCam which does the same for convergence, live and in anger on Arsenal's recent 5-2 demolition of Spurs. The verdict? Quietly impressed by the sound of it.
3ality Technica bought over the systems for installation in one of Sky's Telegenic-operated 3D trucks for the match at the end of February and, according to 3D Development Manager, Robin Broomfield, the experience was a good one.
"IntelleCal currently only works on the mirror rigs but any auto calibration process can only help us," he says. "It's a big step forward and we're waiting now for a test system so that we can use it more fully over a month or so to see how we can really benefit.
"Once the rigs are built and set-up – and that's part of the job that doesn't go away – the actual process of building the look up tables and being able to align the rigs only takes about five minutes," he continues. "Being able to do that as an automatic process is a huge step forward and really going to help us on the set-up days. We're putting in a day for rigging prior to TX at the moment, and potentially it could save us an entire rig day, which is very significant."
Indeed, 3ality Technica's Steve Schklair has been talking about the software refinements the company has been working on for some time so it's good to see them finally breaking free to be tested in the wild. And even better to see that the potential cost savings Schklair has talked about might be accurate.
"The IntelleCam system is a real step forward," adds Broomfield. "It's very easy to revert it back to a manual operation, so bearing that in mind we decided to test it live with just a stereographer running the system on the Arsenal game. He said it was very easy to operate, and we noticed that the smoothness between camera shots, the depth between camera shots, was much more consistent."
Broomfield says that he doubts it will replace convergence operators completely – some circumstances, such as LE filming where they're pushing the variety of shots, will still require a human eye – but he does think that it will certainly make the truck operation more efficient in terms of manpower. "And that will help us get more hardware into the truck," he says.
Development work is going to continue, especially on the user interfaces, with Sky hoping to have a full system ready for intensive testing and integrated into a truck around the time of NAB.