New editing capabilities added to Wildmoka's Digital Media Factory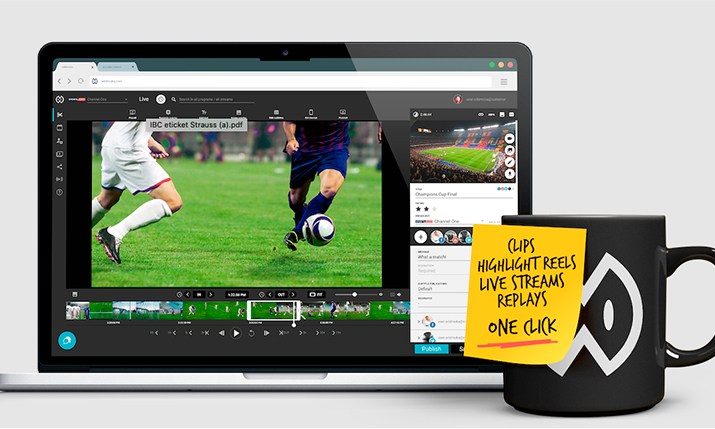 Wildmoka used IBC 2022 to unveil new editing capabilities for its Digital Media Factory, a cloud-based platform for the production, distribution and monetisation of sports content.
The updates are said to offer sports broadcasters storytelling tools for all formats and styles that audiences expect across the multitude of digital platforms.
They include:
Advanced Reframe for manual aspect ratio adjustments when editing content originally produced for linear broadcast in order to adapt it to the variety of formats required by social media.
Responsive Video, which allows to reapply the broadcaster's branding and graphics such as scoreboards, stats and lower thirds to live and short-form, on-demand content after modifying its aspect ratio. This prevents information loss and helps offer the same high-quality viewing experience to digital audiences, regardless of their platform of choice.
New digital destinations such as LinkedIN Live or TikTok Live for a streamlined publishing process.
At the same time, Wildmoka's StoryBot, the AI/ML-based near-live content production solution, now offers support for three additional sports disciplines: Rugby, Baseball or Biathlon, allowing broadcasters to deliver near-live clips and highlight reels (e.g. match summaries, best of players, etc.) from more competitions at speed and at scale. Up to 90% reduction of speed-to-publish was reported among Wildmoka's existing customers using the StoryBot.
The Live Solution Suite is also new. This allows users to broadcast live events to all digital destinations, in all formats, and localised to the target audience. With its capacity to ingest and distribute unlimited concurrent streams, Wildmoka's Digital Media Factory can support the most advanced digital media strategies, including:
Hyper-distribution of live content during major sports tournaments with multiple games and competitions taking place in parallel, such as the Olympics. Broadcasters can use it to take maximum advantage of the sports rights they own, by streaming and monetising 100% of content on their Owned & Operated platforms, while linear TV only allows to air a fraction of it.
Live pop-up channels for immediate sharing of live content on social media, especially pre- and post- sports events, such as interviews, press conferences and spectators' reactions. By doing so, broadcasters can build audience interest and drive tune-in to the main event coverage. Starting a new live shouldn't require any technical expertise or complex setup.
Multi-versioning and re-purposing of live content in order to differentiate it per platform and per geography so that all digital audiences are offered adequate viewing experiences.
---