New Italian association brings together broadcast and AV professionals to achieve common goals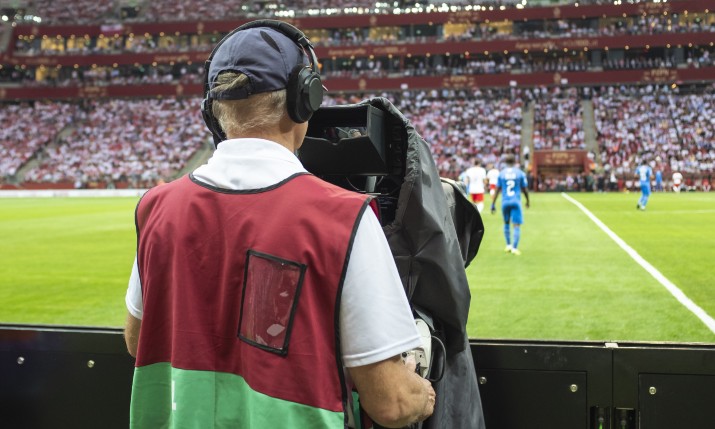 Italian broadcast and audiovisual industries have united under a new association, the National Association of Broadcast and Audiovisual Companies in Italy (ANIBA). Having accepted the formal commitment to membership of a large group of companies, the hope is that the official constitution of the association will take place at the end of the year.
We spoke to ANIBA president 'in pectore', Bruno Mercuri, to find out more.
Why was the association launched?
After perhaps too many years, the real need emerged among colleagues to overcome divisions and fears in favour of unity and cohesion in this industry.
The initiative was born from the proven desire for aggregation and collaboration between companies to achieve common goals, with clear and shared rules.
I believe ANIBA represents a highly innovative element within the world of TV production, where innovation means looking to the future with perspective and planning.
Will associates still maintain autonomy or do they have to conform to certain rules?
I would like to specify that ANIBA will not intervene in the choices and commercial policies of each member; maintaining the commercial autonomy of each company is one of our cornerstones.
What are the main aims, purposes and objectives included in the statute?
The main purpose of ANIBA is to represent and protect the interests of member companies and to look after their relations with institutions and the Italian market. So we have chosen to share and bind ourselves to an ethical, moral and deontological code.
We also intend to ensure that clear rules and common and harmonised procedures are defined with regards to the technical and operational aspects.
We want to take steps to obtain a certification of the means of technology production, based on objective standards, in order to guarantee efficiency, safety and competitiveness for everyone.
How does the new association integrate into the TV production market?
Our goal is for ANIBA to become a brand that guarantees quality and reliability.
We want ANIBA membership to be recognised as an added value, as an unequivocally distinctive sign of the reliability and seriousness of the associated companies. We want to convey that by joining ANIBA, companies have made a clear choice from an operational and management point of view.
So in practice, the main idea is to bring benefits to the entire supply chain, TV service, content producers and broadcasters?
Yes. ANIBA aims to give breath and greater visibility to the sector of companies that deal with TV production services, that, in order to respond to the needs of the market, must face huge investments and possess a high know-how.
We therefore want to raise awareness of all market managers who interact daily with our companies so that the correct remuneration for each job is considered and valued.
This leads to greater transparency and full compliance with the regulations by everyone in every area of production, and guarantees full technical compliance with contract specifications, fair remuneration of staff, correct management, and so on.
Is a technical certification definitely a central topic for ANIBA?
Certainly. The certification of technical production is really a central point on which we have already started a dialogue with the HD Forum Italia Association.
This is a further guarantee that protects quality, efficiency and respect of all the players involved. It also provides broadcasters with an additional element of safety and guarantee.
Hearing this, massive market membership is expected; who are the members to date?
The initiative has – for now – received the support of 16 leading broadcast and audiovisual services companies in Italy, important names that together account for about 85% of the entire turnover of the reference market.
ANIBA is in the process of being established (delayed only by issues related to the pandemic) and we hope to be able to conclude the formal constitution process as quickly as possible, by the end of 2020.
We hope, of course, that other companies will also be interested in our project.
Is ANIBA particularly interesting for the world of sports broadcast?
In Italy, the sports television production market, and football in particular, has ample room for improvement. We long for a greater acknowledgement of the commitment required by us; the TV services that provide technological systems that are often avant-garde and of the highest level in order to comply with the pressing requests of those who manage the production and TV rights.
Furthermore, ANIBA will also promote continuous training courses for personnel, as well as establish meetings and learning opportunities with various technology suppliers for its members.
The experience of this pandemic has undoubtedly helped us to understand how flexible, innovative and versatile we must be, especially for the sports market.
From an operational, pragmatic point of view, how will ANIBA move?
At present, ANIBA already has a board of directors 'in pectore', appointed by the Assembly of Associates and awaiting the pending formalisation with the notary, which we hope to be able to conclude in the coming days.
The requests of ANIBA – and therefore of all the associated – will be carried out by a representative of the association who will deal with negotiating with the various parties, such as broadcasters, staff, production companies, institutions, etc, to come up with solutions for everyone.
The aspects we would like to consider are several: certification of the technical means, evaluation of supply contracts and agreements with public bodies, financing channels, remuneration of the activities according to real market prices, regularity of payments, treatment and conditions of employment of staff and correct enhancement of all the workers and professionals who work with us.