New Lawo mc² console, updated infrastructure for MDR Germany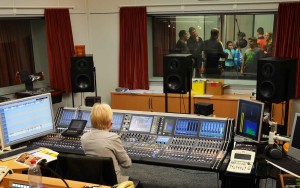 German public broadcaster Mitteldeutscher Rundfunk (MDR) delivers a blend of excitement, entertainment and information in its radio dramas and features, which range from children's programmes to thrillers. To cover the diverse needs of its programming, MDR uses its radio drama complex located in Halle, Germany.
In the MDR Studio Control Room, a Lawo mc²66 recently replaced an mc²82 audio mixer after it had operated efficiently and reliably for 13 years. To meet anticipated future demands of radio drama production, the broadcaster decided on a new mixing console and the renewal of its audio infrastructure. Besides the mc²66 – a 56-fader console with 192 DSP channels and integrated plug-in server – the installation includes a 5kx5k Lawo Nova73 for audio routing, with talkback by a Lawo sapphire card. Three DALLIS units provide flexible and cost-efficient mobile stageboxes that serve the entire drama production complex. The most significant change, however, is the adoption of an IP infrastructure based on RAVENNA.
Dismantling the old gear, setting up the new equipment, and the overall system installation was carried out by MDR's subsidiary, DREFA MEDIA SERVICE GmbH/Audio System Service, while planning and project management was undertaken by MDR Operation Management/Planning Media Production.