New Sony 4K camcorder sets low-bar on price, improved depth-of-field performance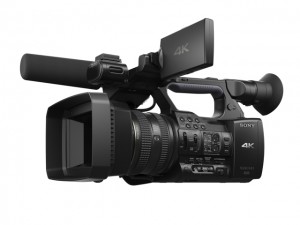 Sony today has taken the wraps off of the PXW-Z100, a new $6,500 4K handheld camcorder that records on the XDCAM format and also has a single 2/3-inch Exmor CMOS sensor, a move that makes it much more suitable for live sports productions that require a greater depth of field than offered by 4K cinemas that, to date, have been designed to deliver a cinematic look.
"This puts a professional 4K camcorder in customer's hands with no need for an external recorder and it can be used to shoot HD or even SD today and then make the transition to 4K much easier," says Takahiro Kagawa, Sony Electronics, product manager.
The sensor allows for recording at a resolution of 4096×2160 at 50 or 60 progressive frames per second.
While the use of only one CMOS sensor makes it more suitable to corporate and event producers, it is an important step that at least hints at the potential for a more broadcast-friendly three chip version in the future.
The PXW-Z100 camcorder, together with the fixed 4K-compatible G Lens, weighs less than 7 pounds and uses Sony's XAVC recording format first employed in Sony's PMW-F55 CineAlta 4K camera. Recording with 10-bit intra-frame compression, Kagawa says the camcorder can capture images with rich colour information. A consumer version will be available that uses 8-bit Long GOP recording.
Hugo Gaggioni, Sony Broadcast and Professional Solutions Division, CTO, adds, "The XAVC codec is well established and can be operated comfortable at higher frame rates where the user wants much higher quality than they can get from other options and it allows a very gradual transition from today's needs to 4K."
Those at the professional level looking to use Long GOP compression will have to wait for a firmware update in the middle of 2014 that will support the Long GOP mode for extended 4K recording time and also add support for AVCHD recording, a format that until now has been compatible with the playback environment of Blu-ray Discs.
MPEG-4 AVC/H.264 compression is used for HD (1920×1080), QFHD (3840×2016) and 4K (4096×2160) content. Image sampling is 4:2:2 10-bit, with an intra-frame system that compresses each frame individually at a maximum bit rate of 500 Mbps or 600 Mbps during 4K 50fps or 60fps recording, respectively, and 223 Mbps during HD 50fps or 60fps recording. Users can also select QFHD (3840×2160) and HD (1920×1080) resolutions, both of which are compatible with most 4K TV's.
Sony says the built-in G Lens offers maximum shooting flexibility, including a wide angle of 30 mm in 4096×2160 mode or 31.5mm in 3840×2160 and 1920×1080 modes and 20x powerful optical zoom (equivalent to 35mm).
The PXW-Z100 camcorder features two XQD Memory card slots. Multiple cards can be used in various ways, such as for relay recording. When the first card becomes full, recording continues on the second card without a break.
As for recording format, XQD solid-state memory cards use the PCI Express interface and Sony's unique camera processor to enable stable video recording at 500Mbps or 600Mbps (the use of new S Series XQD cards QD-S32E and QD-S64E which supports 180MB/s transfer speed are recommended.
"With our technology the media is constantly talking to the recording head so there is no fall off in performance," says Kagawa. A 64 GB card recording at 600 Mbps (the payload for 60p) can store about 14 to 16 minutes of 4K material.
The camcorder also has an HDMI interface that can output 4K as a 50fps/60fps signal. When the PXW-Z100 is connected to a Sony PVM-X300 4K professional monitor or a 4K-compatible BRAVIA TV, the recorded 4K image can be displayed in 4K 50fps/60fps quality. A future firmware upgrade is planned to provide compatibility with the new HDMI standard (referred to as HDMI 2.0) and enable 4K 50fps/60fps output to a wider range of devices. Other features include a 3G HD-SDI interface that supports output to an SDI of up to HD 60p. It also supports HD output during 4K recording although it cannot output a simultaneous 4K and HD signal.
The camcorder's paint function enables multiple image parameters to be adjusted including gamma curve, black level, skin tone detail and color.  Together with other setting options, parameter settings can be recorded as a camera profile onto a memory card.  The recorded camera profile can then be used to set the same parameters in another PXW-Z100 camcorder to match quality and image tones when using a multi-camera setup.
Users can remotely control focus, zoom, aperture settings and "record start/stop" using the browser function of a smartphone or tablet. Users just need to simply plug the supplied WiFi adaptor into the camcorder to enable the wireless feature.