New sponsors announced for next 4K 4Charity Fun Run at NAB Show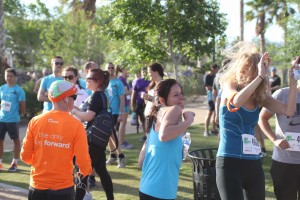 Elemental Technologies has announced sponsorship, transportation and at-show registration updates for the 4K 4Charity Fun Run. The run will take place on Tuesday, April 19, in conjunction with NAB Show in Las Vegas. Participant registration is open at www.4K4Charity.com.
Newly added sponsors include Comcast, Dolby, IneoQuest Technologies, Sony Electronics and Xstream. These media leaders join Aspera, an IBM Company, Brightcove, Elemental, the National Association of Broadcasters, NewBay Media, Rapid TV News and Verimatrix in supporting the run. Sponsorship inquiries may be directed to [email protected].
The 4km (2.49-mile) running and walking event starts at 7:30 am and loops through Sunset Park, which borders McCarran International Airport in Las Vegas. Light snacks and beverages will be available after the run. The 4K 4Charity Fun Run at the 2016 NAB Show benefits global charity Mercy Corps, an international development organisation that helps people around the world survive and thrive after conflict, crisis and natural disaster, and Las Vegas-based charity The Shade Tree, a shelter for women, children and pets that are victims of domestic abuse.
Event participation is made easy with bus transportation to and from the run location provided free of charge. Buses will pick up participants from major NAB Show hotels starting at 6:45 am on event day and will drop off at the same hotels and the Las Vegas Convention Center (LVCC) after the run concludes.
Registered 4K 4Charity Fun Run participants may pick up their race bibs early at the 4K 4Charity Fun Run kiosk, located outside the North Hall of the LVCC, on Monday, April 18, from 3:00–6:00 pm. Last-minute participants may also register at the kiosk during the day, or online at www.4K4Charity.com up to three hours ahead of the run.
"Registrations are up year-over-year and we're looking forward to a great event, thanks to the generosity of sponsors and individual supporters," said Laura Barber, director of publicity and events for Elemental. "I encourage everyone attending NAB Show to sign up today for this unique, fun and healthy activity!"