Newsbridge secures €7m in funding for US expansion and touts Cloud Media Hub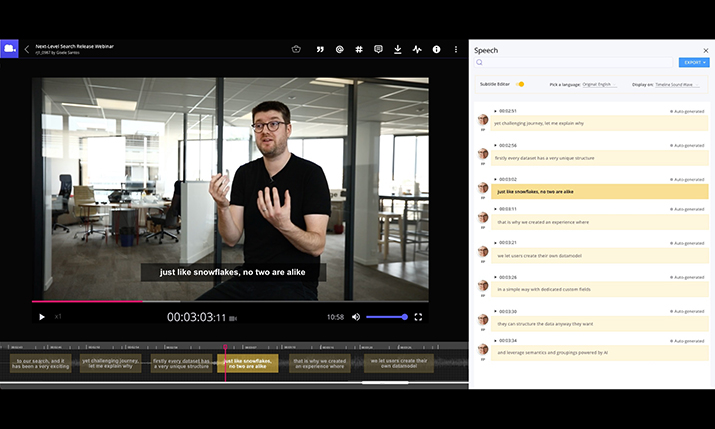 Live and archive MAM company Newsbridge is celebrating after raising €7m in a Series A funding round that will help it continue an expansion in the U.S. and hire additional AI and media-engineering talent.
The company was also at IBC this week, touting the benefits of its Cloud Media Hub.
Newsbridge co-founder and CEO, Philippe Petitpont, said of the funding: ‍"With this latest financing, we'll be opening our first U.S office in New York. We're also going to further strengthen our business in Europe and the Middle East with the hiring of dedicated regional managers.
"We want to continue to innovate in content searchability, and will reinforce our team with additional AI and Media Engineering talent. Alongside this, we want both Newsbridge and our customers to lower their carbon footprint. Currently, up to 450 watt hours can be needed for each hour of AI-powered media processing. Our goal is to reduce that number by 90% in the next two years."
The company's Cloud Media Hub platform for live and archived content uses multimodal AI Indexing to manage media assets. Unlike traditional AI, which relies on a single source for indexing, Newsbridge's tech merges detection results from face, text, objects, pattern, and transcription to produce more-accurate metadata and search results.
Among Cloud Media Hub's modular features new at IBC this year is advanced speech-to-text recognition for subtitling, which deploys a technique called "AI diarization" to identify who speaks and when, recognising that there are people on screen and that their lips are moving.
Newsbridge CTO Frederic Petitpont explained: ‍"We know that as much as 85 per cent of online video views are happening with the sound off, and subtitling is an essential but time-consuming step in post production. Our customers tell us that one hour of video equals 10 hours of manual subtitling work. With a subtitle editor now available in the Newsbridge Media Hub, our customers can speed up their workflows and ensure maximum audience engagement with their content.
"What's unique about our subtitles feature is how closely it emulates human-generated captions. This is thanks to Newsbridge's multimodal AI diarization, which identifies who speaks and when, through recognizing that there are people on screen and that their lips are moving. Unlike traditional, unimodal AI, multimodal analyzes multiple data types – such as images, objects, speech and context – when adding text to a video file. In this way, it operates more like the human mind and produces more logical and accurate results."