NewTek's Monaco Job…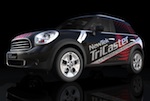 First seen down just over the French border at Sportel in Monaco, and this week parked at SATIS, the Mini LiveMan is an interesting combination of Mini Countryman and NewTek kit (with support from the likes of SIS LIVE and JVC) that boasts to be the first HD production vehicle in a compact SUV. That makes it not only cute but extremely capable.
Put together by 3D Storm, the car is based around NewTek's 450 EXTREME, the latest addition to the TriCaster product family and a 14-channel, HD/SD portable live production switcher, in a 2U rack mount system. This is coupled with LiveText 2, the dedicated multi-def titling software, and the newly released 3Play 425.
SIS LIVE performed the integration of the all-terrain vehicle and equipped it with its uPod fully automated, compact, SNG uplink system. JVC's GY-HM750E dual memory card camcorder and new G-series of DT-V studio monitors provide the visuals.