NewTek helps Derby County FC to boost revenues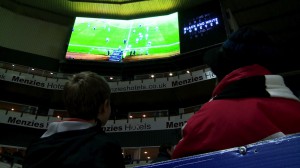 A process of introducing new digital assets into the host stadium of Derby County Football Club that got underway in 2011 has delivered significant and enduring benefits to multiple revenue streams. Fundamental to the production workflow is NewTek's TriCaster 855 live production system, which is hailed by multi media manager Matt Reeder as "stable, flexible, powerful…a massive asset to what we do."
Three years ago Derby County stepped boldly into the new digital era with the installation of multiple LED 'jumbo' screens to deliver perimeter advertising and a variety of match-related content – from pre-game discussion to post-match interviews. All of this content is masterminded from a full HD broadcast control room that features an array of solutions developed by NewTek.
"My job [back in 2011] was really to source the best sort of products within the budget requirements that we had," recalls Reeder. "As I always say, it's OK having a shiny Ferrari, but without an engine it's going nowhere fast! So we wanted something that was powerful and cost-effective."
After careful consideration of the available options, Reeder placed an order for the TriCaster 855, which allows for upto eight simultaneous live video sources in any combination of HD-SDI, HD Component, SD-SDI, SD Component, Y/C (BNC) or Composite connections and resolutions. The 3Play 425 product – also from NewTek – is used to deliver professional instant replay on match days, "with the two systems able to talk to each other," says Reeder.
The resulting functionality has worked wonders for fans – "within a matter of seconds we can push goal or save footage out to the screens" – and the club's advertisers and sponsors. "For example, a local golf club sponsors [replay of] each Derby County goal, so we can incorporate their logo into the graphics via the TriCaster," he says.
The commercial case has also been assisted by compelling content that encourages fans to enter the stadium earlier. In the 2011/12 season, 62% of fans passed through the turnstiles between 2.45-3pm ahead of a 3pm kick-off. Following the installation of a new big screen – filled by NewTek-driven content – this 'late entry' figure has dropped to 55%.
Reeder also quotes some other impressive improvements to key performance indicators following the latest sequence of work. By attracting more supporters into the ground at an earlier time – along with new concourse offers – the level of spend per customer has risen by 4% following a drop during 2011/12. Sponsorship revenues on pitchside advertising has risen 20% year-on-year subsequent to the installation of the LED digital boards, while a half-million pound spike in digital advertising sales was recorded by the close of the 2012/13 season.
The first phase of Derby County's digital innovation has clearly been a notable success – but Reeder is acutely aware that there can be no resting on laurels. The latest development content-wise sees the TriCaster delivering coverage of live auctions at half-time, while the system is also providing a "fast and effective way" of delivering social media content, including tweets and texts, to multiple screens inside and outside the stadium.
The next decisive step forward, however, may be the expansion of the club's multi-camera usage. "At the moment we have three cameras, but with the TriCaster we could have upto eight," says Reeder. "In an ideal world, we would have all eight, but at the moment the cost says not. That said, if we get promoted to the Premier League – which we very well might do this season – we would be able to take [extra] camera feeds directly from the broadcast, so we might not need additional cameras. We will just have to wait and see…"