NewTek TriCasters for The Streaming Team's work on the 2014 Flyboard World Cup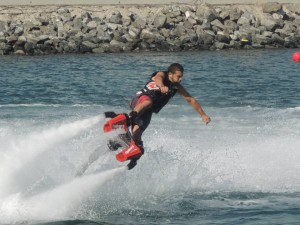 US-based streaming services company The Streaming Team will be making use of an extensive NewTek TriCaster specification to live stream the 2014 Flyboard World Cup. Taking place in Dubai from 4-6 December, the competition is open to any flyboarder able to demonstrate a sufficient level of practice to perform different figures.
Originally unveiled in 2011, the flyboard is a type of water jetpack attached to a personal water craft which supplies propulsion to power the flyboard through air and water. The world championship event centred around the sport is now in its third year.
Specifically, The Streaming Team will deploy two NewTek TriCaster 460 live production systems to switch, live stream and encode the four-camera shoot, which includes a GoPro camera attached to one of the competitors' rigs.
In addition, the TriCasters will provide exposure and branding for the event sponsors in the form of 'onscreen bug' or digital onscreen graphic and stream to multiple landing pages, including those on social media.
Content from the event will be streamed live on a dedicated YouTube page: https://www.youtube.com/user/hydrosportsnetwork