Next Gen Audio Summit: Concerns about training, skills and jobs pervade tech talk during London symposium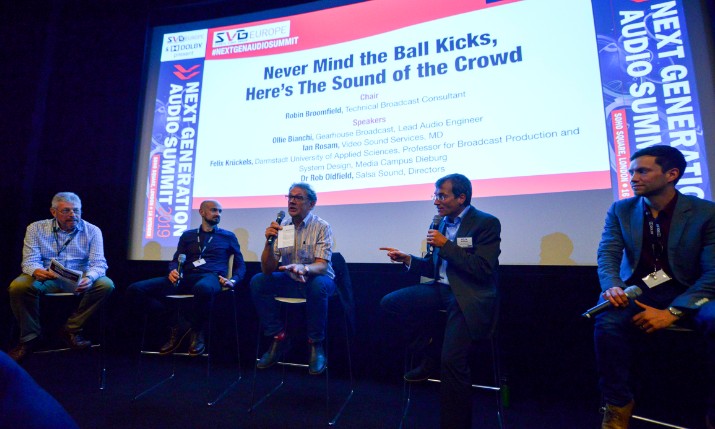 For all the intense and insightful discussion about immersive and personalised sound, audio-over-IP, automated mixing and improving accessibility, it was a clutch of real-world issues that permeated this week's sold-out Dolby Next Generation Audio Summit, produced in association with SVG Europe.
The 16 October 2019 event in London's Soho Square examined contemporary and future sound industry topics and featured some of the most respected practitioners in the market including sound supervisor Ian Ransom, Gearhoue Broadcast lead audio engineer Ollie Bianchi and Felix Krückels, now a professor at Darmstadt University of Applied Sciences.
But irrespective of whether the topic of conversation centred on metadata, industry standards or automation, the debate regularly returned to the need for more IT training in the audio sector, the potential changes that artificial intelligence and computerisation might make to job roles and ongoing worries about an ageing workforce.
Rise of the machines
Concerns about how automation might impact on mixing jobs, especially when it is combined with viewers (and listeners) being given more control over how they experience live sound, was discussed during a session called 'Never Mind the Ball Kicks, Here's the Sound of the Crowd'.
Having seen and heard both Krückels and Dr Rob Oldfield of Salsa Sound demonstrate examples of automated mixing tech, Rosam suggested, partly tongue-in-cheek, that "as a sound supervisor I am turning into more of a stem provider," before predicting that "in the future, we will just be data wranglers."
The point he was making, it seemed, was that if the audience is given tools at the viewing end to mix their own audio using sound building blocks provided to them by the broadcaster, and if more mixing is done in a more automated way, the role of the sound supervisor, and the skills required, will be very different in the coming years.
"Understanding the packet world. It's a steep learning curve. Anybody who pretends that it is not is kidding you."
Countering that, Bianchi argued that "an armchair viewer is not going to mix a full football match for 90 minutes."
Also discussing whether increased automation could potentially put sound supervisors out of a job, Krückels chose to accentuate the positive.
"It frees up a lot of time to do other things," he said, suggesting that a sound supervisor could leave the mix to do its own thing while they deal with other audio problems, tweak settings or do something more creative with the sound.
When pressed further, Rosam was also more positive about automation in the future. "Consoles will get more intelligent," he said. " The desk should be able to tell you [when there are problems]."
He added that "auto-mixing will be on every channel" and "you won't be fighting the console to do a mix – you will be there to enhance it."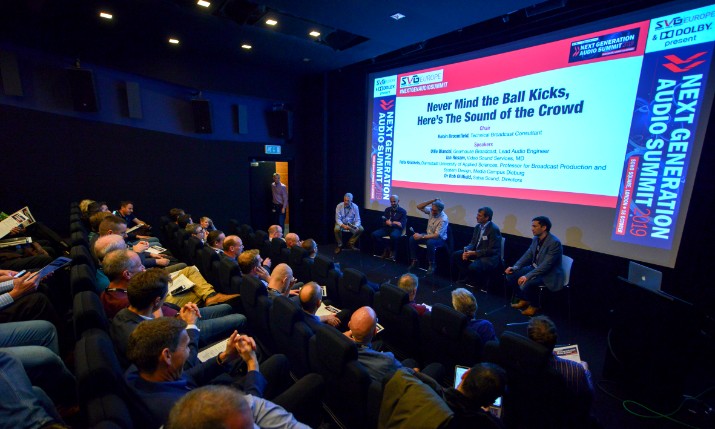 Young at heart
Both John Ive, the IABM's director of strategic insight, in his opening presentation, and Henry Goodman, Calrec's director of product development, talking on an ST 2110 panel, highlighted the inherent problems that the audio sector has in attracting young people.
"Audio is not always highest on people's agenda, especially with technology, when recruiting," said Ive. "In that sense we have a real challenge with skillsets."
"This is an ageing industry and we need to get new blood [into it]," agreed Goodman.
Intrinsically linked to this, Ive also referenced training issues, stating that audio-over-IP adoption is enabling entirely new workflows, "but it does come with skills challenges and the right skillsets are scarce."
Goodman, and his fellow panellists – Tim Addy, Dolby, senior staff systems architect, and Peter Stallard, Clear-Com, senior product manager – during their discussion acknowledged that there is a major requirement for additional IT-related training so that the audio sector, and its workforce, can better "understand the packet world."
"It's a steep learning curve," said Goodman. "Anybody who pretends that it is not is kidding you."
The good news was that, as they agreed, it easier to teach IT to audio people than it is to teach audio to IT people. "How you bring the two together is the big challenge, and is hugely important," noted Addy.
Getting personal
In the final session of the day, Fadi Malik, BBC Design and Engineering, head of technology transfer and partnerships, technology strategy and architecture, discussed various public next-generation audio trials that the corporation has embarked upon in the last decade, talking the audience through work on athletics, football and even TV drama.
"NGA gets overwhelming positive feedback whenever the BBC has done trials," he said.
The research has shown that some things work better than others and that many challenges still exist. One of the big takeaways, however, said Malik, was that "immersion is important [to viewers] but personalisation is deemed to be the most important aspect of NGA."
The invite-only summit, which was being held for the fourth time, was attended by 75 people from broadcasters, technology vendors and services providers.
The 2019 Dolby Next Generation Audio Summit, produced in association with SVG Europe, took place on 16 October at Dolby's Soho Square screening room in central London.