Next Generation Audio Summit 2018 to explore immersive audio 'from theory to reality'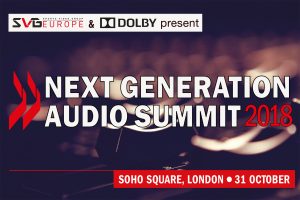 For the third successive year SVG Europe is joining forces with Dolby for an exploration of the new technologies shaping broadcast audio workflows for sports production. The 2018 edition of the Next Generation Audio Summit will take place at Dolby's facilities in Soho Square, London, on 31 October.
This year the programme revolves around the transition 'from theory to reality' as immersive and object-based audio technologies start to be applied to a wide range of sports and other entertainment content worldwide. There will be several high profile case studies, an update on current standards projects, and – in time-honoured SVG Europe fashion – extensive networking opportunities.
The full programme will be published within the next fortnight, but confirmed sessions will include an exploration of immersive audio production workflows at several of the summer's major sporting events; an overview of the latest updates to the AES67 interoperability standard and the other next steps for audio-over-IP; and an in-depth investigation of the steps involved in mixing sports productions in Dolby Atmos and other immersive audio technologies.
Networking opportunities throughout the day will include a buffet-style lunch and post-event drinks.
SVG Europe Contributing Editor David Davies, who will be overseeing this event, comments: "This is a very exciting period for immersive audio with a growing number of deployments in sports and entertainment. It's clear that a tipping point for these technologies is rapidly approaching, and we look forward to reflecting these exciting times in the content for this year's Next Generation Audio Summit. Once again it is great to be able to work on the summit in conjunction with Dolby, who remain at the forefront of immersive audio development."
Places are strictly limited and, as in previous years, attendance will be primarily organised via invitation. But if you have a question about the event, or would like to enquire about the possibility of attending, please contact [email protected]