Next Generation Audio Summit 2020: Registration now open for 3-5 November online event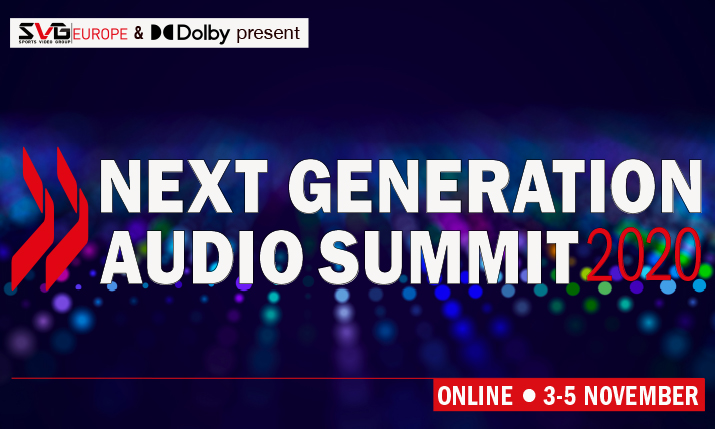 Registration is now open for this year's Next Generation Audio Summit, presented by SVG Europe and Dolby.
The specially convened online event will take place online across 3, 4 and 5 November and will explore how the sports broadcasting and production industry is tackling the audio-specific problems posed by the coronavirus pandemic and analyse what is happening in the exciting world of immersive sound.
Subjects to be covered across the three sessions include object manipulation, sound localisation, remote production, augmented stadium sound and the virtual fan, and what is coming down the line for personalised sound for sports broadcasting.
The three sessions are:
Tuesday 3 November 2020, 4pm UK time: Get it in the mixer! How to achieve better audio immersivity through object manipulation
Wednesday 4 November 2020, 4pm UK time: Taking the lead: Remote production, augmented stadium sound and broadcast audio in the 'New Normal'
Thursday 5 November 2020, 4pm UK time: Next-generation audio in the European market: the state of play
The speakers for the 3 November session will be audio engineer, consultant and academic Felix Krückels and the director and co-founder of Salsa Sound and senior lecturer and researcher in audio technology at the University of Salford Ben Shirley. They will be joined by Hyunkook Lee, director of the Centre for Audio and Psychoacoustic Engineering at the University of Huddersfield.
More speakers will be announced in the coming days.
Next Generation Audio Summit 2020 will be hosted by media production technology consultant Roger Charlesworth.
The live sessions, which will be delivered via Zoom, will also feature case studies from selected SVG Europe sponsors and will include an audience Q&A.
Next Generation Audio Summit 2020 is open to SVG Europe sponsors and senior professionals working in the business of European sports broadcasting and production. This includes representatives from the following types of organisation: broadcasters, OTTs, OBs, facilities, clubs, associations, federations, leagues, production, education and venues.
Qualifying delegates may attend as many of the sessions as they wish.
To find out more and to register visit: Next Generation Audio Summit 2020