NFL kickoff 2019: In 60th season, CBS Sports tinkers with Super Bowl LIII technology
2019 is a special year for the National Football League, which is celebrating its centennial. And CBS Sports' involvement in NFL broadcasts turns 60. In a year filled with important milestones and the opportunity to build off the impressive technologies deployed during Super Bowl LIII, the Eye Network is poised to continue generating mass appeal in the new season.
"It's our 60th season, and we're also coming off an amazing Super Bowl season as well," said CBS Sports chairman Sean McManus. "The momentum that we had last season is going to carry over incredibly well into this season with a terrific schedule."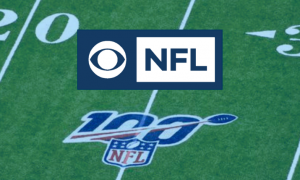 The turning of the page offers a chance to experiment with new concepts and ideas and to fine-tune older ones. In last year's ultimate contest between the New England Patriots and the Los Angeles Rams (CBS Sports' 20th Super Bowl broadcast), the operations team showcased the network's push toward increased technological innovation, such as the first use of multiple 8K cameras, up to 16 4K cameras, 28 pylon cameras, super-slo-mo cameras on the goal posts, and a good number of wireless cameras for augmented-reality graphics. The AR graphics will continue to be worked with and improved as they become more common on NFL broadcasts.
"We had a big intro at the top of the show with augmented reality, so it was a high priority during this past Super Bowl," said Jim Rikhoff, lead game producer, CBS Sports. "Whenever we have something that enhances the viewer's experience, we want to go ahead and do it. I think we're going to continue working on [AR] because it will make our telecasts better."
Coming off his inaugural Super Bowl at the front bench, Rikhoff was far from a novice in his first championship production. Besides the high-octane AFC Championship Game between the Patriots and the Kansas City Chiefs the week before, he has been involved in other high-profile sports events, including The Masters, PGA Championship, NCAA Division I Men's Basketball Championship, Daytona 500, US Open tennis championships, and Olympic Winter Games. That experience and knowledge made the biggest football game on the calendar an easier task to handle.
"I felt that I was prepared for the opportunity because we had a great team and we had built [our strategy] up leading towards the final game during the regular season," he says. "I've been fortunate enough to produce a lot of big events during my career."
After taking the offseason to reflect on the achievement, as well as his sophomore season at his current position and his 34th year with the company, the veteran producer expects typical technologies like the Skycam to return.
"The Skycam, especially with how Tony [Romo, analyst, CBS Sports,] sees the field, really came into play for every single A game last year," said Rikhoff. "When you're a quarterback, that's the vantage point that you're used to seeing during the game, so having a Skycam instead of the All-22 [shot] for him is my go-to replay angle. We'll have it again for every A game this year, and there may be times when we have a second Skycam with a different angle on top of that."
Back in the saddle: Familiar teams of on-air talent return
Even with the possibility of new deployments, the network is headlining its pregame show and in-game crews with a lot of notable mainstays. As the A team, commentators Jim Nantz and Romo will come together with sideline reporter Tracy Wolfson for yet another season.
The B unit comprises commentators Ian Eagle and Dan Fouts and reporter Evan Washburn. Four other teams will be calling games as well: Greg Gumbel, Trent Green, and Melanie Collins; Kevin Harlan and Rich Gannon; Andrew Catalon and James Lofton; and Spero Dedes and Adam Archuleta. New this year, the duos of Tom McCarthy and Jay Feely and Beth Mowins and Tiki Barber are joining the mix. Amanda Balionis and John Schriffen will fill in as additional sideline reporters.
In the comfort of the CBS Broadcast Center in New York City, the stars of The NFL Today will be James Brown, Boomer Esiason, Bill Cowher, Phil Simms, and Nate Burleson. Gene Steratore will serve as NFL Rules Analyst, and Jason La Canfora will resume his role as NFL Insider.
Other notable behind-the-scenes folks include Executive Producer/SVP, Production, Harold Bryant; Lead Game Director Michael Arnold; The NFL Today Producer Drew Kaliski; and The NFL Today Director Bob Matina.
Particularly compelling games on this year's slate include:
Week 11 — Nov. 17

Super Bowl LII Rematch: New England Patriots vs. Philadelphia Eagles (4:25 p.m. ET)

Week 13 — Dec. 1

AFC North Favorites: Cleveland Browns vs. Pittsburgh Steelers (4:25 pm. ET)

Week 14 — Dec. 8

2019 AFC Championship Rematch: Kansas City Chiefs vs. New England Patriots (4:25 pm. ET)

Week 15 — Dec. 15

Last Regular-Season Home Game in Oakland: Jacksonville Jaguars vs. Oakland Raiders (4:05 p.m. ET)
The 2019 NFL season on CBS Sports kicked off on Sunday 8 September with a quadruple-header of Baltimore Ravens vs. Miami Dolphins, Kansas City Chiefs vs. Jacksonville Jaguars, Buffalo Bills vs. New York Jets, and Tennessee Titans vs. Cleveland Browns.