NFTS selects Blackmagic Design live production workflow for Sports Production course
Blackmagic Design has announced that its broadcast infrastructure products is being used by the National Film and Television School's (NFTS) as part of a new diploma in Sports Production. Replicating industry standard workflows, the NFTS has designed and implemented a solution featuring Blackmagic's URSA Mini 4K PL, equipped with the Blackmagic URSA Mini B4 Mount, and ATEM live production hardware.
The diploma is delivered in partnership with IMG and aims to equip students with the editorial skills required to produce state of the art sports and live events coverage as well as highlights content.
Steve Holdsworth, NFTS Head Engineer, explains that the school launched the dedicated diploma in response to student demand as well as to meet a growing industry requirement: "The number of scheduled hours of sports broadcasting is growing every year, as existing channels expand their offerings and new providers launch. It made sense for the NFTS to introduce specialist training in sports production to meet this skills gap."
Students on the diploma spend a considerable amount of their time undertaking practical fieldwork assignments where they learn all aspects of live event  and sports production, from single and multi-camera operation through to live video mixing and handling scoring graphics and player analytics. Students also undertake a four week work placement at IMG where they get hands on experience as assistant producers providing them the opportunity to work on a range of live events including horse racing, motor sports, and golf. At least one student is guaranteed a job at IMG upon graduation.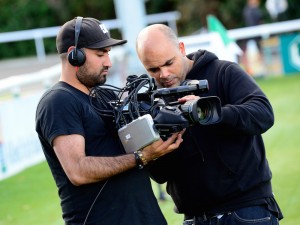 Selecting the B4 mount option for the URSA Mini 4K cameras has enabled the team to use broadcast lenses, regularly used throughout the sports production industry, with remote zoom and focus. These are essential for sports broadcasting. "While many of the students don't have a technical background when they start, after just a few days hands on training with the URSA Mini, and they have the understanding and competency needed to shoot single camera productions," explains Holdsworth.
Each of the six cameras is paired with a Blackmagic ATEM Camera Converter and connected via optical fiber to an ATEM Talkback Converter 4K, allowing students the flexibility to design and set up multicam OB productions across a variety of scenarios Holdsworth continues: "Communication and team working skills are just as important as the technical experience gained working on industry standard workflows and so we rely heavily on the talkback and tally features afforded by the Blackmagic Design systems."
Vision mixing and recording are also carried out with Blackmagic hardware, with students operating an ATEM 2 M/E Production Studio 4K switcher, a traditional hardware based broadcast panel, and a series of HyperDeck Studio Pro SSD broadcast decks capturing the students' productions.
Holdsworth concludes: "Giving students an authentic OB production environment is an integral part of the curriculum, and every element of the Blackmagic Design workflow ensures that the students can produce content to the same high quality standards expected by broadcasters around the world. There is nothing else really on the market that so closely filled our brief on production quality, usability, reliability, and cost."