Nicola Sturgeon announces funding to open world leading film school at BBC HQ in Scotland
First Minister of Scotland, Nicola Sturgeon will today announce funding of £475,000 in her keynote speech at the Edinburgh International Television Festival, to support plans for the world leading National Film and Television School (NFTS) to open a hub at BBC Scotland's studios in Glasgow and Dumbarton Studios.
NFTS Scotland will significantly enhance vital skills provision arising from the expected growth in film and television production in the country. The BBC alone has committed additional investment of £40 million a year in Scotland and is proposing to launch a new channel next year and will also produce more network output in future. NFTS Scotland is expected to open in January 2018 with students enrolling from April 2018. The NFTS is an acknowledged global leader in the provision of postgraduate, high-level, creative and technical skills for the audio-visual industries.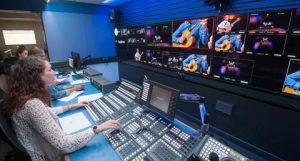 In addition to the BBC, the School has secured strong support from a range of industry partners including STV, Channel 4, the British Film Institute (BFI) and the producers of Outlander (David Brown), Mad Max Fury Road (Iain Smith) Sunshine on Leith and T2 Trainspotting (Andrew MacDonald).
Diversity and inclusion are key priorities and there is a joint aspiration that a third of all places in the first two years will be fully funded scholarship places. The Scottish Government and BBC are contributing to a bursary fund to meet scholarship costs and ensure students are drawn from a broad range of backgrounds.
Specialist courses will be designed to meet the growing needs of film and television production companies in Scotland and will include three month certificate courses; twelve month full time and part time diploma courses; and short courses to provide continuing professional development (CPD) in key film, television and games craft disciplines.
The School will specifically work to address gaps in existing provision by delivering courses other providers are not currently offering in Scotland, such as Production Accounting, Script Editing and Factual Development. Projected annual student numbers are expected to be in the region of 450 (100 full time, 50 part time and 250 on CPD courses) with over 1500 students expected to graduate from the facility within five years.
The NFTS has a proven track record in producing successful Scottish alumni, who include BAFTA-winning director, Lynne Ramsay (We Need to Talk About Kevin), first NFTS graduate and renowned film and TV producer, Steve Morrison (My Left Foot), BAFTA-winning Sherlock and Dr Who director, Douglas Mackinnon, multi award-winning director, Gillies Mackinnon (Hideous Kinky); Oscar-nominated animator, Sharon Colman (How to Train Your Dragon) and many more. The NFTS' founding director, Colin Young, also hails from Glasgow.
The First Minister made the keynote speech at the Edinburgh International Television Festival and said: "This is an exciting development for our screen sector which is already an area of growth for Scotland. While we have excellent university and college provision for a range of screen subjects and media skills, NFTS' plans will complement and expand the training opportunities available in Scotland.
"We have seen a rise in high profile film and television productions being made in Scotland, and this government is focused on ensuring that continues. That is why we are establishing a new Screen Unit within Creative Scotland to better coordinate public sector support for screen. And as the BBC expands its operations in Scotland – specifically in Scottish news and drama productions – we must ensure people can gain and update the skills they need to capitalise on the opportunities ahead."
Jon Wardle, NFTS director, said: "The NFTS has a proud history of developing Scottish talent from its base in Beaconsfield, so we are incredibly pleased to announce the expansion of the School into Scotland and look forward to making an even greater contribution to the Scottish economy through our unparalleled reputation for delivering high-calibre, job ready graduates."
Renowned TV and film producer, Steve Morrison, who is the National Film and Television School's first ever graduate and the BBC's board member for Scotland, stated: "As a Scot and a graduate of the NFTS, I am fully supportive of this initiative. It's fantastic both for the School and for creative industries in Scotland to have such a driving new force in skills and talent development in Scotland."
Patrick McKenna, NFTS chairman, stated: "The School plans to make its courses increasingly accessible to students throughout the nations and regions of the UK. This exciting new initiative in Scotland marks the beginning of an ambitious programme of development."
BBC Scotland director, Donald MacKinnon, commented: "BBC Scotland already has an excellent track record in helping to create the broadcasting stars of the future through our various apprenticeship and training projects, so hosting the NFTS in our Glasgow HQ will build on that. The NFTS has a well-deserved international reputation for the quality of its training so we're very happy to be working in partnership with them to ensure that we and other broadcasters – along with the film industry in Scotland – have a well-trained and well-educated workforce to select from for many years to come."
Amanda Nevill, CEO, BFI said: "The NFTS is the best film school in the world so it's fantastic that its coming to Scotland and giving more talented young people from all sorts backgrounds the opportunity to learn about film, and prepare them for a career in the industry. With the film and TV industries booming, we need 1,000's more skilled people to join the workforce so this is great news for the Scottish creative industries and great news for the economy."