Nordic Summit 2018: Vizrt and Sixty confirmed as sponsors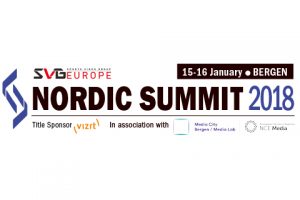 SVG Europe is delighted to announce that Vizrt and Sixty will serve as Title and Networking Sponsor, respectively, of its inaugural Nordic Summit in Bergen on January 15-16. The summit is a collaboration with NCE Media and will take place at the recently opened Media City Bergen complex.
The Nordic Summit will include an extensive tour of the Media City Bergen site as well as a half-day seminar programme including sessions on the development of the site, the present and future of broadcast sports graphics, the possibilities heralded by remote production, and a keynote conversation with Eirik Solheim, Strategic Advisor of Norwegian broadcaster NRK. For more information please visit https://www.svgeurope.org/nordic-summit-2018/.
Vizrt is Title Sponsor of Nordic Summit 2018 and will contribute to the graphics panel as well as giving a short introductory talk at the start of the summit. André Torsvik is Head of Marketing and Communications, and comments: "We are excited about and eager to support an event of this kind focused on the Nordic countries. We hope that a lot of the highly innovative and exceptionally creative broadcasters in the region will come together for this event to learn from one another."
Sixty will also contribute to the graphics panel as well as sponsoring the networking breaks at the summit, with Chief Commercial Officer Henriette Sæther describing SVG Europe "as one of the key arenas in which to meet partners and customers within the sports industry."