Nordic Summit 2019: Lessons learned by SVT from the world's largest remote production
The FIS Alpine World Ski Championships 2019 were held from 4 to 17 February 2019 in Åre in Sweden. 76 nations participated in combined, downhill, giant slalom, super-G and team events. The Biathlon World Championships 2019 took place in the neighbouring Östersund resort from 6 to 17 March. There were a total of 12 competitions in Östersund: sprint, pursuit, individual, mass start, and relay races for men and women, and two mixed relay races.
These back-to-back events presented host broadcaster SVT Sweden – one of the pioneers of remote productions, starting with the London Olympics in 2012 – with an opportunity to remotely produce both events from its broadcast centre in Stockholm, some 600 km away.
Around 75 uncompressed HD camera signals were transported in IP via two 100 Gbps Telia fibre circuits from the events in central Sweden to SVT's three control rooms back in Stockholm. The main director and vision mixer operator for both events were directing from galleries in Åre and Östersund that were connected to SVT's central control rooms.
At SVG Europe's Nordic Summit in Bergen on 7 March, sponsored by Limelight Networks and organised in association with NCE Media and Media City Bergen, SVT Sweden head of operations and business development Eva Poysti took part in a review session in the company of SVG head of editorial services Ken Kerschbaumer.
"We are raising the bar very high and it's very complicated – and there's a lot of snow! The control room was 620km away from the production site," said Poysti.
"We also had the responsibility to deliver the host broadcast feed to the rest of the world. And we wanted to do it all as the world's biggest remote production. When you count the kilometres of cable, how many cameras and how many viewers, it is actually the biggest ever: 55 kilometres of camera fibre, 76 cameras, 600 hours of TV and 700 million potential viewers.
"It can snow, it can rain, it can be windy and we're up on the hill trying to put the cameras in the right place," she said. "It's a very challenging environment in which to do a remote production. It's not very glamorous putting all that stuff in place up in Åre. The base stations of the cameras were in Stockholm, and everything was sent over a 100Gb network from Åre.
"The director and mixer were working on-site and all the rest of the crew were in Stockholm, including all the EVS guys. We had Skype rooms set up, where the producer in Åre and the producer in Stockholm could 'see each other', virtually, all the time during the production. That's when you want a good connection!
"The biathlon event at Östersund is also a huge production, with 75 cameras on the ground, 19 kilometres of camera fibre, 180 microphones and 119 monitors. It's not as big as the Alpine Ski Championships, but there's a lot of interest including 38 participating nations; 250 competitions, equally split between women and men; 25 radio and television stations broadcasting live; and 165 million TV viewers for the host broadcast. Big numbers and a big responsibility," said Poysti.
Live broadcast meets the IT department
"There are so many things that can go wrong in TV production; but when you do a remote production you have to change the way you work and how you communicate. Of course we are doing it in order to make it cheaper and faster, and do more for less," she continued.
"But we are also doing a good thing for the environment as we're not travelling as much and not using as many hotel rooms for the crews. That is a great 'win'. The flexibility is also a great thing. You can standardise ways of working and put it together in the right way to make the infrastructure easier.
"The director has a very special role," she noted. "They need to be able to look and feel and talk to everyone. The talent was also in Åre. And as host broadcaster of course you have a lot of different inputs from people who pay for it, in terms of angles and ways of production and logistics.
"When you have an OB truck you drive up and plug it in. Here you have to build and rebuild 'the OB truck' all the time, without the truck! That means you have to have a very good logistics department; what do you buy, what do you rent, how much will it cost? All of a sudden there's a completely different competency required, because it's not just about the TV production: as well the logistics and planning. That's new.
"The biggest challenge when it comes to people is how to communicate. All of a sudden you have two nodes to connect together, rather than just one. There's so many things we do as humans to communicate with each other: that's why the Skype rooms were going all the time," she said.
"I think the whole industry is changing towards this model. It's unstoppable, no question about it. The biggest change is that IT and broadcast are actually melting together – and those are two very different industries that think and work in different ways.
"The biggest change is that IT and broadcast are actually melting together – and those are two very different industries that think and work in different ways"
"That has been very interesting and challenging, as what we're doing now is IT. It's IT. And broadcast professionals are not used to that. If you have lived and worked in broadcast you have been seduced into the 'going live' tradition. With IT people, it's 'oh there's a little bit of delay, what's the problem? It's only a second away, or a frame away'. No, it has to be exact! Those are key challenges; and we have to try to understand each other," said Poysti.
Unilateral coverage and World Feed Plus
SVT utilised EVS live production technology to deliver the two complex remote productions for high-profile winter sports events. SVT scaled up its existing EVS resources for the specific demands of ingesting and producing the large amount of incoming feeds from both Championships which included standard cameras, triple-speed and 6 times super slow-motion cameras.
This was done by bringing in additional industry-standard XT3 ChannelMAX servers from HDR Sweden to expand SVT's existing EVS XT3/XS3 production servers and IPDirector PAM software suite. The expanded EVS system consisted of over 100 EVS HD channels for both host and national-unilateral operation.
All EVS LSM replay operators were located in SVT's Stockholm control rooms to provide instant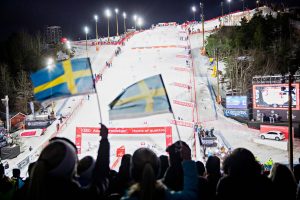 replays, slomos, highlights and closers for the World Feed for both events. The EVS operators in the control rooms were able to create replays and highlights packages for the World Feed, World Feed Plus and also SVT's national production remotely.
One of the benefits of the central/remote operation, as all camera feeds were transported directly back to the broadcast centre in Stockholm, was that SVT's in-house editorial team working on the national-unilateral production as well as SVT's winter programme Vinterstudion had exclusive material at their disposal to craft more compelling content.
The World Feed Plus, which was an additional feed produced and offered by Infront Sports & Media and SVT to all rights holders for the Åre 2019 FIS Alpine World Ski Championships, was also produced thanks to the EVS system. All EVS operators in the gallery tagged the best Super Motion footage from each skier with metadata/keywords. With IPDirector's filtering and search capabilities, the World Feed Plus EVS operator could quickly have a package ready of every skier as soon as they had completed their run.