Nordic Summit 2020: Full programme line-up in place for Bergen event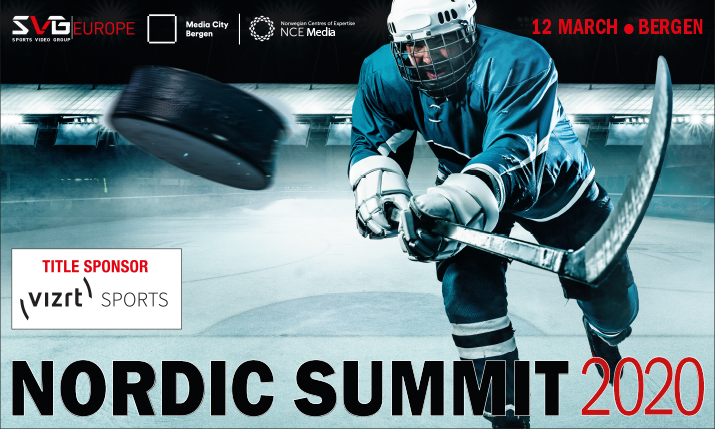 SVG Europe and NCE Media are delighted to announce the full programme line-up for Nordic Summit 2020 taking place on 11 and 12 March in Bergen.
The Title Sponsor for the event is Vizrt and slomo.tv is a Session Sponsor for 'Sports Rights in the Nordics: The Big Picture'. Our Networking Reception Sponsor is Telstra and Table Top Sponsors are EVS, slomo.tv and Telstra.
The full schedule is below.
---
 11 March 2020
 5:00 pm – 7:00 pm Media City Bergen
Pre-Conference Early Bird Networking Reception
A pre-event reception in the Media Lab on the 9th floor in Tower 3
12 March 2020
 9:00 am – 9:45 am Media City Bergen
Registration & Coffee
9:45 am – 10:00 am
Welcome and opening remarks
Welcome from our event host, Simon Nitsche, TV 2 Norway, Sports Anchor, and Anne Jacobsen, Media City Bergen, CEO
10:00 am – 10:10 am
Welcome from Title Sponsor: Vizrt
Presentation by: Thomas Nelson, Vizrt, Head of Sports
10:10 am – 11:00 am
Future of Remote Production: The Nordic Model
Remote production (REMI) is a prominent theme among sports broadcasters worldwide. There are obvious advantages; sustainability, utilisation of studio facilities, cost reduction and delivery of more content across different platforms. Broadcasters in the Nordic market have already begun to employ the technology, but are the cost savings real, and will production and signal contribution deliver the reliability needed? In this session, we will hear from some of the broadcasters at the forefront of developments. It's not all about technology; it's about mindset.
Includes presentations from:
Jens Cornelius Knudsen, TV 2 Norway, VP Production Sports and News
Ingebrigt Vibe Lunde, TV 2 Norway, Project Manager, Technology Department
Adde Granberg, SVT Sweden, Chief Technology Officer
11:00 am – 11:20 am Media City Bergen
Building a Story-Centric Cloud-Based Newsroom of the Future
TV 2/Fyn's philosophy has always been to put journalists and storytelling first, and technology second. Learn how the Danish broadcaster will utilise the latest cloud-based technologies to build the newsroom of the future – enabling journalists to create, manage and publish their stories faster across multiple media and social platforms.
Presentation: Michael Jensen, TV 2/Fyn, Head of Technology and Production
11:20 am – 11:50 am
Networking Break & Coffee
11:50 am – 12:10 pm
Sports Rights in the Nordics: The Big Picture
Sponsored by slomo.tv
Presentation by Nadezhda Gretskaya, slomo.tv
The value of sports rights has skyrocketed in recent years – and will probably continue to increase for every bidding cycle. Increased competition, new market players and new ways to consume live sports will contribute to changing the media landscape as we know it. In this session, Knut Kristian Hauger, editor of industry magazine Kampanje, will present the 'big picture' for sports rights in the Nordics. Who are the significant players in this market, how are they positioning themselves over the sports right currently at stake, and what does the future hold in terms of new competitors?
12:10 pm – 12:30 pm
Live Streaming 3,000 Matches to Local Newspapers
In Norway, a 120-year-old local newspaper group, Amedia, has in record time become Norway's largest live sports streaming provider. Its live sports vertical, Direktesport.no, 'Direct Sport',  is a significant contributor to the continued digital subscription growth for the group's 72 local newspapers. Amedia has evolved from a traditional local newspaper company to a highly successful digital news subscription operation, with live sports videos as a key ingredient in the customer value proposition. Amedia's pivot to digital subscriptions and its content development strategy have created year-on-year growth in subscribers for several years.
Presentation: Helge Birkelund, Amedia, Vice President Sport
12:30 pm – 1:00 pm
In Conversation: Lise Heidal, NEP Group, SVP Global Media Solutions
Last December Lise Heidal, managing director of NEP Norway, was promoted to SVP Global Media Solutions for NEP Group – becoming part of NEP's senior leadership team. In this one-to-one conversation, SVG Europe Editor Heather McLean talks to Heidal about this new global broadcast role, her leadership of NEP's Norwegian business since 2010 – and, drawing on experience and perspective, discussing new directions for the media content production in the Nordic region and beyond.
1:00 pm – 2:00 pm
Lunch break
2:00 pm – 2:25 pm
Wheels of Glory: How World Rally Championship Gets Grip
World Rally Championship (WRC) holds rally events globally every year where teams compete to win the coveted title. In each rally, drivers tackle extreme conditions, and the rallies held in Sweden and Finland are amongst the toughest, particularly WRC Rally Sweden. WRC+ All Live, a subscription-based OTT service for live footage of each rally, now adds to WRC+, the WRC OTT platform, using remote and other broadcast production innovations.
Chair: Heather McLean, SVG Europe, Editor
Speakers: Marko Viitanen, NEP Finland Managing Director and WRC TV, Director and Jared Grelet, WRC Promoter, Communications Manager
2:25 pm – 2:50 pm Media City Bergen
From Goldfish to Fortnite: How eSports is Changing the Game
The eSports industry is evolving rapidly with new tournaments, investors, teams and new ways to consume content. ESports is said to have the greatest growth potential in the media industry. The biggest event in history had 60m unique viewers. The League of Legends event at Aldershot and Paris in 2018 also yielded a total of two billion hours watched. What impact will this new industry have on the traditional media business? How will eSports change the way we consume media, and will it open the doors to a new virtual universe of entertainment? And in the end: is eSports a commercially viable business opportunity or the ultimate hype?
Presentation: Harald Strømme, Chairman and Founder, Good Game
2:50 pm – 3:10 pm
Interactive Cloud Graphics Production
Delivering the ultimate fan engagement experience is a hot topic with more and more sports seeking to enhance their streaming services with more stats, data, centralised content hubs and widgets for OTT services. Learn how the NBA and Sixty delivered more than 3000 games worldwide directly to consumers and the overall effect it had on their audiences, as well as other cases of delivering targeted overlays via the cloud to millions of users in real-time.
Presentation: Kjetil Horneland, Sixty, Chief Executive Officer
3:10 pm – 3:35 pm
Networking and coffee
3:35 pm – 4:00 pm
Shaping the Future of Broadcast for Norway
Over the last four years, TV 2 Norway has implemented its largest and most complex transformation project to date. This project started as a traditional IT project but after four years became the biggest transformation project TV 2 has ever completed. The objective was to renew its content handling. It is a digital transformation project with a focus on building and using new technology, but also how to transform workflows and change the way daily work is being done.
Presentation: Hege Marie Kallestad, Head of Publishing & Playout Operations, and Kjell Ove Skarsbø, Chief Technology Architect, TV 2 Norway, GPO Project
4:00 pm – 4:20 pm
From the NRK Beta Labs: New Technology Perspective
In a special session, NRK Beta Strategic Advisor and the Media Cluster's Chief Nerd Eirik Solheim provides his unique view on some of the experimental broadcast technology being developed by NRK.
4:20 pm – 4:30 pm
Closing Remarks from Media City Bergen and SVG Europe
5:00 pm – 7:00 pm Media City Bergen
Networking Drinks in the Media Lab
---
SVG Europe confirmed earlier this week that, as things stand, the Nordic Summit would still be going ahead* and that extra precautions had been put in place following concerns about the coronavirus.
For more information on Nordic Summit 2020 and to register visit: Nordic Summit 2020
*Information correct as of 4 March 2020