Normalise it, make it credible and celebrate difference: SVG Europe Women event focuses on further improving TV coverage of women's sport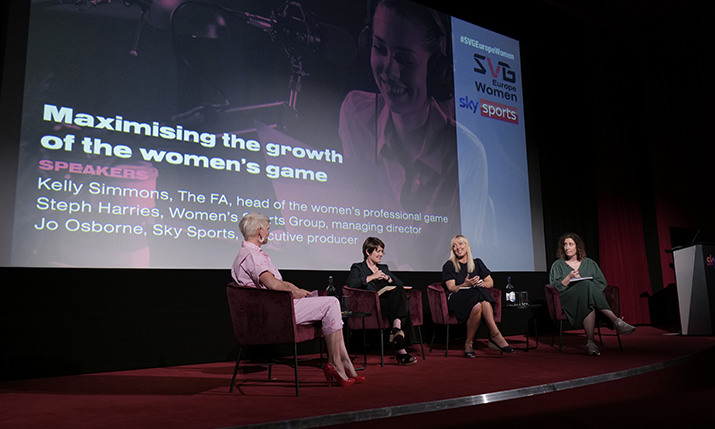 "It's sport. It's not women's sport. We should de-gender if we are to normalise it."
That was one of the clearest messages to come out of the SVG Europe Women 'Elevating Women in Sport' event which took place at Sky's HQ in West London on Tuesday 5 July 2022.
The comment was made by former BBC Sport controller of production Steph Harries (pictured above, second from right), who is now the managing director of the Women's Sports Group.
In a panel discussion called '​​Maximising the growth of the women's game', she and her fellow guests, Sky Sports executive producer Jo Osborne and Kelly Simmons, the head of the Women's Professional Game at The FA, discussed how European broadcasters approach women's sports rights, how much of the coverage is dictated by the men's game, and what they know about female fans and how to engage them.
"You shouldn't compare men's and women's sports. We can celebrate differences. Creating role models is really important too."
"You have to handle [coverage] with credibility, authority and authenticity," said Harries. [Coverage] is not dictated by the men's game but there is a standard that needs to match other sports coverage. Otherwise, you get accusations of it being substandard."
"It's sport. It's not women's sport. We should de-gender if we are to normalise it," she continued, citing the example of The Hundred, the ECB-run cricket tournament shown on the BBC and Sky that sees men's and women's matches played back-to-back with almost identical levels of build-up, coverage and analysis.
"The Hundred shows that you don't have to lift and shift. You shouldn't compare [men's and women's sports]. We can celebrate differences. Creating role models is really important too."
In the same session, Sky Sports' Osborne (pictured above, far right) said: "No two women's sports are the same. But there are three strands [that link them]: Firstly, how can we make it easy to watch? Secondly, credibility is important. The third is storytelling – how can we tell those stories better, to broaden it out to reach more people."
"Younger audiences want the depth – they value values over victories. [We can] use that to grow women's sport," she added.
The tone of the coverage is also key, noted Osborne. "Make sure there is an inclusive tone. So whatever [viewing group] they are in, they can enjoy it."
Simmons, who discussed the success and ambitions of the Women's Super League, and the huge opportunity that Women's Euro 2022 offers, added insightfully that "women as fans is an untapped market. They are massively influential. They have massive purchasing power. It's about building fandom. The WSL has a chance to do that."
The packed auditorium, which included both junior staff and freelancers and heads of department, was also treated to an inspirational fireside chat with Naomi Schiff (pictured above, right), the former professional racing driver and now Sky Sports presenter.
Schiff described the difficulties she had getting into motorsport and the challenges she had making the move into broadcasting. Her first day on the job was particularly stressful.
"When I first got there, the main presenter wasn't there and half the crew got COVID," she said. "So I presented the whole show! I didn't know what I was doing. It allowed me to show them what I could do though – and they could see that I could do it."
"You are going to come across so many barriers. Don't be one yourself. We can be anything we want to be."
It was around this time that she had an epiphany. "The role model that I lacked when I was starting out, I realised I could be that for young girls and represent [black women]."
On the advice she would give to other women, of all colours, Schiff said: "My path has changed. Be open to change and dare to dream, and never give up. I made it to a paddock, even if I'm not in a car. You are going to come across so many barriers. Don't be one yourself. We can be anything we want to be."
The final speaker, Anna Ward, Premier League Productions' director of production and operations, provided a call to arms for the industry. "Diversity within the workforce drives creativity and innovation," she said. "It will create better content. It's also crucial for role modelling. You cannot be what you cannot see. Don't just focus on hiring diversity. You have to celebrate it and create pathways and improve the sense of belonging. We want to celebrate difference and originality."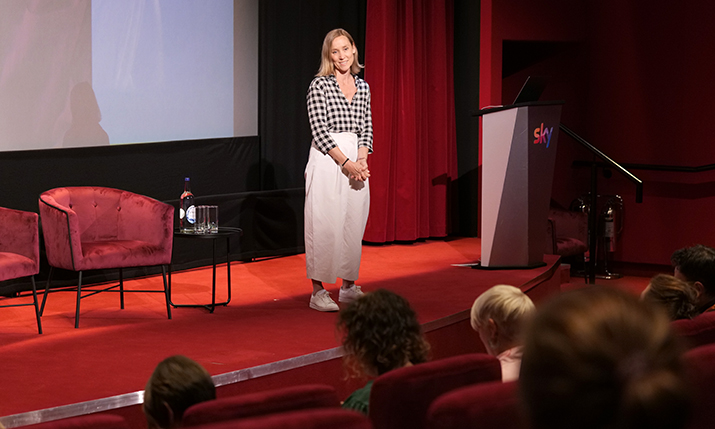 The event was opened by Inga Ruehl (pictured above), executive director of production services and operations at Sky Sports.
Establishing why events like this are so important, and addressing both the men and women in the room, she voiced: "We're your daughters. Your sisters. Your mothers. If you're lucky, we're your lovers! Why would you and we not get pissed off when people aren't all treated the same way."
In addition to networking opportunities, guests were also given the chance to get hands-on with broadcast kit and to talk to trained operators about their roles. Equipment on show included the Sky Cricket presentation pod, a Steadicam, a jib, a cloud production set up and Piero graphics, plus a makeup demonstration.
SVG Europe Women 'Elevating Women in Sport', in association with Sky Sports, took place at Sky in West London on Tuesday 5 July 2022.
---