Octopus Newsroom powers LifeNews and Life78 in Russia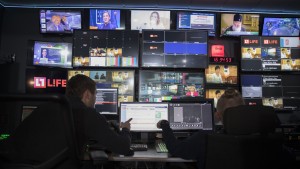 Octopus Newsroom computer systems has been chosen by 24-hour television channel LifeNews for its headquarters in Moscow and for its sister channel, Life78, which broadcasts from studios in St. Petersburg. Both projects are being supervised by Moscow-based system integrator Studio Systems.
The LifeNews television channel was launched in September 2013. Part of the News Media Holding company, it transmits in 16:9 standard-definition and high definition to a potential audience of 30 million viewers. Life78 commenced broadcasting in September 2015, also in SD and HD.
"Octopus 8 is much higher level NRCS than the one we used before," said Arseny Kudryavtsev, technical advisor to the Life News CEO. "It is flexible in configuration and a functionally very powerful tool that really helped to optimise our workflow. Now we have almost unlimited expansion capabilities.
"We can very quickly fine-tune the system to create new departments, implement radio and internet broadcasting, configure for our regional branches and so forth. The mobile version of Octopus is very convenient for remote correspondent offices and rooms for announcers. The Octopus API allows us to integrate the NRCS more closely with our own developments and applications: web-platforms, publishing, notification systems, planning and reporting. My colleagues and I look forward to a long partnership with Octopus team, working together to advance the whole style of broadcasting."
"The management and engineering teams at Studio Systems have proved highly efficient on previous projects for Russian broadcasters so we are very pleased to be partnering with them again," said Octopus Newsroom sales director Gabriel Janko. "They have designed and installed a complete newsroom solution for each location, closely integrated with editing, graphics and playout infrastructure. Both channels are upgrading from third-party equipment. Each newsroom operates entirely independently but has the option of connecting its respective Octopus 8 systems to allow fast and efficient sharing of content between the two sites."